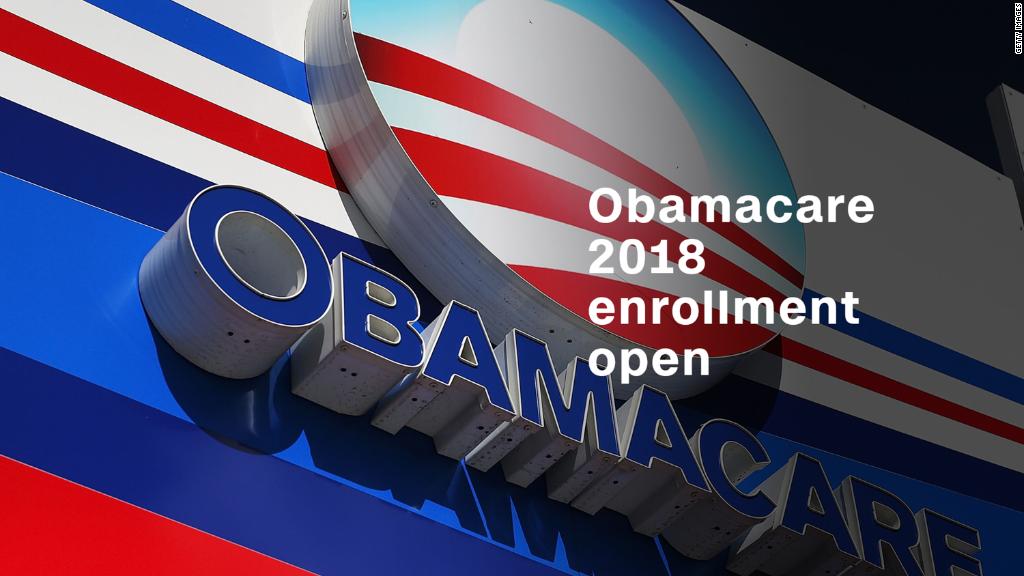 Don and Debra Clark of Springfield, Missouri, are glad they have health insurance. Don is 56 and Debra is 58. The Clarks say they know the risk of an unexpected illness or medical event is rising as they age and they must have coverage.
Don is retired and Debra works part time a couple of days a week. As a result, along with about 20 million other Americans, they buy health insurance in the individual market.
But the Clarks are not happy at all with what they pay for their coverage — $1,400 a month for a plan with a $4,500 deductible. Nor are they looking forward to the Affordable Care Act's fifth open enrollment period, which runs from Nov. 1 through Dec. 15 in most states.
Many insurers are raising premiums by double digits, in part because of the Trump administration's decision to stop payments to insurers that cover the discounts they are required to give to some low-income customers to cover out-of-pocket costs.
"This has become a nightmare," said Don Clark. "We are now spending about 30% of our income on health insurance and health care. We did not plan for that."
The Clarks' experience points to an emerging shortfall in the ACA's promise of easier access to affordable health insurance for early retirees and the self-employed. Rising premiums and deductibles, recent actions by the Trump administration and unceasing political fights over the law threaten those benefits for millions of older Americans.
Related: Obama wants you to know Obamacare open enrollment has begun
"These folks are rightly the most worried and confused right now," said Kevin Lucia, a health insurance specialist and research professor at Georgetown University's Health Policy Institute in Washington, D.C. "Decisions about which health plan is best for them is more complicated for 2018, and many people feel more uncertain about the future of the law itself."
At highest risk are couples like the Clarks who don't qualify for federal assistance. Their income is just above the amount that would have qualified them for a subsidy, or about $65,000 for 2017.
Premiums vary widely by state. Generally, a couple in their late 50s or early 60s with an annual income of $65,000 would pay from $1,200 to $3,000 a month for health insurance.
In an analysis released this week based on insurers' rate submissions for 2018, the Kaiser Family Foundation found that individuals and families that don't qualify for a subsidy but are choosing plans on the federal marketplace, face premiums 17% to 35% higher next year, depending on the type of plan they choose. A similar increase would be expected for people who also buy on the marketplaces run by some states or buy directly from a broker or insurance company.
The hikes come after a 22% rise in premiums, on average, in 2017. The substantial premium increases two years in a row could lead fewer people to buy coverage.
"I'm really worried about this," said Peter Lee, CEO of the Covered California exchange. "We could see a lot fewer people who don't get subsidies enroll." California has taken steps to mitigate the impact for people who don't get subsidies but "consumers are very confused about what is happening and could just opt not to buy," he said.
Related: These states are doing Obamacare open enrollment their own way
The ACA has been a boon to people age 50 to 64 whether they get a subsidy or not. It barred insurers from excluding people with preexisting conditions — which occur more commonly in older people. And the law restricted insurers from charging older Americans more than three times that of younger people, instead of five times more, as was common.
The law also provided much better access to health insurance for early retirees and the self-employed — reducing so-called "job lock" and offering coverage amid a precipitous decline in employer-sponsored retiree coverage that began in the late 1990s.
Only 1 in 4 companies with 200 or more workers offered any kind of coverage to early (pre-65) retirees in 2017, compared with 66% of firms in 1988, reported the Kaiser Family Foundation. And the vast majority of small firms never did offer such coverage.
Overall, before the ACA became law, 1 in 4 Americans age 55 to 64 who wanted to buy their own coverage either couldn't get it because of a preexisting condition or couldn't afford it, according to AARP.
"The aging but pre-Medicare population was our major reason to support the ACA then and it still is now," said David Certner, director of legislative policy at AARP. "This group benefited enormously from the law, and we think society and the economy benefited, too."
Just how many 55- to 64-years-olds have been liberated from job lock by the ACA has yet to be fully assessed. But recent data show that 18% of people ages 55 to 64 who were still working in 2015 got coverage through the ACA marketplaces, up from 11.6% in 2013, according to an analysis for this article by the Employee Benefit Research Institute.
Related: Most Obamacare enrollees could pay less for policies next year
Also, a report released in January 2017 by the outgoing Obama administration found that 1 in 5 ACA marketplace enrollees of any age was a small business owner or self-employed person.
A bipartisan effort is underway in Congress to provide dedicated funds to woo enrollees to healthcare.gov and help state agencies explain changes in the law for 2018 triggered by the Trump administration. But the fate of the proposed legislation is uncertain.
The Clarks said they'll look carefully at options to keep their premiums affordable in 2018.
Said Don Clark, "If we get to a point where we have a $10,000 deductible and pay 40% or more of our income for health insurance, I'm not sure what we'll do. We can't afford that."
Kaiser Health News, a nonprofit health newsroom whose stories appear in news outlets nationwide, is an editorially independent part of the Kaiser Family Foundation.