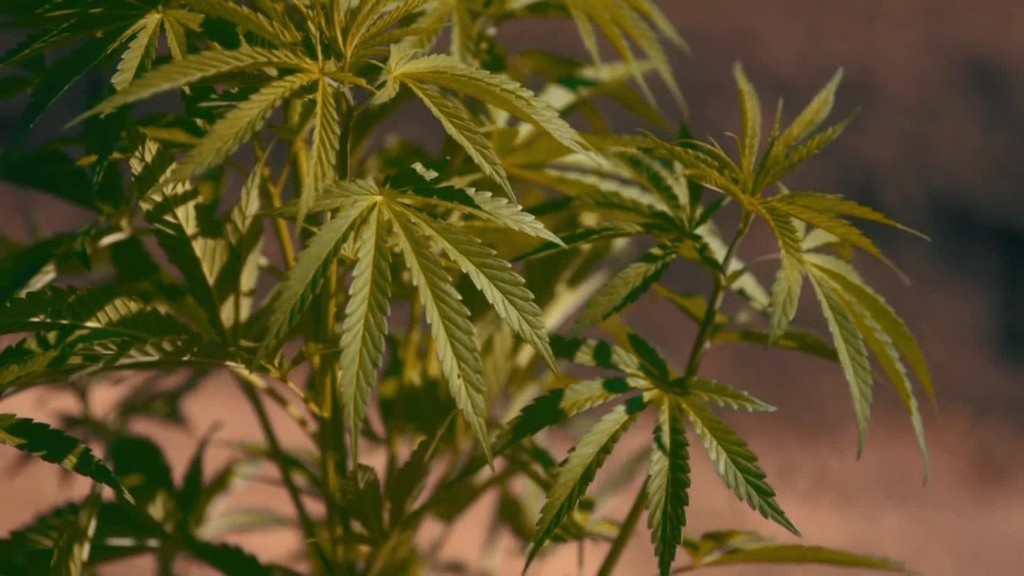 Investors are loving the Canadian government's proposal to tax legal weed at a dollar per gram.
On Friday, the country's Department of Finance reiterated the government's commitment to legalizing the drug for recreational use. It also laid out a plan to levy an excise tax on cannabis products at 1 Canadian dollar per gram (USD $0.79) or 10% of the sale price, whichever is higher. The proposal sent shares of Canadian marijuana companies soaring.
The government says the new tax framework will apply to medical marijuana, which is already legal in the country, and recreational products, which the administration has promised to make lawful "no later than July 2018."
"The proposed level of taxation is intended to keep prices low to eliminate the black market," according to a notice from Canada's finance department.
Related: New Jersey could become the next legal pot state
Investors in Aurora Cannabis (ACBFF), a medical marijuana grower that trades on the Toronto Stock Exchange, saw its stock price shoot up nearly 15%. Shares of three other medicinal weed producers trading on the TSE -- MedReleaf (MEDFF), Canopy (TWMJF), Aphria (APHQF), -- each saw their shares climb 3% to 5%.
An excise tax is paid in additional to general sales taxes. General sales tax rates across Canada's provinces range from 5% to 15% of the sale price.
Even with the excise and sales tax, Canadians may be able to snag their weed for a lower price than some areas of the U.S.
Because marijuana is still outlawed on the federal level in the United States, lawmakers on Capitol Hill have yet to tax the drug. But states that have legalized weed have slapped on some hefty taxes.
Related: It pays to be a scientist in the marijuana industry
In California, where recreational weed sales will be legal beginning January 1, the state is planning to pin a 15% excise tax on weed sales, and consumers will also be on the hook for sales taxes ranging from 22.25% to 24.25%. Between taxes paid by producers, retailers and customers, weed taxes may reach as high as 45% in parts of the state, according to a recent Fitch Ratings report. The tax rates could be enough to keep the black market healthy, one group of Fitch Ratings analysts suggested.
In Colorado, where weed has been legal since 2014, the state charges a 2.9% sales tax plus a 15% excise tax and a special 20% sales tax for recreational marijuana.
Canada's tax proposal is not set in stone. The government is giving residents until December 7, 2017 to submit feedback.
The government says money collected from the marijuana excise tax will be "divided equally between the province or territory and the federal government."
"Revenues raised from the taxation regime will help support investments in public education, enforcement, research and other activities integral to an effective system of legalization and regulation of cannabis," according to the Department of Finance.
--CNNMoney's Aaron Smith contributed to this report.