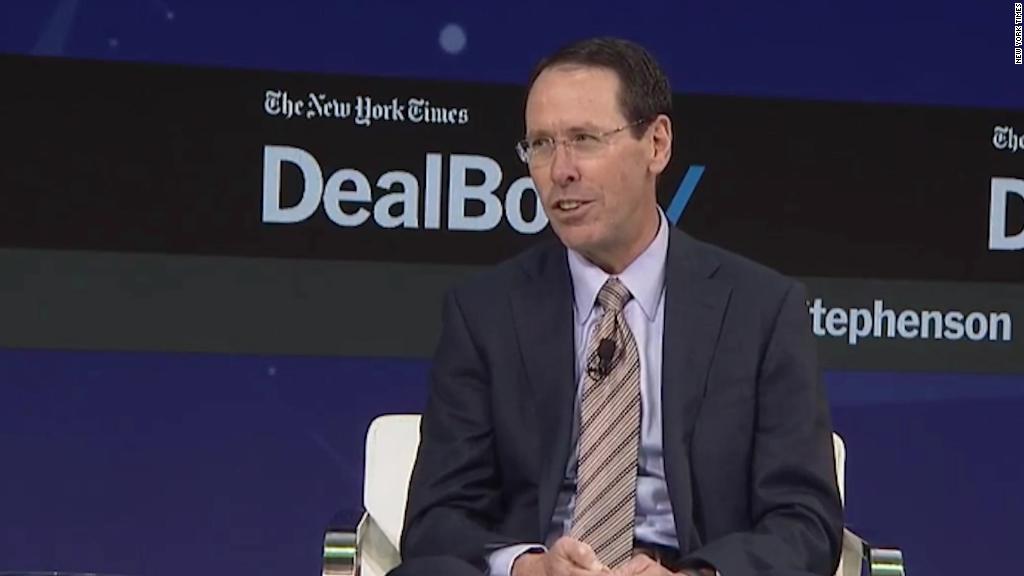 The Trump administration's showdown with AT&T could turn into a legal fight unlike anything corporate America has seen in four decades.
Justice Department and AT&T sources told CNNMoney this week that AT&T would either need to buy Time Warner without its Turner unit, which includes CNN, or give up DirecTV, which it already owns, to gain the government's blessing.
AT&T CEO Randall Stephenson said at the Dealbook conference in New York on Thursday that selling CNN is not in the cards, and he's ready to go to trial.
Virtually all mergers are either approved or scuttled outside of court, but that's especially true for the kind of deal AT&T is seeking.
Its proposed deal with Time Warner is a so-called vertical acquisition, because Time Warner would add a new line of business to AT&T: AT&T (T) sells internet, phone and video services, and Time Warner (TWX) makes content. The companies do not compete with one another. Because vertical mergers typically don't reduce competition, U.S. regulators very rarely fight to stop them.
If the dispute does end up in court, it could be the first vertical acquisition case that the U.S. government has fought in court all the way to conclusion since 1979, according to Steven Salop, a professor at Georgetown Law.
Why do so few mergers end up in court? The legal process is long and expensive. The burden of proof favors the government. And antitrust sentiment has shifted in favor of companies.
Time is of the essence. Even a case that's on a fast track can take six months to complete, and an appeal could take six more months.
All those legal bills are expensive on their own. But the companies also have to enter a holding pattern, unable to adjust their strategies as they wait to see whether they will combine or go their separate ways.
In many ways, time can be the enemy of the deal. A lot can change in the span of a lengthy regulatory battle that can make a deal less appetizing, including shifting markets, stock prices and economic conditions.
Related: Who is Makan Delrahim, the Trump antitrust chief?
Low burden of proof. Unlike in most other countries, the government does not have the power to block a deal outright -- it has to sue to block it.
If the government does challenge a merger, it typically brings a lawsuit under Section 7 of the century-old Clayton Act. To win its case, the government only needs to prove that a merger "may" harm competition, according to Craig Wildfang, antitrust attorney at Robins Kaplan.
That's why the vast majority of companies that regulators challenge either drop their merger bids or settle outside of court. Regulators will often attach stipulations called consent judgments that force companies to divest certain assets or agree to pro-competitive behaviors.
Those settlements have to be approved by a judge, but they're almost always granted.
Changing sentiment. In the 1970s case, the government sued to block the nation's largest truck trailer company from buying the biggest manufacturer of truck wheels. Though they weren't direct competitors, the FTC argued that the combined company could illegally harm the truck wheel market. The government lost on appeal, and the deal went through.
Shortly after that trial, the tide turned in favor of merging companies. Under President Reagan, the government appointed antitrust lawyers who favored less government intervention in corporate acquisitions.
"Since the 1980s and '90s, the judicial attitude has been to let free markets flourish," said Sam Miller, a professor at UC Hastings and the prosecutor who led the government's first antitrust case against Microsoft two decades ago.
That sentiment continued even throughout President Obama's administration, which blocked only slightly more mergers than his Republican predecessor, George W. Bush.
Related: Obama wasn't as tough on antitrust as you'd think
For example, Obama administration regulators sued to block just 47 of the nation's 1,832 mergers last year. Only three of those cases ended up going to trial, but all of those were different from AT&T/Time Warner -- horizontal mergers that would have taken a competitor out of the marketplace.
The Justice Department won all three of those cases this year, including the scuttling of proposed health insurance mega-mergers between Anthem and Cigna and between Aetna and Humana.
Where does that leave AT&T and Time Warner? Stephenson said that the companies are still negotiating with the Justice Department, and the deal could ultimately be settled out of court.
But if the case does go to trial, it could be a long, drawn out process that could take years to complete.