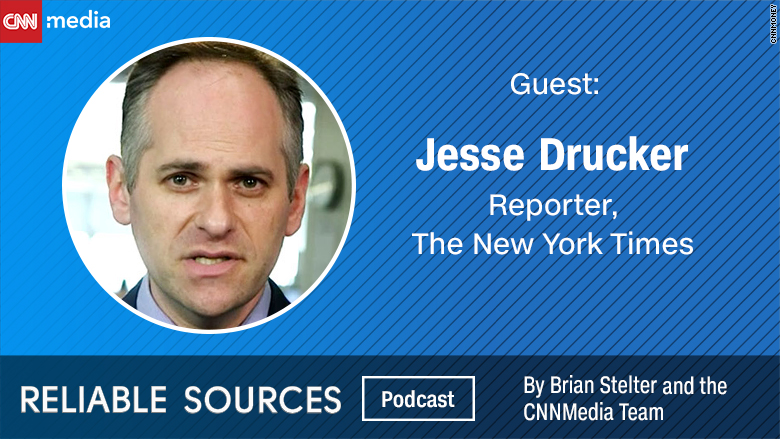 Upholding the journalistic imperative "follow the money" in 2017 is more complicated as ever, as transactions are shrouded in secrecy and often rely on an intricate web of offshore activities.
"There's essentially a parallel universe of how a certain segment of the world conducts its business and how it creates and guards its wealth," the New York Times' Jesse Drucker told Brian Stelter in this week's edition of the Reliable Sources podcast.
Drucker is part of a group of reporters across 95 newsrooms worldwide who are writing stories based on the Paradise Papers, a massive document leak from the offshore law firm Appleby.
The effort is coordinated by the International Consortium of Investigative Journalists, a nonprofit headquartered in Washington D.C. that led the reporting on the Panama Papers in 2016.
The first stories from the Paradise Papers were published this week.
Drucker authored a story on how investments in Facebook and Twitter by Russian billionaire and Silicon Valley venture capitalist Yuri Milner were funded by Kremlin-controlled VTB bank and by a financial arm of Gazprom. The story, Drucker told Stelter, "raised interesting questions, I think, about how far back the Putin regime has been interested in U.S. social media companies."
Listen to the whole podcast here:
Drucker also co-authored a story about Apple, and how the company shifted profits to a tax haven in the English Channel -- the Island of Jersey -- after Tim Cook testified in a Senate hearing in 2013 that "we don't stash money on some Caribbean island."
Collaboration has been a key aspect of reporting on the Paradise Papers, Drucker explained. For the Apple story, he collaborated with Simon Bowers from ICIJ.
"There were several years where he and I were basically competitors," Drucker said. "He was covering tax shelters for the Guardian and I was covering basically the same issues at Bloomberg. It was actually quite interesting to work with him after essentially competing against him for several years."
Collaborating with reporters spread out in 95 news organizations was a challenge, Drucker told Stelter. "Every interaction you have with an outside source has to be shared internally, and then every time you're going to go to someone for comment, and every time you get comment, that all has to be shared."
That made for a "complicated process," but based on the stories, Drucker thinks "it was worth it."
Drucker emphasized the fact that the documents themselves were merely a "starting point" for the reporting, and how important the collaborative aspect was to extracting relevant information. "People in the UK or in Russia may understand the context for something that someone in the U.S. might not and vice versa."
The Paradise Papers are "a growing database" that will be "useful on stories for years to come. Potentially forever," Drucker said.
"The way you would search U.S. securities filings or real estate records, here is another place you'll turn whenever you're looking at folks who have the potential to touch on the offshore world," Drucker told Stelter.
Drucker says the documents provide a trove of potential stories that have yet to be tapped into, and more bombshells are to be expected.
"There are definitely going to be more stories to come out of the paradise papers beyond what you've seen this week," Drucker said.