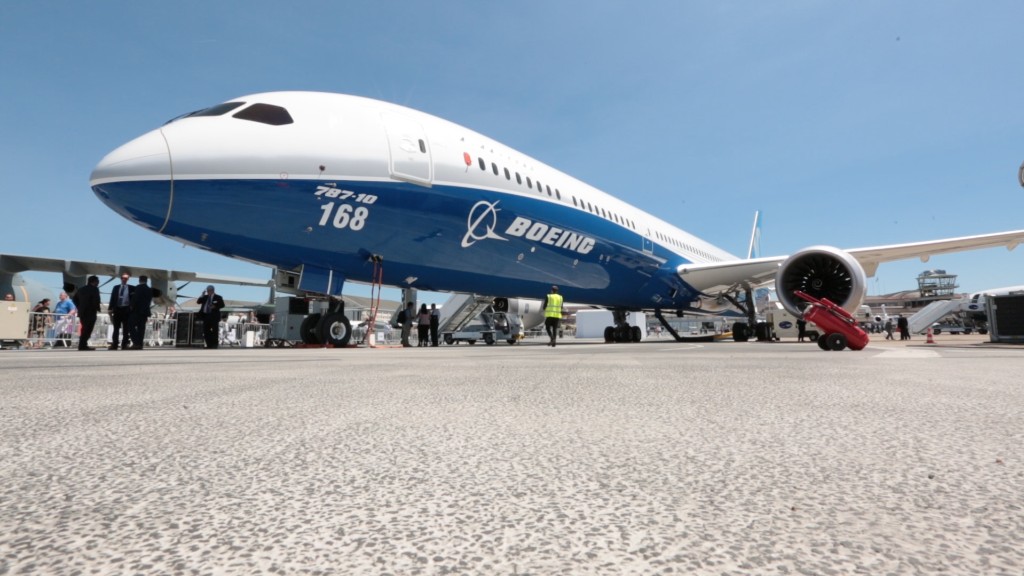 Russia isn't just trying to sell its new airliner abroad. It might build it there, too.
State-owned military-industrial giant Rostec, which is responsible for exporting Russian technology, said Sunday that it has started talks to jointly produce a commercial plane overseas -- potentially in the United Arab Emirates.
The short statement, which coincided with the start of the Dubai air show, didn't provide much detail. But Russia is trying to increase exports of its new large single-aisle airliner, the Irkut MC-21, which competes directly with Boeing (BA) and Airbus (EADSF) planes.
One strategy that plane makers employ to boost sales is using overseas manufacturing to gain market access with local airlines. Europe's Airbus, for example, opened final assembly lines for its A320 jets in China and the U.S. to produce planes specifically to attract airlines in both countries.
The UAE is home to two of the world's biggest carriers, Emirates and Etihad, as well as several smaller ones.
Related: China and Russia are coming for Boeing and Airbus
The MC-21, the first Russian-made airliner of its size since the fall of the Soviet Union, is backed at the highest levels of the Russian government. President Vladimir Putin has pushed for Rostec and state-owned United Aircraft Corporation (UAC) to increase sales of the plane to both Russian and foreign airlines.
Rostec said it held talks about the potential joint production of the plane with Sheikh Mohammed bin Zayed al-Nahyan, the powerful crown prince of Abu Dhabi.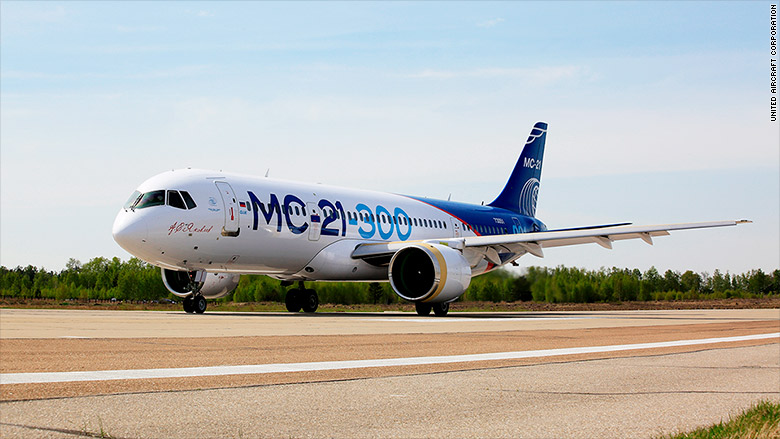 The UAE has been eager to expand its aerospace industry into manufacturing. Companies based in the country already produce some parts for Boeing and Airbus jets.
A Rostec spokesperson said it was too early to say what joint production would mean in practice. It could entail anything from assembly of completed MC-21 jetliners in the UAE to manufacturing components for jets that will be produced in Russia.
"Specific parameters will be determined during [the] negotiation process," the spokesperson said.
Russia is increasingly open to cross-border partnerships to expand its aerospace industry. UAC has teamed up with China's Comac to design and produce a new long range twin-aisle airliner, but that plane's not expected to be ready for at least another eight to 10 years.
Related: The world's new planes in 2017
The aircraft Rostec and UAC may build in the UAE would be based on the largest version, the MC-21-400, that seats up to 250 passengers and competes directly with the biggest single-aisle jets from Boeing and Airbus.
A smaller version, the MC-21-300, has been carrying out early flight trials since May.
Many MC-21 parts comes from Western suppliers: Its engines, for example, are made by Connecticut-based Pratt & Whitney. But final assembly of the aircraft is completed in the Siberian city of Irkutsk.
Russian aircraft company Sukhoi, which is also a unit of UAC, partnered for a time with Italy's biggest aerospace company to install interiors of its new Superjet regional airliner in Venice for European customers.