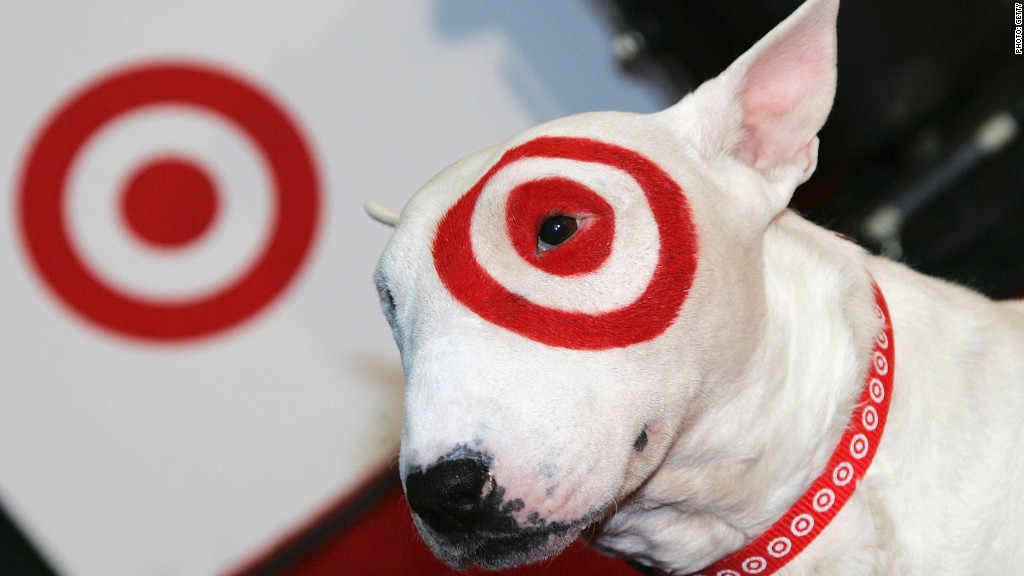 First, the good news for Target. The struggling retailer actually had a decent third quarter. Profits and sales topped Wall Street's forecasts. Now, for the bad news. Target's outlook for the fourth quarter isn't particularly jolly. And that's got investors spooked.
Shares of Target (TGT) fell nearly 10% Wednesday after the retailer said it expects fourth quarter earnings to be between $1.05 and $1.25 a share. Wall Street was expecting a profit of $1.24 a share, so the low end of the range is disappointing.
What's more, Target said that same-store sales, which measure the performance of stores open at least a year, may be flat to up just 2% during the crucial holiday shopping period.
Target, like most other retailers, is contending with tough competition from Amazon (AMZN) as well as a resurgent Walmart (WMT).
Target has been boosting its online retail presence to try and attract more customers.
But it said Wednesday that digital sales were up 24% in the quarter -- a pullback from the 32% increase it posted in the second quarter and lower than the e-commerce growth rates that Amazon and Walmart posted in the third quarter.
CEO Brian Cornell also pointed out that the company expects the overall retail environment in the fourth quarter to be "highly competitive." Translation: More price cuts will probably be needed to entice customers to shop at Target.
Related: Jeff Bezos is having a moment
Target's stock is now down more than 20% this year. While that's not as horrific as the drops for Macy's (M), Sears (SHLD) and JCPenney (JCP) -- which have all lost more than 45% of their value this year -- it's obviously a troubling sign.
Investors and consumers seem to increasingly view the general merchandise retail race as one primarily between Walmart and Amazon.
Walmart shares have gained more than 30%, thanks in large part to strong online sales growth and a flurry of digital acquisitions, such as Jet.com, ModCloth and Bonobos.
And Amazon's stock has soared more than 50%. Its purchase of Whole Foods may put even more pressure on the grocery business of Target.
To that end, Amazon and Whole Foods announced price cuts for all customers (with even deeper ones for Amazon Prime members) on organic and no antibiotic turkeys as well as other holiday food staples on Wednesday.