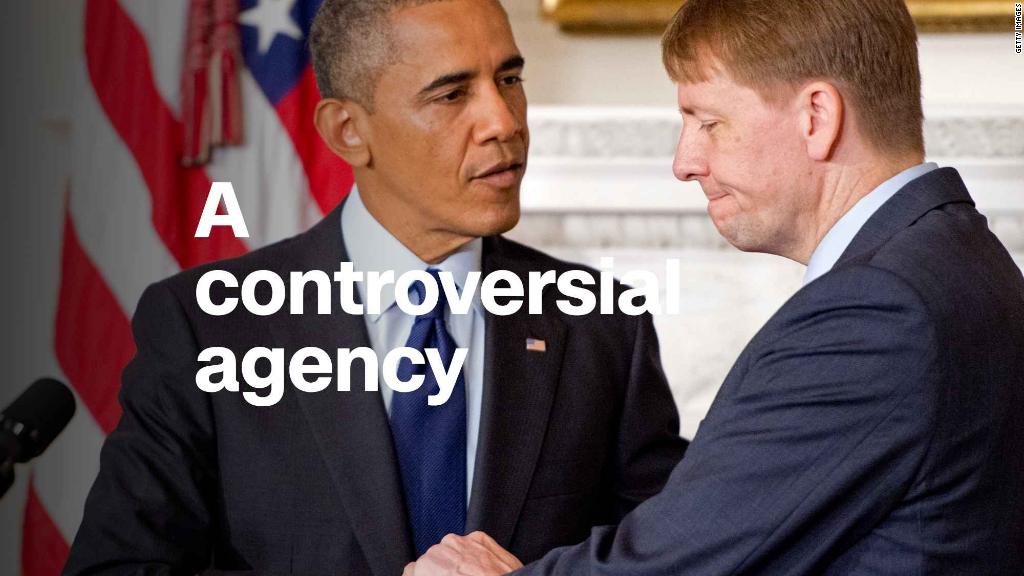 President Donald Trump is likely to name Office of Management and Budget Director Mick Mulvaney the acting head of the Consumer Financial Protection Bureau as early as Friday, an administration official tells CNN.
The pending White House announcement comes on the heels of Richard Cordray's decision on Wednesday to step down as the director of the consumer bureau at the end of the month. Earlier Thursday, Bloomberg News reported that Mulvaney was being considered for the role.
Related: Richard Cordray to step down as head of the CFPB
If he is appointed as interim head of the consumer watchdog agency, Mulvaney would also continue to serve as director of the OMB. Mulvaney was one of the agency's most vocal critics during his time in the House and voted in favor to kill the agency.
The administration can appoint a current government official into a new job as long as they are confirmed by the Senate under the Federal Vacancies Act to serve in an acting capacity. The official is not required to leave their current position to fill the new role until a permanent replacement is confirmed by the Senate.
"The Administration will announce an acting director and the President's choice to replace Mr. Cordray at the appropriate time," said Raj Shah, principal deputy press secretary told CNN in a statement.
Republicans have long loathed the fledgling agency, which was created under the 2010 Dodd-Frank regulatory reform law. They argue that Cordray overstepped his regulatory authority and has lacked oversight during his tenure at the CFPB.
Democrats are already lining up to scrutinize any future Trump nominee.
"The White House has said it wants to stand up for the middle class. If that's true, the President must nominate a successor who will put working people ahead of Wall Street," Sen. Sherrod Brown, the top Democrat on the Senate Banking Committee said in a statement Wednesday.
Sen. Elizabeth Warren, a Democrat from Massachusetts who helped create the CFPB, said the new director "must be someone with a track record of protecting consumers and holding financial firms responsible when they cheat people."
Related: Trump's war on regulation comes with big tradeoffs
"This is no place for another Trump-appointed industry hack," she said in a statement.
Trump has come out against regulations that he sees as hurting businesses -- a position that's put his administration and the CFPB on opposite sides of many issues.
Earlier this month, Trump signed legislation repealing a rule issued by the CFPB that made it easier for consumers to team up to sue banks and credit card companies.
At the OMB, Mulvaney has spearheaded efforts by the administration to slash regulations on businesses as part of the administration's efforts to spur economic growth.
--CNNMoney's Julia Horowitz contributed to this report.