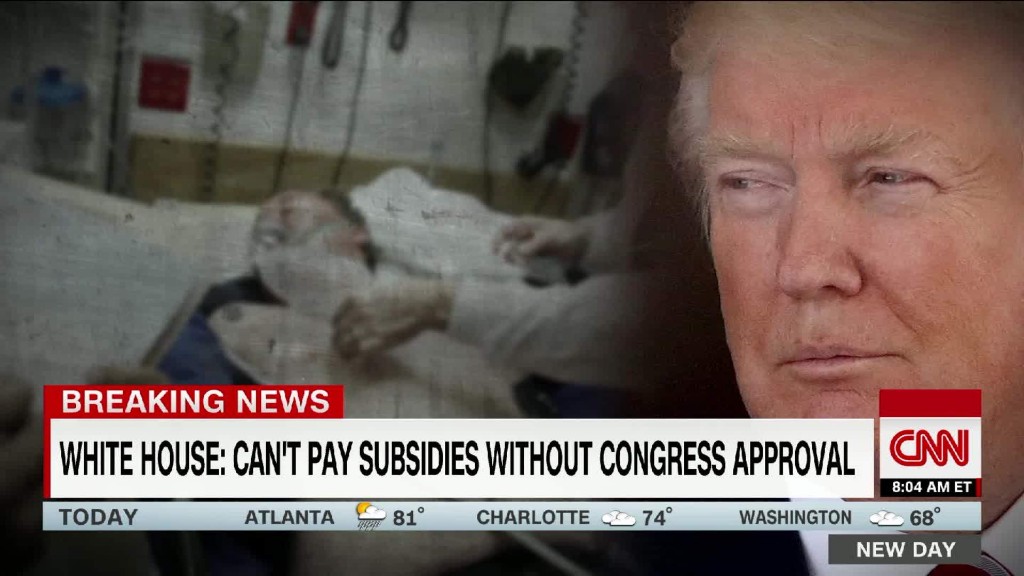 The federal government has granted people affected by the devastating hurricanes that wracked coastal states and Puerto Rico 15 extra days to sign up for health coverage under the Affordable Care Act.
But Puerto Ricans who fled to the mainland after the destruction face problems well beyond timing.
Many of those Americans have complicated questions about whether the Medicaid or Medicare coverage they had in Puerto Rico will shift with them to their new locations. And for those seeking private coverage, using the ACA's insurance marketplaces will likely be a new experience because the federal health law didn't establish those marketplaces in the U.S. territory.
Members of Congress from Florida said Wednesday they are concerned that many of these recent arrivals, as well as insurance companies and navigators, are confused. They sent a letter to Seema Verma, the director of the Centers for Medicare & Medicaid Services (CMS), requesting that federal officials put out a fact sheet to "provide much-needed clarity and alleviate confusion" among Puerto Ricans who have relocated to the States.
Insurance enrollment on the health law's marketplaces ends for most people Dec. 15. In a bow to the hardships caused by the August and September storms, residents living in hard-hit areas of Texas, Florida and Georgia are allowed to sign up as late as Dec. 31. But waiting until those final 15 days means that the start of their coverage is delayed until Feb. 1.
Related: Puerto Rican exodus could boost Small Town, USA
Many Puerto Ricans driven from their homes, however, are negotiating layers of red tape. In Puerto Rico, nearly three-quarters of Medicare beneficiaries are in private Advantage plans. Many have questions about whether those plans will cover them stateside.
Also, the Medicaid program for low-income residents in Puerto Rico covers nearly half of the island's residents — a rate higher than any state — but it's not clear that people moving stateside will continue to qualify because they may not meet the tighter eligibility standards. That is especially true if their new home state did not expand Medicaid under the ACA to all adults earning up to 138 percent of the federal poverty level (about $16,000 for an individual).
At the very least, they will have to reapply for Medicaid coverage. Often the most effective route is through the ACA marketplaces. That process will show them whether they are eligible for Medicaid or perhaps a federal subsidy to purchase a private plan.
According to a CMS memo released in September, they can call the healthcare.gov help line (1-800-318-2596) for help. The memo, which doesn't provide details about what documentation is needed, also says that "individuals may experience qualifying events due to a hurricane that makes them eligible for a special enrollment period (SEP)" to access another health plan. For example, individuals who temporarily relocated to Florida due to a hurricane and are now out of their health plan coverage area could be eligible for a special enrollment period because of the move.
After the storms hit, the Federal Emergency Management Agency (FEMA) designated all counties in Florida and Georgia, and 53 in Texas, to receive "individual assistance" or "public assistance." In Puerto Rico, this category was granted to 31 of the island's 78 municipalities.
Still, Anne Packham, director of the marketplace navigator project at Primary Care Access Network, an organization based in Orlando that is part of Covering Central Florida, said the focus should be on encouraging consumers to register before Dec. 15, the last day most people can sign up for coverage that begins Jan. 1.
"Everything is already very confusing, and we think that telling consumers that they can register until Dec. 31 during a special period is adding confusion," she said. "These people need insurance right now, on Jan. 1, not February."
Since the storms, more than 140,000 Puerto Ricans have arrived in the central area of ​​Florida, according to Gov. Rick Scott's office. They may stay only for a few months or settle to start a new life. Seeking insurance and medical attention has proven arduous.
Related: Hurricanes could bring another disaster: Foreclosures
Marni Stahlman, president and CEO of Shepherd's Hope Inc., an organization based in Orlando that helps people find coverage and services, recalled one Puerto Rican couple that had a tough time.
He had Medicare and she was a retired teacher who had insurance through her union, Stahlman said. "The husband's Medicare policy was not applicable on the mainland and the wife's was not honored either," she said. "Both have had to start over. He with reapplying for Medicare and she had to apply for the very first time in a marketplace. They are at this time still 'uninsured,' something that they have never had to encounter."
Complicating the situations for many families is the lack of records and supplies. The hurricanes not only devastated lives, homes and power, but they also took medicines, prescriptions, insurance cards and copies of tax returns.
"Help for everybody, but for Puerto Ricans in particular, it has to be integral because these people only arrive with their passports," said Jean Zambrano, vice president of medical operations at Shepherd's Hope.
Among the newcomers to Florida, there are at least 18,000 children and adolescents who need medical attention quickly because they are required to get vision, hearing and immunization screenings to attend school. Stahlman and Zambrano said there is no coordinated effort at the state level to pave the way for them.
Maneuvering between the territories and the States is not a well-oiled machine, and health care can fall through the cracks — which means the last resort for many needing medical attention is the emergency room.
Those who arrive with their important papers help ensure success. María Gotay, 51, arrived in Orlando from Bayamón, Puerto Rico, with her two boys, Cristian, 17, and Edwin, 22, 10 days after Hurricane Maria ravaged the island.
Related: Americans are signing up for Obamacare, despite Republican efforts to weaken it
"We keep our documents in a safe place," she said, so she had them ready when applying for coverage for her children.
Navigator Doris Allen, from Primary Care Access Network, helped sign up Gotay's younger son for the Children's Health Insurance Program (CHIP) and the older one in a private insurance plan for $33 a month after a subsidy. Maria Gotay was already covered by Medicare because she has a disability from fibromyalgia.
"We were very fortunate to meet such supportive people," said Gotay. She recalled arriving at the health center and falling in Allen's arms crying hysterically. "I never wanted to leave Puerto Rico, I never imagined being at the edge of dying."
She brought her sons to Orlando because her two daughters were already living there. Her husband stayed on the island, caring for his father who shows signs of Alzheimer's, she said.
She said she has enormous stress and fear following the hurricane, and has been seeing a psychiatrist in Orlando to get help. However, she will return to Puerto Rico this month, while her boys stay in Florida to begin a new life.