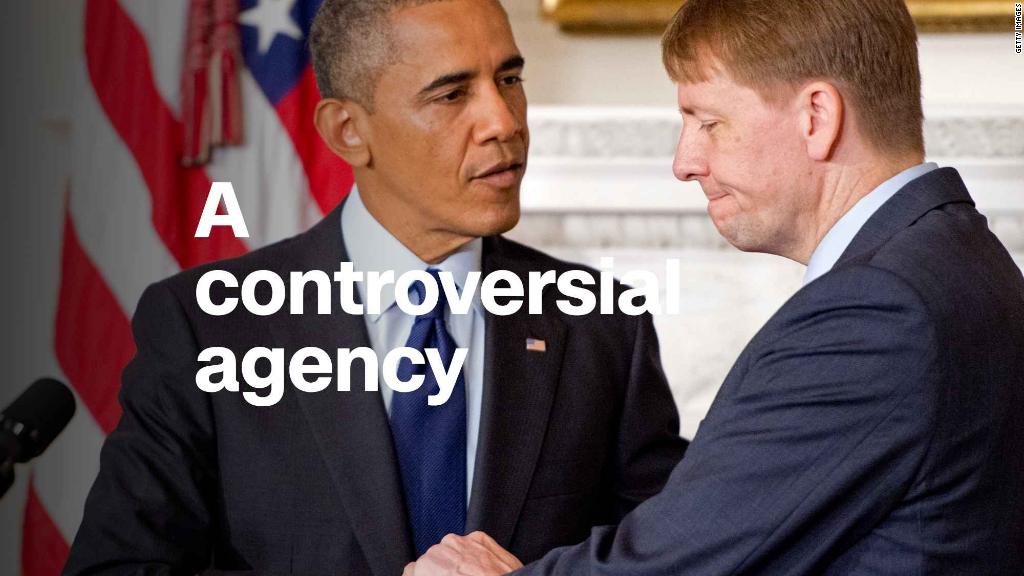 Many people on Wall Street and Republicans on Capitol Hill don't like the Consumer Financial Protection Bureau, and they don't like Elizabeth Warren.
That's not really surprising. The two are inextricably connected. In fact, the agency was her idea.
Critics say the CFPB, which has forced misbehaving banks to return more than $12 billion to consumers, is the epitome of government overreach and wields too much unchecked power. Warren and other proponents argue it's a key watchdog agency working for American consumers.
The years-long fight over the CFPB reached a boiling point on Friday night when director Richard Cordray resigned and named his chief of staff, Leandra English, as deputy director. That move teed her up to take over as the bureau's acting director per the rules of the agency established under 2010's Dodd-Frank act.
Trump subsequently announced that Mick Mulvaney, the current director of the Office of Management and Budget, would be acting director of the consumer watchdog agency.
On Sunday night, English filed a lawsuit against Trump and Mulvaney, seeking a court order halting the appointment of Mulvaney as acting director.
Related: Cordray resignation sets off scramble over bureau
Warren tweeted Sunday night that Trump "has put a cloud of uncertainty" over the CFPB. On Friday, the Massachusetts senator tweeted that English is the rightful acting director.
The president "can nominate the next @CFPB Director - but until that nominee is confirmed by the Senate, Leandra English is the Acting Director under the Dodd-Frank Act."
The 2010 Dodd-Frank Act is a massive post-recession reform law. The act included provisions to establish the CFPB.
The idea was birthed in a paper Warren wrote in 2007 while she was a law professor at Harvard. She moved to Washington after Dodd-Frank passed to help then-President Obama get CFPB up and running. She touted it as a tool to protect average people from banks behaving badly.
The agency hit a leadership scuffle right off the bat. Obama considered naming Warren to direct the agency, but it became clear that corporate players and Republicans on the Hill wouldn't have it. They feared she'd be too zealous a leader.
So Obama tapped Cordray, but even he was forced to lead the agency as "acting director" because Republicans in the Senate blocked his formal confirmation. By the time they greenlit his appointment, in 2013, it was a largely symbolic move.
Since then, the CFPB has proved hungry to take on big banks, shady payday lenders and everything in between. In the wake of Wells Fargo's fake account scandal, for example, CFPB ordered the bank to pay a $185 million fine and dole out $5 million in customer refunds. The agency also maintains a public database of complaints against financial companies.
Related: White House defends Mulvaney's appointment to CFPB
Wall Street and most Republicans loathe the agency, and they see Cordray's resignation as chance to remake it.
Republicans argue it's a "rogue" agency because it's not funded by Congress, and it's run by a single director who can't be fired by the president at will. (Those provisions have prompted one federal court to rule the CFPB "unconstitutionally structured.")
In February, just after Trump's inauguration, Republicans declared all-out war on the CFPB, and introduced legislation to dismantle it.
"The CFPB has eroded freedom, trampled due process and killed jobs. It must go," Chairman of the House Financial Services committee Jeb Hensarling wrote in a February op-ed in the Wall Street Journal.
The Consumer Bankers Association, a trade group that represents retail banks, said in a statement Saturday that "the CFPB's current governing structure is a dictatorship, period."
And the White House's move Friday to install Mulvaney, who worked to kill the agency while he served in Congress, signals Republicans are still out to dismantle it.
However, confusion still reigns about who's actually in charge.
Related: Trump kills rule that made it easier for people to sue banks
The White House doubled down on its declaration that Mulvaney is the rightful acting director during a conference call with reporters on Saturday. An official argued it's a "typical, routine" course of action for a president to fill such vacancies.
Mulvaney, who once called the CFPB a "sick, sad joke," said in a statement Saturday that he will ensure CFPB works to "protect [Americans] while ensuring free and fair markets for all consumers."
"I look forward to working with the expert personnel within the agency to identify how the Bureau can transition to be more effective in its mission, while becoming more accountable to the taxpayer," he said.
For its part, the CFPB has been mum since Cordray resigned on Friday night.
One thing is certain: Trump does have the authority to nominate a permanent leader for the CFPB.
But the nominee will need to be confirmed by the Senate -- where he or she will undoubtedly face a grilling from Warren. And Warren has proven her willingness to hold up Trump appointees for months on end.
Updated: This article has been updated to add news of Sunday night's lawsuit by English.