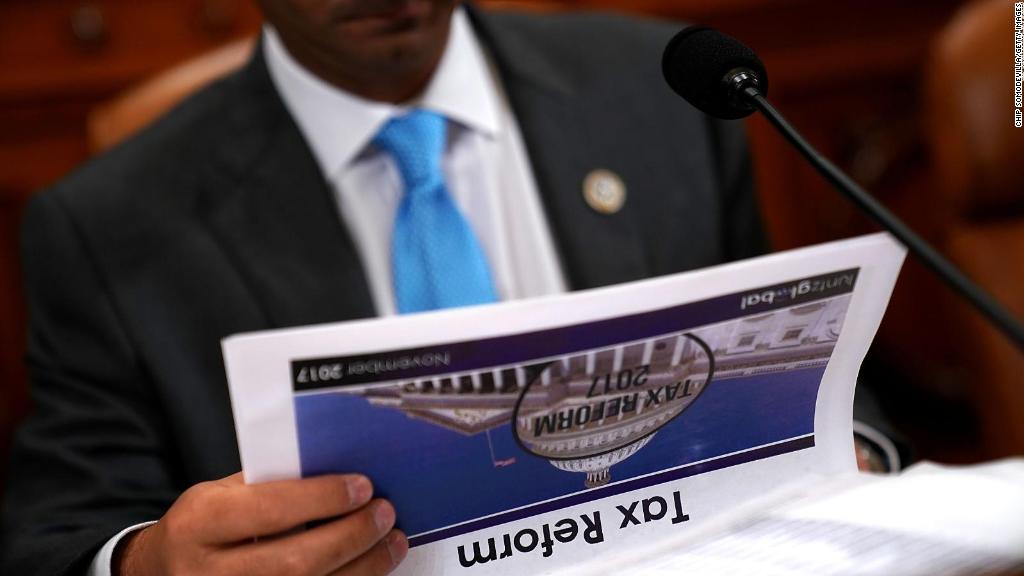 The stock market is at a record high. The U.S. economy has grown at a healthy clip for the past six months. So is there really a pressing need for major tax reform, as President Trump and Republicans in Congress suggest?
Maybe not.
Trump has often claimed that high tax rates for individuals and businesses are holding the economy and markets back. But earnings have been strong for the past few quarters. And consumers spent like mad on Black Friday and Cyber Monday.
That could be the reason Wall Street doesn't seem too concerned about the possibility that the Senate will fail to pass a tax reform bill this week.
Two Republican senators, Ron Johnson of Wisconsin and Steve Daines of Montana -- have said they will not vote for the bill in its current form. And there is speculation that other GOP senators -- particularly John McCain, Bob Corker and Jeff Flake -- could vote against it as well.
This means that investors could be pleasantly surprised if a bill passes, as opposed to being disappointed by a failure.
Related: Poor Americans would lose billions under current Senate GOP tax bill
"There are three senators (McCain, Corker and Flake) that are concerned about the deficit, are not controlled by the Senate leadership and have an outwardly confrontational relationship with Trump," Mark Hackett, chief of investment research at Nationwide, wrote in a report.
So if a tax bill does make it through the Senate and House and is signed by Trump, that could push stocks even higher. That's because lower corporate taxes may not be baked into earnings forecasts for 2018 just yet.
"Market expectations for tax reform are quite low, setting the stage for an upside surprise if successful," Jason Pride, director of investment strategy for money manager Glenmede, wrote in a note to clients this week.
Related: Here is what's in the Senate Republican tax bill
The stocks of several blue-chip companies with high tax rates, such as Verizon (VZ), Disney (DIS), Nordstrom (JWN) and Hewlett Packard Enterprise (HPE), as well as small caps, which tend to pay higher tax rates than larger firms, have lagged the broader market lately.
That's a clear sign of the market's skepticism. And any relief on the tax front for those companies could push their stocks higher.
A tax bill that gets through the Senate could be a boost to banks as well. Many big financial stocks have also underperformed the market.
Related: How would the middle class fare under the Senate tax bill?
Shares of Goldman Sachs (GS) and scandal-ridden Wells Fargo (WFC) are actually down this year. JPMorgan Chase (JPM) is up 14% in 2017, but that lags the Dow's 20% gain. The stock has also fallen in the past month as tax reform has taken center stage on Wall Street.
Julian Wellesley, senior global equity opportunities analyst with Loomis Sayles, wrote in a recent report that "banks currently have one of the highest tax rates of all U.S. companies," mainly because they don't use as many deductions as other multinational firms.
Wellesley added that lowering the effective tax rate to 20% could boost bank profits by about 14%.
Still, the failure to get a tax bill done before the end of the year (or early 2018) may not put a dent in the market or economy.
Lower taxes won't hurt. But with a low unemployment rate and rising home prices boosting consumer confidence, it's hard to see why tax cuts are needed right now. A tax cut would likely be just gravy on top of an economy that's already looking fairly healthy.