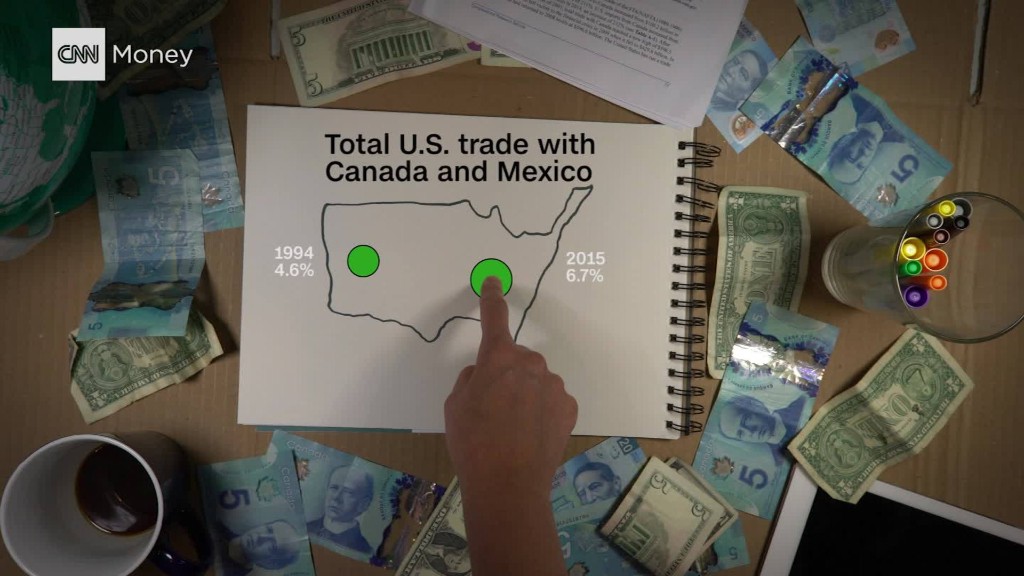 American car companies have a message for President Trump: Pump the brakes.
Trump's trade negotiators are proposing a major change to NAFTA, the trade pact between the U.S., Canada and Mexico, that worries U.S. car companies.
Trump considers NAFTA the worst trade agreement in U.S. history and says it led to a huge loss of manufacturing jobs, despite nonpartisan research that points to the contrary. His administration sees a change in how cars are manufactured -- under what's known as "rules of origin" -- as critical to creating more U.S. manufacturing jobs.
Auto executives don't seem to agree.
Industry representatives met with Vice President Mike Pence on Monday. After thanking Pence for his time and applauding the "modernization" of NAFTA, Matt Blunt, president of the American Automotive Policy Council ended his statement saying, "we also appreciate the opportunity to directly address the industry's concerns with the administration's rule of origin proposal." The AAPC represents Ford, General Motors and Fiat Chrysler.
Related: NAFTA talks are in trouble
Canadian Foreign Minister Chrystia Freeland, who is leading Canada's NAFTA delegation, punctuated the point last week.
"On rules of origin we have heard from the auto sector not only in Canada but also in the United States that some of the proposals that we have heard would not only be harmful for Canada but would be harmful for the U.S. as well," Freeland said.
Here is what rule of origin means
Under the current law, about 62% of the parts in any car sold in North America must be produced in the region or automakers have to pay import taxes.
It doesn't matter if the parts were made in the U.S., Mexico or Canada, so long as they were manufactured in North America.
The idea was to create a supply chain across the three countries to make companies more competitive.
Related: Trump's trade issues: Where they stand
The Trump administration's major change
American negotiators have proposed raising the threshold to 85% of car parts from 62%.
Additionally, they want half of all parts sourced from North America to come specifically from the United States, and the rest to come from Mexico and Canada.
"These are proposals that we simply cannot agree to," Freeland said at the end of the Round 5 of NAFTA talks.
Why U.S. car companies might be concerned
Forcing car companies to manufacture more of their cars in the United States could result in more jobs, but it could also lead to more expensive cars. Trade experts say if car prices go up, sales would drop and auto companies wouldn't be able to compete as well in regions outside North America.
Some experts also caution that forcing more production in the United States would likely cause U.S. car companies to automate more of their production, making some jobs obsolete.
Again, the threshold on rule of origin -- currently about 62% -- is just to avoid paying import taxes. Right now, U.S. car companies have an incentive to avoid the tax and buy some American-made car parts because they're accustomed to the 62% level.
Related: Canada fights back against Trump tariffs
But if the threshold rises to 85%, trade experts say the incentive to not pay the tax goes away because car companies would have to drastically change where they source car parts.
Faced with that scenario, car companies may prefer to just pay the tax, which is about 2.5% for cars, than bring jobs back.
"It's just not going to serve the Trump administration's stated end, which is to provide incentives for expanded production in the United States," says Edward Alden, a senior fellow at the Council on Foreign Relations.