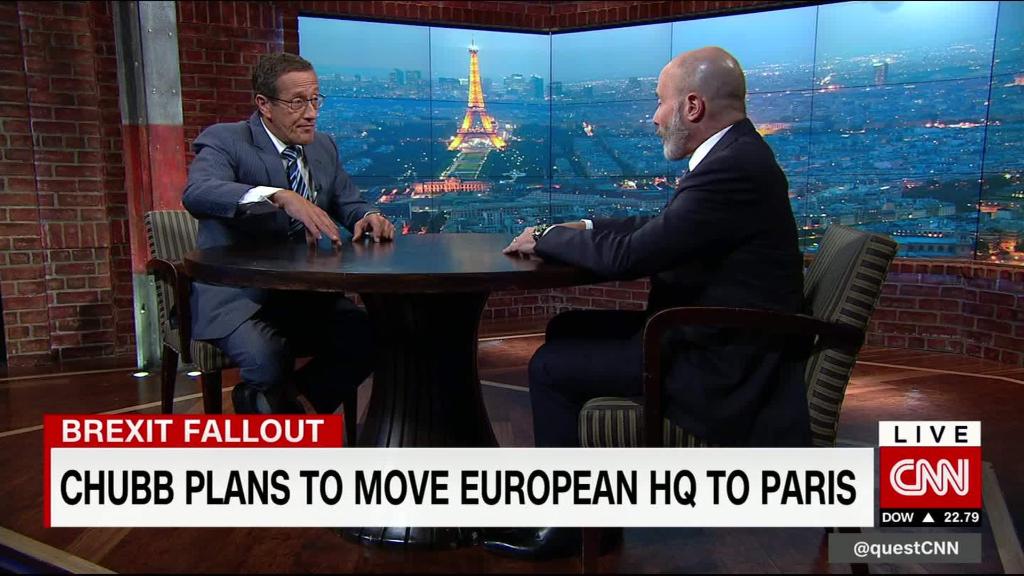 Negotiations on Britain's exit from the European Union are finally making progress on the thorny issue of money.
The pound surged to its highest level against the dollar in two months following reports that Britain is poised to agree to pay tens of billions of euros to settle its divorce bill with the EU. The currency added 0.5% to trade at $1.34 on Wednesday.
The preliminary offer of a more generous financial settlement, which has not been confirmed by the EU or Britain, will be presented next week by Prime Minister Theresa May.
An EU official with knowledge of the talks said the settlement would likely total around €50 billion ($59 billion).
"There is progress [on the financial commitment] but we will see on December 4 whether that's enough when the final offer will be on the table when the EU can scrutinize and evaluate it," an EU diplomat told CNN. "The final decision will be at the EU summit December 14 and 15."
The U.K. government's Department for Exiting the EU said intensive talks would continue this week "as we seek to reach an agreement."
"We are exploring how we can continue to build on recent momentum in the talks so that together we can move the negotiations on to the next phase and discuss our future partnership," it said in a statement.
But there is still much work to be done in the 16 months before Britain formally departs the EU.
May needs the EU to certify that "sufficient progress" has been made in three key areas before talks progress to the future trading relationship between Britain and its top export market.
Related: EU to Britain: Offer Brexit cash now or we won't talk trade
The divorce bill is one of the three issues. May must also convince the EU that Britain has found a way to avoid introducing border controls between Ireland (part of the EU) and Northern Ireland (part of the U.K.), and that it will safeguard the rights of millions of EU citizens who have settled in Britain.
The most difficult of these is Ireland, where the lack of a "hard" border underpins a fragile peace. Ireland will seek assurances that Britain has a plan to avoid erecting new physical barriers after Brexit.
Kallum Pickering, an economist at Berenberg Bank, said that without knowing more about future trade and migration rules, "promising that the border can remain open is no small feat, to put it mildly."
May is expected to make her case to Jean-Claude Juncker, president of the European Commission, at a dinner scheduled for Monday. If EU members sign off on the U.K. proposal, talks will enter their second phase at the bloc's next summit on December 14 and 15. The Irish government could, however, prevent that happening.
Related: 17 years without a raise? Welcome to Brexit Britain
If a breakthrough is achieved, Britain will be able to start work on the hundreds of trade, regulatory and legal agreements that are needed to ensure its economy can avoid significant disruption after March 2019.
London is hoping to negotiate a transitional period of two years to ensure that companies are able to adapt to Brexit.
"A transitional phase would offer the U.K. and EU more time to decide post-Brexit trade relations," said Pickering. "But just as in the divorce talks, expect the EU to dictate the terms for post-Brexit trade relations."
The negotiations will require Britain to make hard choices: If London closes its border to immigrants from Europe, the EU is likely to respond by restricting access to its unified markets for goods.
There is still the risk that talks could fall apart entirely.
Related: Britain crashes out of world's top 5 economies
If no deal is struck, it would cost more for British businesses to trade with the EU. There are serious concerns about the ability of the country's aviation and nuclear industries to function properly if Britain departs without signing new treaties.
A "no deal" scenario would cost the British economy £400 billion ($525 billion) by 2030, according to Rabobank. The weaker economic growth equates to £11,500 ($15,100) per British worker.
-- Vasco Cotovio contributed to this article.