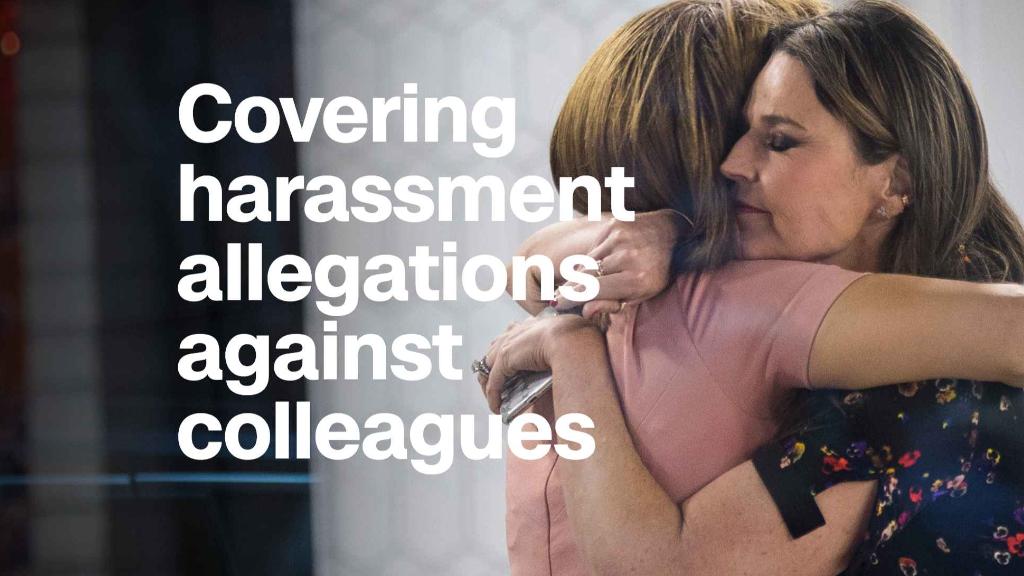 On Wednesday, Savannah Guthrie and Hoda Kotb did what journalists are trained to do: report on major news with calm and clarity.
But this news was personal.
Their colleague Matt Lauer had been fired from NBC for inappropriate sexual behavior.
"We just learned this moments ago, just this morning," said Guthrie, who has co-anchored with Lauer since 2012.
For the third time in the past few months, female journalists have had to report live on a national morning show about sexual harassment accusations against colleagues.
Guthrie appeared emotional as she talked about her co-anchor.
"For the moment, all we can say is that we are heartbroken," she said. "I'm heartbroken for Matt. He is my dear, dear friend and my partner and he is beloved by many, many people here."
Guthrie didn't stop there, however.
"And I'm heartbroken for the brave colleague who came forward to tell her story, and any other women who have their own stories to tell," she said. "We are grappling with a dilemma that so many people have faced these past few weeks: How do you reconcile your love for someone with the revelation that they have behaved badly and I don't know the answer to that."
Praise for Guthrie flooded social media.
"She was saddened for her friend and colleague but confirmed the import of the accuser coming forward," one user tweeted. "She was a model of grace in an unprecedented situation."
Morning shows are a special animal in the landscape of television.
They sell the idea of family -- both that those working there are one and that they are a part of the audience's family at home.
Such shows are also more often than not aimed at garnering women as viewers. That makes how they report on allegations of sexual harassment and misconduct -- especially if it involves the talent of the show -- even more important.
The praise for Guthrie echoed the shout outs for "CBS This Morning" co-hosts Norah O'Donnell and Gayle King, who earlier this month had the difficult task of reporting the termination of their friend and co-host Charlie Rose after a host of sexual misconduct allegations.
Like Guthrie, the pair addressed the difficulty in reporting on a dear friend while also acknowledging their support of the alleged victims.
"Charlie does not get a pass here," King said.
CBS' Norah O'Donnell: 'This has to end. This behavior is wrong'
In October, MSNBC's Mika Brzezinski reported on her network's decision to suspend longtime contributor Mark Halperin after he was accused of sexual harassment by multiple women.
Brzezinski, who co-hosts MSNBC's "Morning Joe" with fiancé Joe Scarborough, said that while Halperin had "been a part of Morning Joe's extended family for years" she supported parent company NBC's decision.
"We are at a pivotal moment in history where unacceptable harassing behavior towards women will no longer be swept under the rug," Brzezinski said. "And yes, we do remain a nation of laws where everyone is considered innocent until proven guilty and nothing has been proven or adjudicated here. But we're also witnessing a larger movement of women speaking up about sexual harassment because the fear of being dismissed or not beloved is melting away."
NBC's Megyn Kelly said much the same thing when she hosted her portion of "Today" on Wednesday.
Kelly commiserated with her coworkers saying she could "see the anguish on my colleagues faces."
She also talked of the difficulty for the women who come forward, the lost career opportunities for those who are harassed and the stress of being a victim.
Kelly, who reminded her audience that she had transitioned to NBC from Fox, which also dealt with such allegations, focused on the empowerment of women. She has said she was harassed by the late Roger Ailes, former chief executive officer of Fox News where she worked. Fox's former host Bill O'Reilly is also alleged to have harassed women during Kelly's tenure with the network
"We are in the middle of a sea change in this country," Kelly said. "An empowerment revolution in which women who for years have felt they had no choice but to simply deal with being harassed at work are now starting to picture another reality. They feel that change is within their grasp."
"As painful as this moment is for so many here at NBC today, at CBS earlier this month, at Fox News last year, in Hollywood this fall, it is a sign of progress," she added. "Of women finding their voices, their courage and of the erosion of a shameful power imbalance that has been in place for far too long.