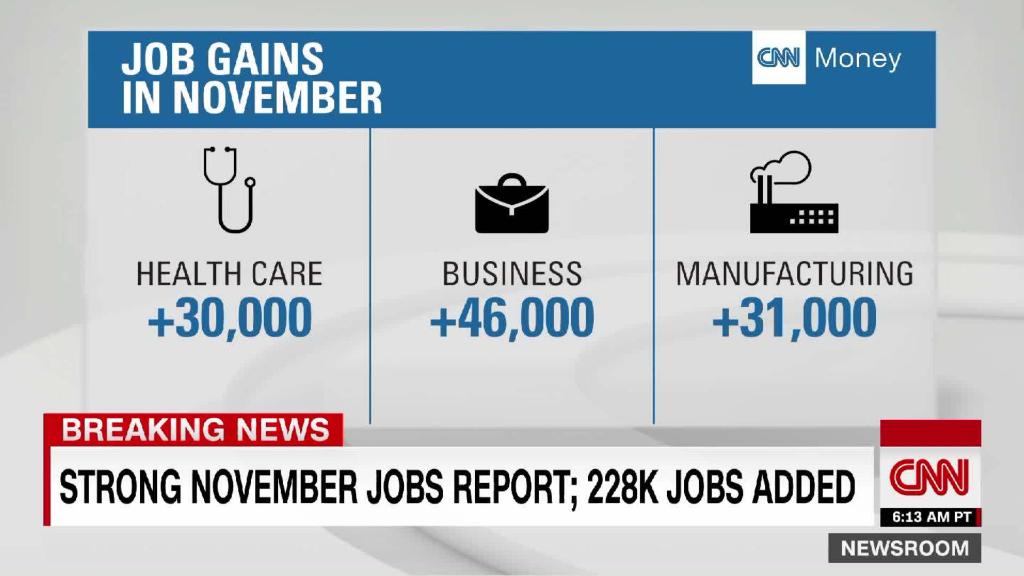 The American economy continues its strong performance.
Employers added 228,000 jobs in November, while the unemployment rate remained at a 17-year low of 4.1%, the government reported Friday.
The report also showed that on average weekly paychecks increased by 3.1% over the last 12-months, the first time that reading has topped 3% in nearly seven years. But much of that gain came from Americans working longer hours. Average hourly pay increased 2.5%.
The more modest rise in the hourly pay is disappointing, especially in light of the unemployment rate being this low.
Wages should be going up because there is a record number of unfilled job openings and employers complaining about difficulty finding workers. Typically, when unemployment is low, wages rise faster because employers have to pay more to find or keep the workers they want.
Ten years ago, before the start of the Great Recession, the average hourly wage was rising at a better than 3% clip.
Other readings in the report showed a healthy labor market, including the fact that those working part-time because they couldn't find a full-time job decreased.
The White House celebrated the strong report and credited its economic policies for the solid showing.
"We're especially pleased to see the manufacturing sector roaring back to life, adding a total of 159,000 jobs since President Trump took office after averaging a loss of more than 1,000 jobs per month during the last year of the previous administration," read a statement from White House press secretary Sarah Sanders. "As we continue to unleash the American economy from unnecessary regulation and taxes, we look forward to seeing more reports like this, showing a healthy and thriving jobs market for the American people."
Related: Is Trump keeping his promises on manufacturing?
A number of key industries were busy hiring. Manufacturing added 31,000 jobs while health care added 29,500 workers and construction 24,000. Temporary help services added 18,300 jobs, a good sign since employers often bring on temporary workers before adding permanent positions.
Even some battered sectors, such as retail reported strong growth as retailers added 18,700 beyond their normal seasonal hires, the best month for the sector since January.
The jobs report echoes other signs of strength: The economy grew 3.3% in the most recent quarter, the best since 2014, and the stock market is at record levels.