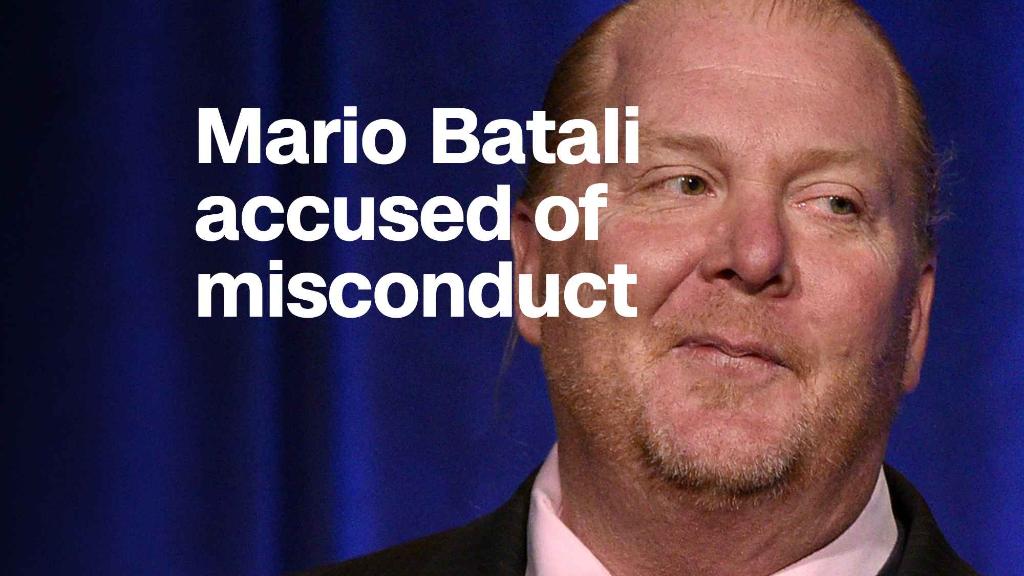 Celebrity chef Mario Batali is stepping away from his restaurant business and ABC television show amid allegations of sexual misconduct.
Batali said in a statement to CNNMoney that he is "deeply sorry" for any pain or humiliation he has caused.
"I apologize to the people I have mistreated and hurt," Batali said. "That behavior was wrong and there are no excuses. I take full responsibility and am deeply sorry for any pain, humiliation or discomfort I have caused to my peers, employees, customers, friends and family."
That statement was first made public early Monday in an investigation on Eater, the restaurant news website. Eater's report included four accounts of women who claimed that Batali "touched them inappropriately in a pattern of behavior that appears to span at least two decades."
The women, some of whom worked for Batali, claimed he had groped them, according to Eater. The story did not name them.
Related: The media men who have been accused of sexual misconduct
Batali did not refer to the Eater investigation in his statement. But he said, "although the identities of most of the individuals mentioned in these stories have not been revealed to me, much of the behavior described does, in fact, match up with ways I have acted."
"We built these restaurants so that our guests could have fun and indulge, but I took that too far in my own behavior," he said. "I won't make that mistake again."
The Batali and Bastianich Hospitality Group, a collection of restaurants, confirmed to CNNMoney that Batali has stepped away from company operations.
He remains an owner of the group, which he founded with restaurateur Joe Bastianich. A spokesperson said that Batali and the owners are reviewing that role.
"We take these allegations very seriously," B&B said in a statement, which was first provided to Eater. "We pride ourselves on being a workplace for our employees where they can grow and deliver great service with equal opportunity and free from any discrimination.
The group added: "We have strong policies and practices in place that address sexual harassment. We train employees in these policies and we enforce them, up to and including termination."
The B&B spokesperson said the company also investigated a complaint about Batali's behavior in October. It was the only complaint B&B has ever received about Batali, the company said.
An employee at one of the group's restaurants reported "inappropriate behavior," according to the spokesperson, who would not disclose the name of the restaurant or details about the incident.
The B&B spokesperson said Batali was counseled, reprimanded and required to undergo additional sexual harassment training. After that report, he volunteered not to go to the restaurant mentioned in the complaint.
Within the past few weeks, he stepped away from his operational role entirely, said the spokesperson, who declined to say anything further about what led to that decision. The company said it was not aware of other complaints at its restaurants.
Batali has also been a host on ABC's "The Chew" for the past several years. An ABC spokesperson told CNNMoney on Monday that he is also stepping away from that production.
"We have asked Mario Batali to step away from The Chew while we review the allegations that have just recently come to our attention," the spokesperson said. "ABC takes matters like this very seriously as we are committed to a safe work environment. While we are unaware of any type of inappropriate behavior involving him and anyone affiliated with the show, we will swiftly address any alleged violations of our standards of conduct."
And Food Network, which aired Batali's show "Molto Mario" from 1996 to 2004, said it is shelving plans to bring back the program.
"Food Network takes matters like this very seriously," the network said.