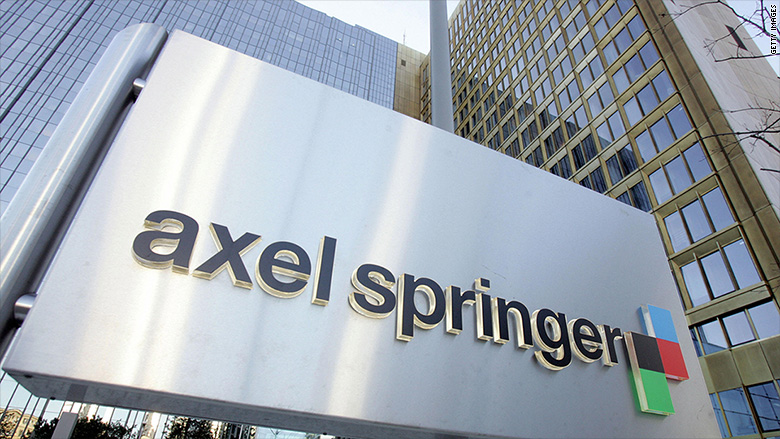 European publishing giant, Axel Springer, is sending a signal to the advertising duopoly, Facebook and Google: It is taking its battle with the internet giants from Europe to the United States.
Axel Springer is joining the News Media Alliance, a trade group which represents and lobbies on behalf of the print and digital news industry. It is the first time a non-American publisher is joining the alliance, which will benefit from having vocal and powerful partner as media companies wrangle with how to survive in the digital age.
"For us, it's a new beginning of working on political matters in the United States and its very important that different publishers ... are defining their interests toward search engines and news aggregators so we compete on a level playing field and to get a value chain that helps both sides to survive," said Dietrich von Klaeden, Axel Springer's senior vice president for public affairs.
The news publishing business used to be highly defined by geography. But as internet and social media companies continue to serve users across the globe, the News Media Alliance and Axel Springer said they, too, shouldn't be bound by borders.
News Media Alliance president David Chavern said in an interview that having Axel Springer on board will bring expertise in their fight for ad dollars with Facebook and Google, which according to several estimates, take up more than three quarters of online digital advertising money. Axel Springer is the largest digital publisher in Europe and owns some of the biggest German papers like Bild and Die Welt. Axel Springer is also partnered with POLITICO Europe and owns U.S.-based website, Business Insider.
"We've never had a European-based member before and what it does is signal in a world of convergence that the publishers are really all getting together. We're working on getting news publishers no matter where they're located aligned," Chavern said. "Frankly it plays to Google and Facebook's advantage in particular that we are all in our cubby holes and talking only about European or U.S. business, but in reality they're international problems."
The News Media Alliance is seeking a limited antitrust exemption from Congress in order to win the right to negotiate collectively with online platforms like Facebook and Google, as part of an effort to get their members a better deal when the sites use their content.
Axel Springer has been aggressively confronting internet companies like Google and Facebook with their concerns in recent years, at times translating those concerns into lobbying for laws and in some cases, lawsuits. Chavern said it will be helpful having Axel Springer in the room with experience on such fronts.
Axel Springer was also part of an alliance of eight of the biggest German publishing groups to pool reader data for ad targeting as a way to compete with Google and Facebook. The company has also been supportive of government regulation and fines on the big internet companies, such as the $2.7 billion fine that the European Commission leveled against Google over the summer for unfairly prioritizing the company's own shopping service in search results.
Bild, one of Axel Springer's most important brands, has approached its relationship with social media and internet companies by grades. If a platform isn't hitting the marks on metrics that Bild prioritizes, like relative monetization or user engagement, they stop everything with that platform.
Therein lies the possible power of publishers joining forces to take on the internet giants, Chavern said.
"Google and Facebook sit between us and our customers and we need a better deal from them if we want to sustain the news business," he said.