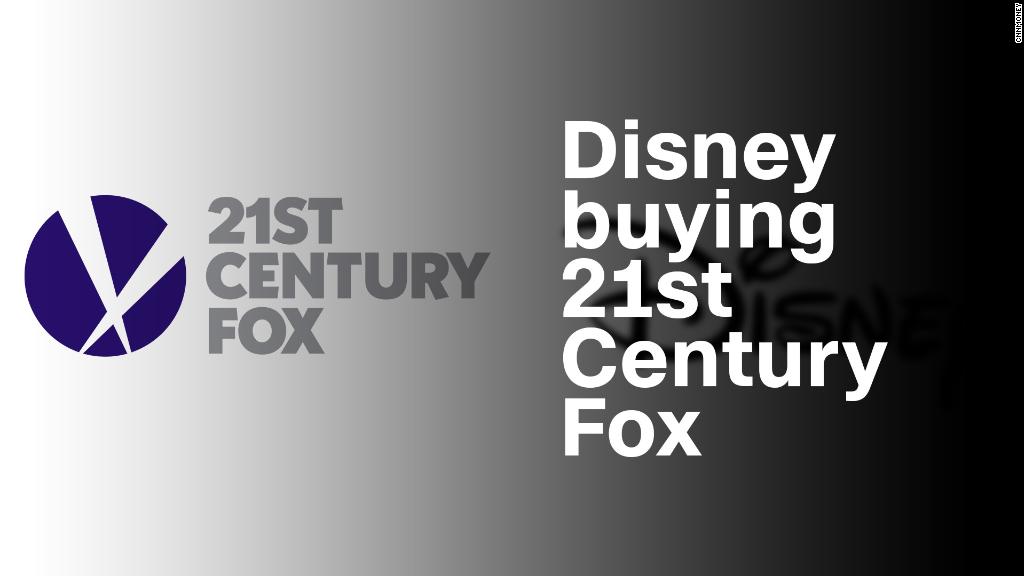 These are hard times for ESPN, which has been losing viewers and subscribers and cutting hundreds of staff members.
But on Thursday the network's owner, Disney, doubled down on sports, buying 22 regional sports networks as part of a $52.4 billion deal with 21st Century Fox (FOX).
It's a sign Disney believes that, in an on-demand era that makes it hard to get viewers to watch advertisers' commercials, sports is one product that fans will still watch live. Assuming this deal goes through, Disney now will have significantly more sports programming than it has ever had before.
"We're looking at the acquisition of the 22 regional sports networks as being a perfect complement to ESPN's current offerings," said Disney CEO Bob Iger on a call with investors Thursday.
Related: What Disney-Fox deal means for Marvel, 'Avatar' and streaming
ESPN has always been a national sports network, inking multi-billion-dollar rights deals with leagues rather than with specific teams.
But fans watch most of the nation's major team sports primarily on local networks. The 22 networks included in this deal broadcast many of those games. They have rights deals with half of Major League Baseball teams, as well as 17 of 30 NBA teams and 12 of 30 NHL teams.
ESPN will now control these rights, giving them access to even more sports fans. And local fans watching regional networks are particularly loyal.
"As a category, the regional sports networks receive the second highest level of subscriber fees in the country. ESPN is No. 1," said Lee Berke, CEO of LHB Sports Entertainment & Media, a sports media consulting firm. "On any particular night, in many markets in the country, the team's local game is the most watched piece of programming."
ESPN has long been the most profitable part of Disney (DIS), dwarfing the profits from theme parks or movies.
But while the sports network still commands top dollar from cable operators for each subscriber, the number of U.S. subscribers has been dropping steadily, from a high of 100 million in 2010 to 88 million as of September.
That's mostly because Americans are cutting the cord, ditching expensive cable or satellite television packages to watch streaming services. And fewer viewers means less advertising revenue. As a result, ESPN has laid off 250 staff this year, including some high profile on-air commentators. But it's still a relatively healthy business, generating most of the $7 billion Disney earned from its media networks in the last year.
"No question that their margins have shrunk, but they're better than many other media businesses," said Berke.
Related: Disney buys 21st Century Fox - Who gets what
Both Disney and ESPN are preparing for life after cable and satellite systems, buying a majority of BAMTech, a streaming technology company whose clients include HBO Now.
Disney plans to launch a stand-alone streaming ESPN service in 2018. The service won't carry most of the top games that air on the network. But Iger said Thursday it will be ready to shift games to streaming as viewer habits change.
Disney is "well-positioned to switch and distribute those programs direct to the consumer through the platforms that we've created," Iger said.
This deal gives Disney a lot more sports programming to potentially stream in the future. But the company won't make that move in the near term, Berke said.
For now, viewers generally need to subscribe to a cable or satellite TV service to watch ESPN online, which helps to shield pay-TV operators from the streaming onslaught.
"There's good reason for Disney to protect the cable operators -- ESPN gets a lot of subscriber fees," said Berke. "But if more people are watching streaming online, if market share shifts, then as a content provider Disney is going to go where the eyeballs are. The key is to be flexible."