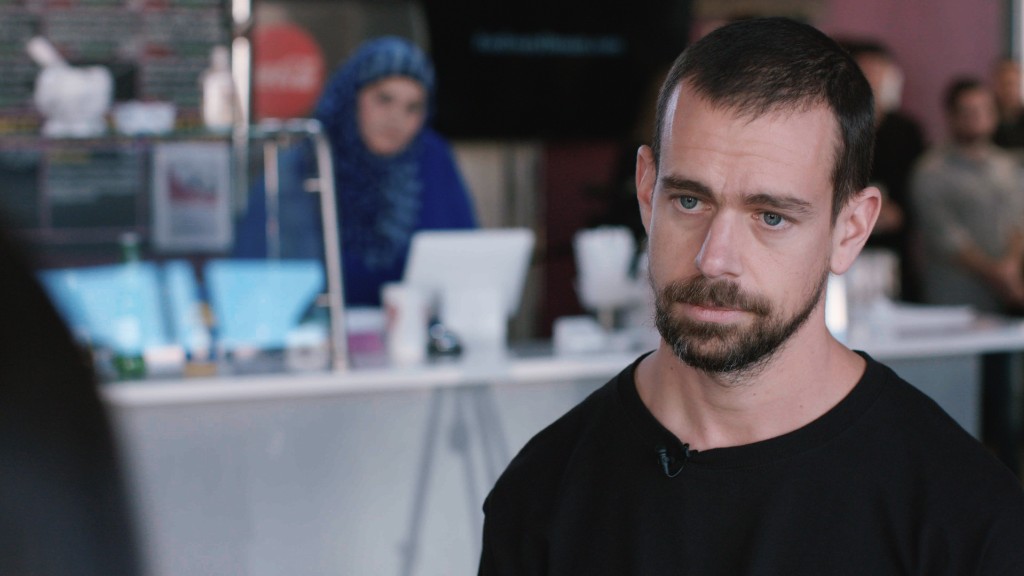 Like a modern-day Helen of Troy, whose face famously launched a thousand ships, it looks like a tweet from Goldman Sachs CEO Lloyd Blankfein has launched a thousand Twitter takeover rumors.
Blankfein tweeted a picture of himself with Twitter (TWTR) CEO Jack Dorsey Wednesday along with the following joke: "And they say I don't know jack!"
Blankfein was at Twitter headquarters to be interviewed by Dorsey. But since that tweet, there has been increased chatter about whether Twitter might be considering putting itself up for sale -- and if Goldman Sachs (GS) would be its merger advisor.
Twitter shares have surged more than 6% this week and are up nearly 40% this year -- despite the fact that many analysts remain concerned about slowing user growth, the lack of profitability and increased competition from Facebook (FB) and Snapchat (SNAP).
So the merger speculation makes sense. Some have suggested that Twitter would be better off as the part of a larger company.
There has been frequent chatter about whether Google owner Alphabet (GOOGL) would want to buy it, especially since former Google executive Omid Kordestani left Google to become Twitter's executive chairman in October 2015.
Disney (DIS) was reportedly looking at Twitter last year as well, and Goldman Sachs was said to be advising Twitter at the time.
Apple (AAPL) and cloud software firm Salesforce (CRM), run by frequent tweeter Marc Benioff, have also been cited as possible Twitter acquirers.
There's also the argument that Dorsey would be better off giving up control of Twitter so he can focus even more on the other company he runs -- mobile payments firm Square.
Shares of Square (SQ) have soared nearly 175% this year and a recent rally has been fueled by the fact that Square has started to let users of its Cash app buy and sell bitcoin.
Flash forward to this week. Disney just bought a big chunk of 21st Century Fox (FOXA). And that has reignited talk of more consolidation throughout the media world, including social media companies like Twitter.
Related: Trump talked to Rupert Murdoch about Disney deal
A Twitter spokesperson said the company does not comment on rumors but added that Blankfein was at Twitter headquarters "to speak to Twitter employees about leadership and his use of Twitter."
"We have a wide range of guests who come speak to our employees as part of a larger Q&A series with well known Twitter users," the spokesperson added.
Goldman Sachs had no comment.
Still, there are some reasons to be bullish on Twitter that have nothing to do with a possible takeover.
Some hope that engagement -- and hence, advertising revenue -- may increase now that Twitter has doubled its character count to 280.
Related: The case against 280-character tweets
There was some initial skepticism about the change, but that has largely died down. In fact, even Blankfein seems to be a fan after showing some reservations at first.
Blankfein tweeted on November 7 that he likes "the discipline of 140. Makes you commit. No room for "on the other hand...." #280characters is practically an essay!" That tweet took up just 137 characters.
But he quickly changed his tune, writing in a 173 character tweet on November 20 that "I'm using up to #280characters now because the room is there. Just like I know the 140 calorie yogurt is better for me but can't resist the 280 calorie cake if it's there."
Twitter also has a new partnership with news organization Bloomberg that is set to launch Monday. Bloomberg will debut a 24 hours/7 days a week social news network on Monday called TicToc that will stream live on Twitter.
This is just the latest effort by Twitter to show Wall Street that the service is not just about the famous people using Twitter, such as President Trump, but that it can also be a viable platform for live news and sports programming.
In addition to the deal with Bloomberg, Twitter also has live video deals with BuzzFeed, streaming financial news network Cheddar, Major League Baseball and golf's PGA Tour.
The jury is still out though as to whether or not Twitter will still be an independent company at this time a year from now. A lot of that will depend on whether Twitter's new video efforts can really boost user growth, ad sales and profits.
But that's probably something Blankfein and Dorsey will talk about in private as opposed to sharing those thoughts with Blankfein's 75,000 followers and Dorsey's more than 4 million devotees.