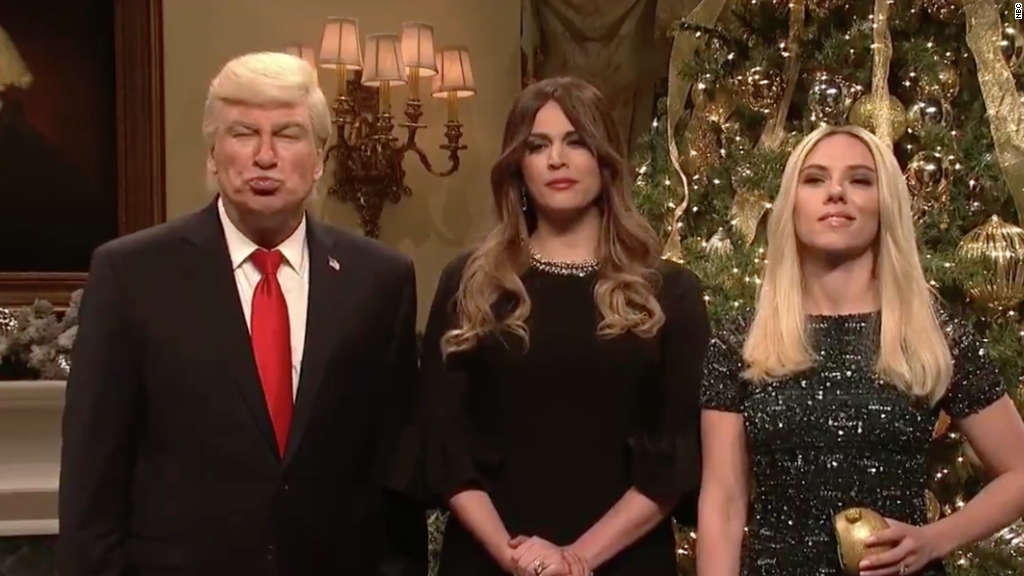 It's the most wonderful time of the year and "Saturday Night Live" had a special Christmas message from President Donald Trump on Saturday night.
"The war on Christmas is over," Alec Baldwin's Trump said opening Saturday night's show. "It will soon be replaced by the war with North Korea."
Baldwin's Trump stood alongside his wife, Cecily Strong's Melania Trump, as the two wished a Merry Christmas to all from the White House.
"It's Christmas time. Soon white Santa will be coming from house to house, taking presents from Muslims and illegals and giving them to American children," Baldwin's president said.
Trump then explained he was going to decorate his tree, which Baldwin's Trump called the "tree of shame," with ornaments that had the faces of those who were "haters and losers" this year.
The first White House staff member to come by and hang an ornament on the tree was Kate McKinnon's Kellyanne Conway.
"I chose disgraced FBI director James Comey," McKinnon's Conway said, holding an ornament with Comey's face on it.
"Thank you, Kellyanne," Trump responded. "What would you like to have for Christmas?"
"I want out," she said back.
Following Conway, Aidy Bryant's Sarah Huckabee Sanders hung two ornaments on the tree, one that had Sean Spicer's face on it and the other that had Anthony Scaramucci's likeness. Bryant's White House press secretary said she picked them because they were the "mangled corpses" she had to step over to get her job.
Others like Beck Bennett's Mike Pence and Scarlett Johansson's Ivanka Trump also took part in the special Christmas message from the White House.
"Ivanka, you made it, but where's Jared?" Trump asked Ivanka, referring to husband Jared Kushner.
"He's packing a go bag before the FBI arrives," she said.
The Christmas message also included an appearance from McKinnon's Jeff Sessions, who was dressed as an Elf on the Shelf.
"Whether you're Christian or Jewish, or that's it, we all can agree it's going to be a Merry Christmas," McKinnon's Sessions said, dressed as the popular holiday character.
However, not everyone was allowed in on the special Christmas message, like Leslie Jones' Omarosa Manigault Newman, who left the White House this week.
"Hey! Let me in," Jones' Omarosa said from the outside looking in. "Nobody kicks Omarosa out of the White House!"