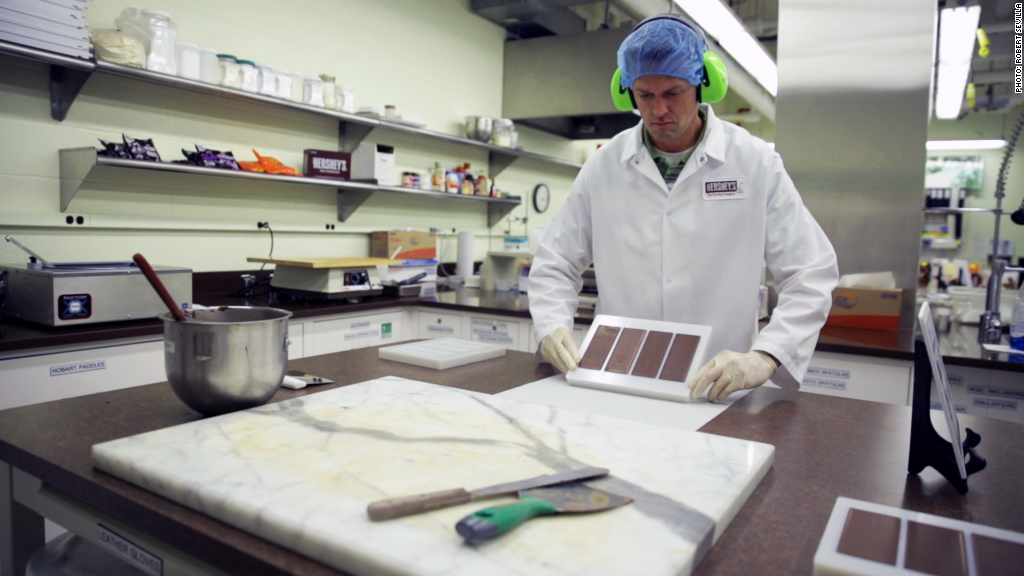 It's a marriage of sweet and salty.
Candy king Hershey is buying Amplify Snack Brands, the maker of SkinnyPop popcorn, for $1.6 billion.
The Hershey (HSY) acquisition values Amplify Snack Brands (BETR) at $12 a share -- a more than 70% bump from the $7 price that the stock closed at on Friday. Shares of Amplify Snack Brands surged nearly 71% Monday morning.
But Amplify Snack Brands stock is still well below the $18 a share price that the company went public at back in August 2015.
Amplify Snack Brands has missed earnings forecasts in six of the nine quarters it has reported since its IPO.
Wall Street has also been worried about slowing sales growth for the company's SkinnyPop, which has lower salt than many other popcorn brands, uses no GMOs, gluten or preservatives and is popped in healthier sunflower oil.
Still, Hershey CEO Michele Buck raved about the deal, saying in a press release that it will help the company become "an innovative snacking powerhouse."
That's a jargony statement to be sure. But Hershey has taken several steps over the past few years to broaden its product line beyond candy bars, Hershey's Kisses and Reese's Peanut Butter Cups.
Hershey acquired jerky maker Krave for a reported price tag of more than $200 million in 2015 in order to diversify beyond the confectionery business.
And Hershey recently unveiled a new candy bar called Hershey Gold that has no chocolate. It's a caramelized crème candy with peanuts and pretzels instead.
Related: The first new Hershey bar in 22 years has no chocolate
Buck said that the Amplify deal should add to earnings fairly quickly, even though it's paying a steep price for Amplify Snack Brands. It's all about adding new products to boost sales and earnings.
Susquehanna International Group analyst Pablo Zuanic thinks the chance to bolster the product line justifies the big premium Hershey is paying for Amplify Snack Brands.
"Food companies will pay steep premiums to improve their growth profile," he wrote in a report Monday. "Hershey wants to expand into the broader snacks category, so the [Amplify] deal is consistent with that strategy."
There is also added pressure on Hershey and Buck, a 12-year veteran of the company who became CEO in March, to prove to investors that Hershey can still go it alone in a highly competitive business.
That's because Oreo maker Mondelez (MDLZ) made a $23 billion takeover offer for Hershey in June 2016 that Hershey rejected. Mondelez ultimately walked away from the deal a few months later.
Hershey's stock is still up about 20% since Mondelez ended its attempt to buy Hershey in August 2016, but the stock has lagged the gains of the broader market.
Related: Bittersweet news as Hershey cuts more than 2,000 jobs
The Hershey-Amplify deal is actually one of two snack mergers announced Monday.
Campbell Soup (CPB) also agreed to purchase pretzel maker Snyder's-Lance for $4.9 billion. Rumors of a deal first surfaced last week, pushing Snyder's-Lance (LNCE) stock to a 13% gain Thursday and 5% higher Friday. The stock rose another 7% Monday.
Both mergers are the latest in a flurry of food deals announced this year.
ConAgra (CAG) acquired Boomchickapop parent company Angie's Artisan Treats for $250 million in September and Kellogg (K) gobbled up Chicago Bar, the owner of the RXBar protein bar, for $600 million in October.