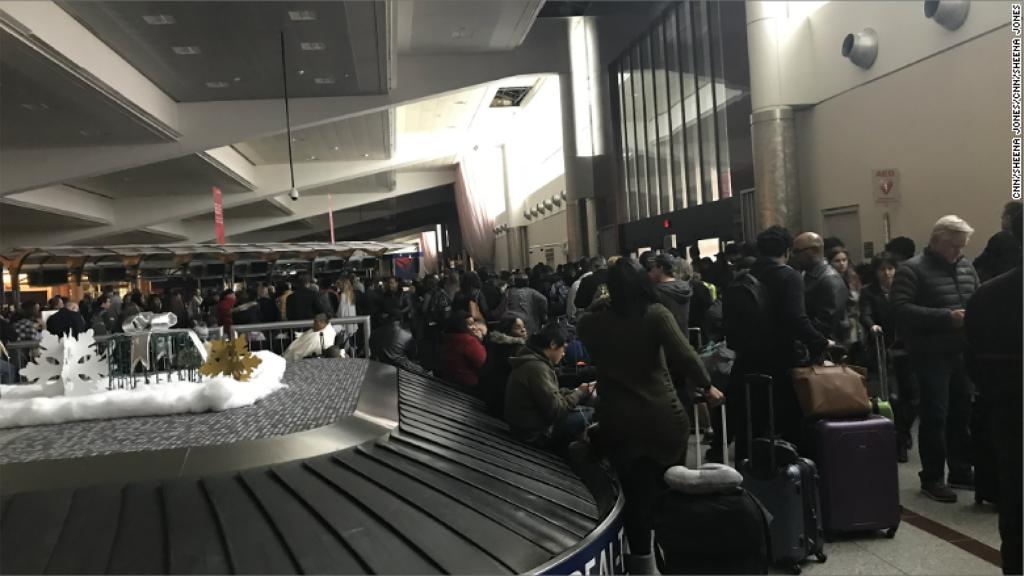 The power is back on at the busiest airport in the world.
But as passengers scramble to make rescheduled flights during the busy holiday season, the question remains: Why did Atlanta's Hartsfield-Jackson airport go dark for nearly 11 hours?
The short answer is that an electrical fire in a tunnel beneath the airport crippled both the main power system and its backup. Experts say the broader issue is that America's airports don't seem to be prepared for such events.
Georgia Power, the utility that provides Hartsfield-Jackson with electricity, said in a statement Monday that "a piece of Georgia Power switchgear located in an underground electrical facility could have failed and started a fire."
Because the fire was in a tunnel "adjacent" to the backup cables, the fail-safe system was knocked out, too, Georgia Power said.
Workers then had to wait between an hour and a half and two hours to enter the tunnel and start repairs due to safety concerns, Atlanta Mayor Kasim Reed said at a press conference on Sunday.
Related: Thousands trying to get out of Atlanta after lights went out at Hartsfield airport
"Because of the types of fumes that came through the tunnel as a result of the fire, we had to take some time before the team from Georgia Power could access the tunnels," Reed said.
Experts who study transportation infrastructure, however, expressed disbelief that such an incident could knock the Atlanta airport's power out for so long.
"[A] fire shouldn't paralyze the country's busiest airport for half the day. It may take a couple hours to bring alternative power to the airport, but if the airport infrastructure itself was undamaged, it shouldn't have been nearly as painful," said Joseph Schwieterman, a public policy professor at DePaul University who specializes in transportation and urban planning.
Georgia Power's investigation into exactly what happened will last the rest of the week, CEO Paul Bowers said Monday on "Good Morning America."
For air travel, it's been "death by a thousand cuts," Schwieterman said. From bad weather to computer issues to Sunday's power outage, airlines have been repeatedly hit with shutdowns, exposing a number of vulnerabilities in the process.
Severe thunderstorms in Atlanta in April seriously disrupted Delta's operations for days. British Airways had a "major IT system failure" in May that interrupted flight schedules worldwide. And in August 2016, Delta experienced a computer outage that downed critical systems for nearly five hours.
"Airport outages seem to be happening more and more, for a number of reasons, but planning for these outages is not prioritized," said Megan Ryerson, a professor at the University of Pennsylvania who studies airport infrastructure planning.. " ... It's something I think requires a lot of focus."
According to Ryerson, carriers and airports should put more energy into ensuring day-to-day operations are "as reliable and predictable as possible, rather than focusing on growth."
Since top U.S. airlines rely on certain cities as hubs, the ripple effect from some airports can be particularly severe. The primary hub for Delta (DAL) is in Atlanta, while United (UAL)'s is in Chicago and American (AAL)'s is in Dallas.
Sunday's fire and subsequent power outage caused 1,180 flight cancellations to and from Hartsfield-Jackson airport that day alone. Hundreds more were announced on Monday.
"As a country, we're dependent on just a few critical airports. And when one of them goes out, it's devastating," Ryerson said.