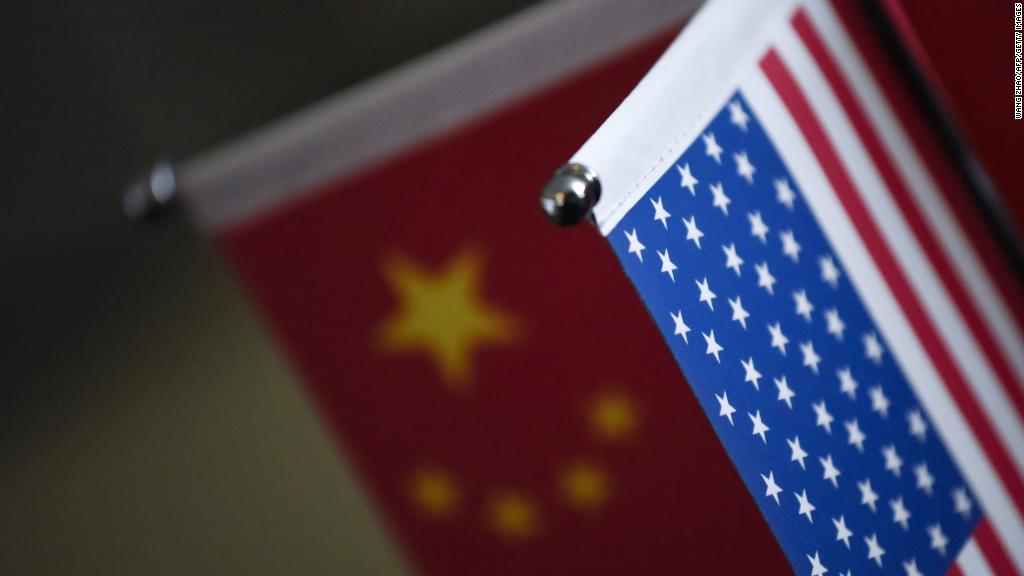 The United States vs. China was the 2017 trade battle that never materialized. But 2018 could be a different story.
President Trump hammered China on the campaign trail, promising to get tough on trade. But his tune changed once in office, with fiery rhetoric giving way to a budding bromance with Chinese President Xi Jinping.
Trump didn't follow through on his promise to label China a currency manipulator, and instead opened talks with Beijing on improving economic ties. He also put potentially inflammatory investigations on the back burner.
Related: Trump's top trade issues: Where they stand
"Despite strong language a year ago, the U.S. administration has been remarkably restrained in its usage of measures to restrict imports from China," said Louis Kuijs, the top Asia economist at advisory firm Oxford Economics.
But experts predict things are going to get nasty in 2018.
'I expect a trade war'
Trump's patience appears to be running out, especially with his idea to cut Xi some slack on trade in the hope China would pressure North Korea into backing down on its nuclear weapons program.
Trump and his trade lieutenants are expected in the coming months to announce results from some of their big investigations -- on issues like steel and intellectual property theft -- that could result in tariffs on Chinese goods.
"I expect a trade war to emerge in the first part of the year, and it could spiral into a serious conflict that threatens other elements of the relationship," said Scott Kennedy, director of the Project on Chinese Business and Political Economy at the Center for Strategic and International Studies.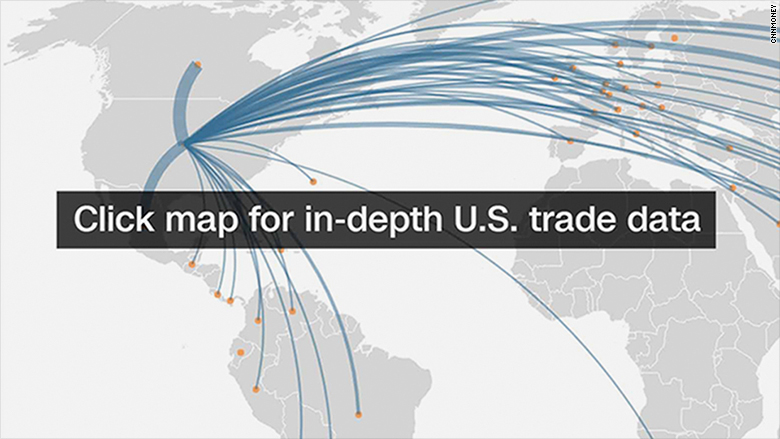 The initial trade talks between the world's two largest economies, which began after Trump and Xi hit it off in Florida in April, fell apart without meaningful results.
The U.S. president on Monday cast China in a harsh light as he laid out his vision for national security.
Trump's newly unveiled strategy identified China and Russia as U.S. rivals that are "attempting to erode American security and prosperity," and he accused Beijing of unfair trade practices.
Related: Trump unveils national security plan, blasts previous presidents
"We all know that this is going to heat up in the coming months," said Mireya Solis, co-director of the Center for East Asia Policy Studies at the Brookings Institution.
She expressed concern that unlike the economic rivalry between the U.S. and Japan in the 1980s, Washington and Beijing aren't allies bound together by a defense partnership.
Despite the U.S. and China's deep economic links, the lack of a broader alliance makes "the threat of an escalation" in trade tensions much greater, Solis said in a discussion Monday with Brookings colleagues.
Beijing responded to Trump on Tuesday, calling on the U.S. to abandon its Cold War mentality and to "stop distorting" China's strategic intentions.
'The risk of damaging both economies'
Trump faces a huge challenge in persuading Beijing to stop aggressively boosting its domestic industries and to do more to open its own giant markets without setting off a trade war that hurts American jobs.
Trump gave up one major tool for influencing China right after taking office when he yanked the U.S. out of the Trans-Pacific Partnership (TPP), a vast free trade agreement covering 12 countries that President Barack Obama had spearheaded in an effort to strengthen U.S. leadership in Asia and the Americas.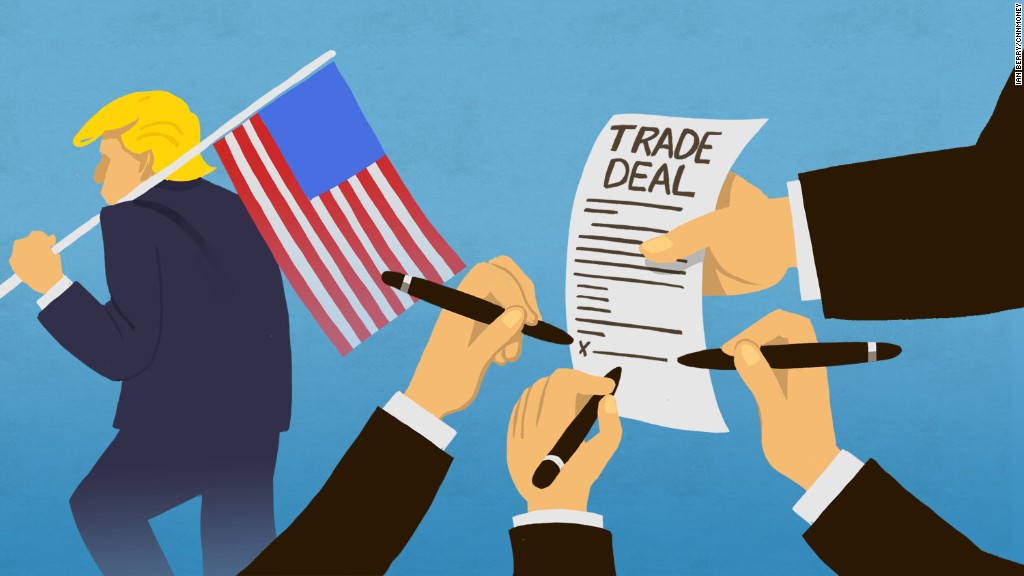 A successful TPP would have provided "an incentive for China to reform," said David Dollar, a China expert at the Brookings Institution.
"Now, we've lost that and the administration is talking about taking some harsh actions, which is probably not going to change Chinese behavior but has the risk of damaging both economies," he said in the conversation with Solis.
Related: New Pacific trade deal could leave U.S. playing catchup
Trump has also dismissed other multinational approaches to trade, saying they "tie our hands, surrender our sovereignty and make meaningful enforcement practically impossible." But that attitude also makes it harder to pressure China to play fairer on trade.
"The U.S. is pursuing this effort unilaterally and with no allies," Kennedy said. "Because the U.S. is at loggerheads with so many others, no other country is standing by the U.S.'s side."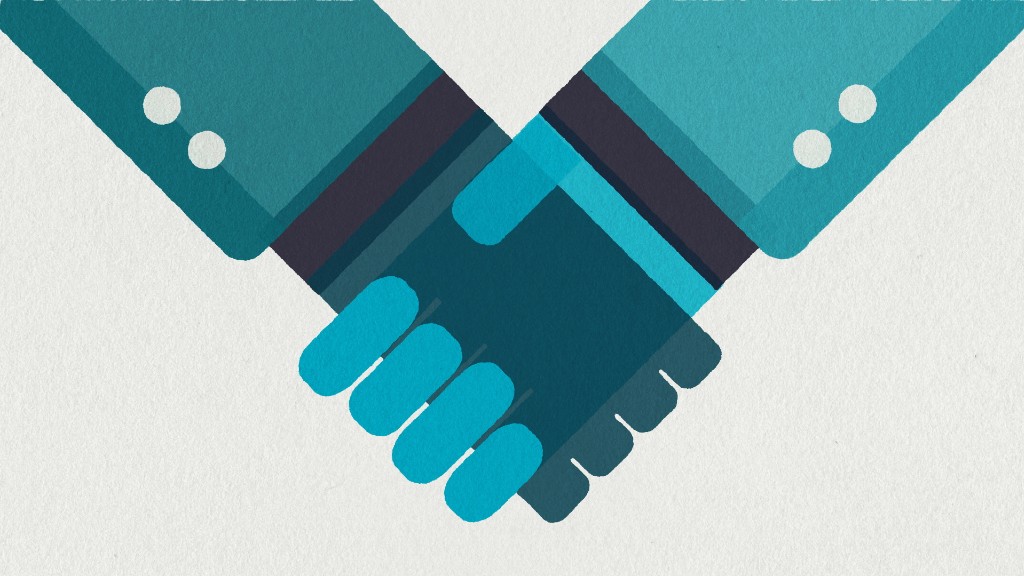 Dollar, who previously worked for the U.S. Treasury Department, isn't convinced that the increasingly threatening noises from the White House will necessarily lead to aggressive protectionist measures against China.
"It's not obvious to me the U.S. will go down that road," he said. "I think there'll be a lot of resistance from the business community and members of Congress."
'The Chinese government is jittery'
Still, the more confrontational signals from Washington haven't gone unnoticed in Beijing.
"The Chinese government is jittery again," said Song Guoyou, an expert in Chinese economic diplomacy at Fudan University in Shanghai. He also predicts that next year will be "the real start of turbulence in China-U.S. trade relations."
A big part of the problem, experts say, is Trump's habit of focusing on the $309 billion U.S. trade deficit with China and not the broader economic relationship between the countries.
Related: U.S. trade deficit with China and Mexico is growing
"The trade balance has absolutely nothing to do with whether China is playing fair," Kennedy said. "In fact, if China were to reduce some of its market access barriers to foreign investment, its trade surplus with the U.S. might rise."
But Trump appears willing to try to bring the deficit down, even if it leads to conflict. And then he may face an even bigger challenge.
"It's much easier to get into a trade war than it is to get out of one," Kennedy warned.
-- Serenitie Wang contributed to this report.