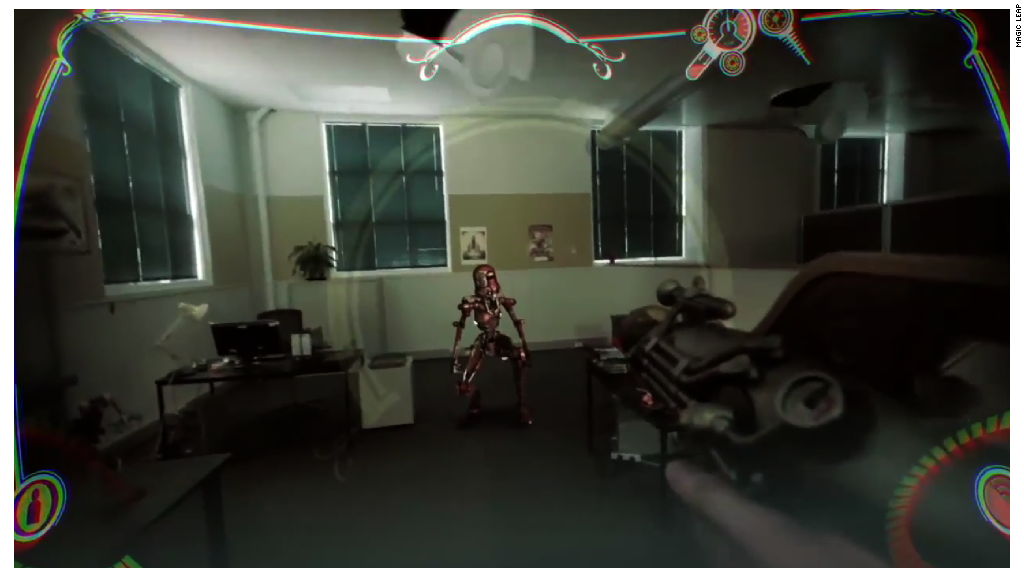 Magic Leap, the mysterious augmented-reality startup that has raised an astounding $1.9 billion without releasing so much as a prototype, has big plans for 2018.
On Wednesday, the company shared photos of its first product, Leap One. The sleek images show people wearing a black headset and holding a remote. The product won't need to be tethered to a computer to work, but it does require a round computing component that looks like a Discman in the images.
The company says Leap One is a "Creator Edition" of its technology that will be released sometime in 2018, though it did not give a price point or date.
Leap One will combine digital animations with the real world. Microsoft's Hololens and Apple's AR smartphone technology do something similar. Magic Leap claims its augmented reality technology will be able to make digital objects blend in with real settings in a way that won't strain the user's eyes.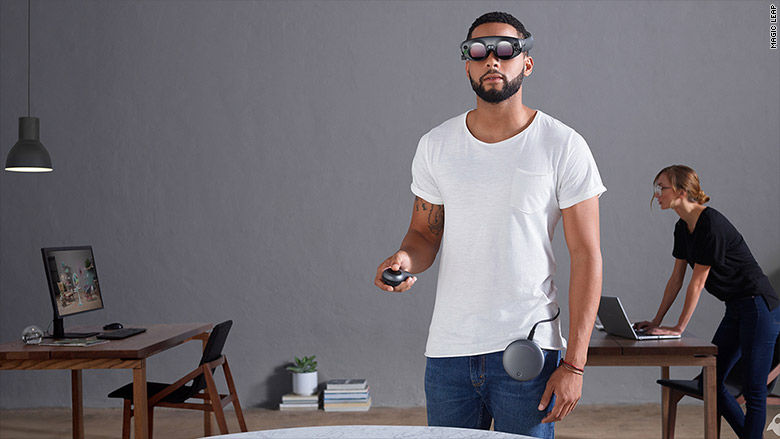 Sensors and cameras will map out your surroundings so the virtual cat or fireplace will look as natural as possible. It will also be able to remember where you've placed virtual objects, according to the company. Other features include voice and gesture controls, and audio that can make it sound like your virtual cat is purring near, far, or in a specific location.
Related: Can Apple make us play Pokemon Go again?
These photos are the first time we've seen what the final hardware could look like. Though they've been Photoshopped, Magic Leap says the devices shown in the images are not renderings, but a "product equivalent device." It has a manufacturing facility below its offices where it can quickly create prototypes.
Based in South Florida, the company has only doled out vague hints about its technology since it was founded in 2011. It did a demo in 2014, though MIT Technology Review said it used machines instead of a head-mounted unit to generate virtual monsters.
The first version of the device won't be for average consumers. Magic Leap hopes it will be used by developers or other creatives to make content for the platform.
"Anyone who is a creative or a developer or in the gaming community has the opportunity to make anything they imagine on this device. Early adopters too. We think they will have a really good time tinkering and creating," said Magic Leap spokesperson Julia Gaynor.