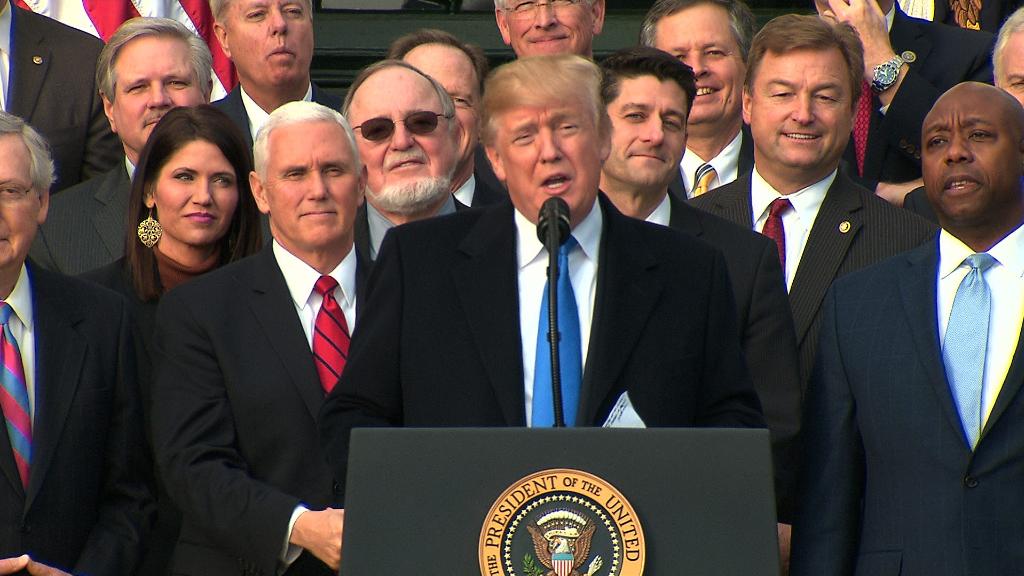 The GOP's tax reform will certainly cut taxes and may even create some jobs.
But many experts believe it will increase the trade deficit.
"The president may be unpleasantly surprised that his fiscal policy and his tax policy are working against his goal of reducing the trade deficit," says Brad Setser, a senior fellow at the Council on Foreign Relations.
The U.S. had about a $500 billion trade deficit last year and 2017 is on pace to beat that. President Trump argues the deficit shows America is losing jobs and money to Mexico, China and other nations. Economists disagree.
"You can't say, 'high trade deficits, we're getting killed," says Phil Levy, a senior fellow at the Chicago Council on Global Affairs who served on President George W. Bush's Council of Economic Advisers. "We often see higher trade deficits when we have lower unemployment."
Related: Trump and China: 2018 could get nasty
That's true: The U.S. trade deficit has gotten bigger over the last four years while unemployment has steadily fallen to nearly 4%. During the Great Recession, unemployment shot up to 10% and the trade deficit sharply declined.
Experts still aren't sure about the impact of this tax reform. It could actually increase or decrease the deficit, depending on whether you look at it through a lens of accounting or spending.
The case for increasing the trade deficit
Tax cuts give Americans more cash in their pocket, which means people may step up their spending, and create more demand.
American companies that manufacture goods in the U.S. likely aren't poised to meet that increased demand right away. That could force consumers to buy more imported cars, computers and other goods. If imports rise faster than exports, the trade deficit gets bigger.
So in the "real" economy, tax cuts could increase spending, which would likely bump up the trade deficit.
Related: U.S. isn't backing down on Canadian plane maker
The case for decreasing the trade deficit
But there is a way tax reform could bring the deficit down and veil some realities of the economy, all thanks to accounting.
The U.S. has had the highest corporate tax rate in the developing world at 35%. American companies have kept billions in profits overseas to dodge the high tax rate by lending their intellectual property to their subsidiary businesses.
For example, an iPhone may be designed by an American company, but in the tax world it isn't always counted as a U.S. export because of tax loopholes through subsidiary businesses.
The GOP tax overhaul slashes the corporate rate from 35% to 21%, and that may encourage companies to bring back profits into the United States. In theory, if all those profits were brought back, then those iPhones would be counted as U.S. exports.
More U.S. exports of goods, like cell phones, would help to decrease the U.S. trade deficit.
Experts note that this decreasing of the trade deficit is due to an accounting change and not a major shift in how the U.S. economy actually functions.
Related: Why Britain won't have a trade deal before Brexit
It goes up. It goes down. Does the trade deficit even really matter?
Economists say using a deficit to value a trading relationship, a trade deal or to justify imposing tariffs is a bad idea.
"It's an us versus them view of the world ... the real issue is not 'how do we keep imports out?' The real issue is 'how can we increase exports?'" says David Kelly, chief global strategist at JPMorgan Funds. "Tariffs have always ended in tears."
While the trade balance with China or Mexico may not be all that significant, the overall trade balance does play a role when U.S. officials crunch the numbers for economic growth. In a mathematical sense, a trade deficit weighs down growth.
However, consumer spending makes up over 60% of U.S. economic activity. So if American shoppers are buying more imports, that would likely boost economic growth and offset the negative impact of a deficit.