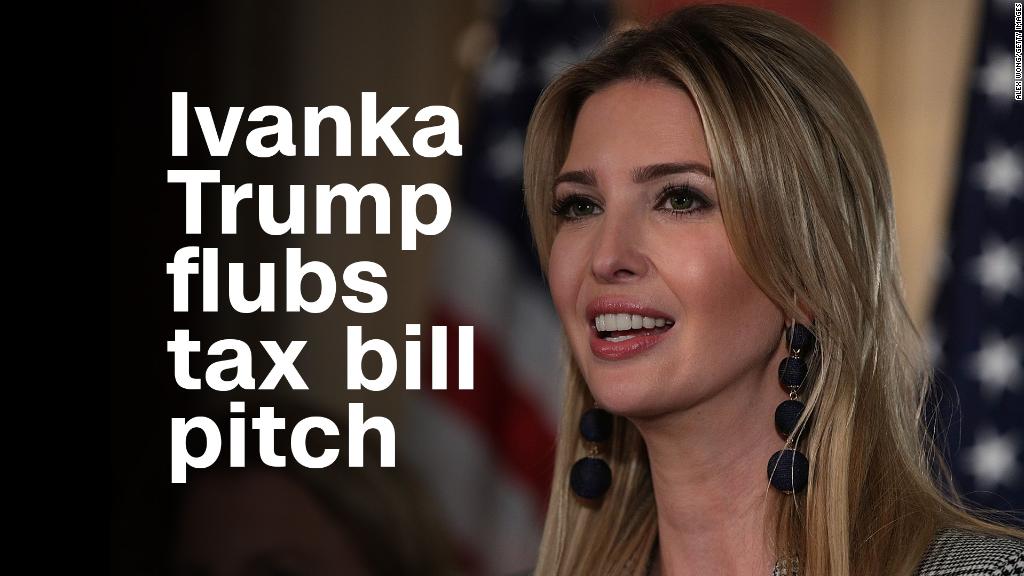 The first daughter made another appearance on "Fox & Friends" Thursday morning where she flubbed some details about tax reform.
During the interview, Ivanka Trump suggested that the newly passed tax overhaul bill will mean big changes for Americans when they file their taxes next year.
"I'm really looking forward to doing a lot of traveling in April when people realize the effect that this has, both on the process of filling out their taxes -- the vast majority will be doing so on a single postcard -- but also having experienced the relief that will be starting as early as February," she said.
In reality, the bill will not have any impact on 2017 taxes that are due on April 17, 2018. Nor will it change how people file next year -- whether on paper forms or online.
The bill's major provisions don't kick in until January 2018. That means all the changes the bill includes -- like bigger standard deductions and reworked child tax credits -- won't have any impact on tax filings until April 2019.
Congressional Republicans on Wednesday pushed the sweeping tax reform legislation through both chambers, and it now heads to President Trump to be signed into law. This is first significant reform to the tax code since 1986 and, among other things, it slashes the corporate tax rate and changes the tax brackets for individuals.
Related: New tax code will still be complicated despite GOP promise to simplify
Ivanka Trump also told Fox News many taxpayers will be filing their returns on a postcard in April. Republican backers of the bill have repeatedly said the same. House Speaker Paul Ryan doubled down on the claim in a Wall Street Journal op-ed published Tuesday, saying the bill simplifies the tax code to the point where "nearly 9 in 10 Americans will be able to file their taxes on a form the size of a postcard."
Experts say that's unlikely.
"The idea of sort of making things simple, there's some truth to that -- increasing the standard deduction will move a number of people off itemized deduction," said Joe Rosenberg, a senior research associate at the Tax Policy Center, a nonpartisan think tank. "But the concept of the postcard...we already have something like that in the current tax system. The 1040EZ allows a single person or even a married couple with no children, they can file a form, which is a very short form, and it's a single page and could probably be [reformatted] to fit on a postcard."
"Roughly 30 million people could fit on to that form," Rosenberg said of the 1040EZ. People aren't likely to change how they file their taxes once the new code takes effect, he said.
A Twitter user pointed out the apparent blunder Thursday morning, and Ivanka responded: "All across America people will be thinking about how cumbersome the old tax code is & energized about upcoming simplification!" Ivanka's reply said.
Related: What's in the GOP's final tax plan
When reached for comment, a White House official insisted that Ivanka -- who serves as an adviser to her father --was actually referring to April 2019 in her Fox News interview.
"Ivanka played an integral role in the Administration's tax reform efforts. This is silly. She was referring to the following April and this upcoming February," the official said in an emailed statement.
Ivanka's assertion about relief coming as soon as February could be true.
The IRS said in a statement on December 13 that it plans to issue new withholding guidelines in January, and that "would allow taxpayers to begin seeing the benefits of the change as early as February."
Put simply, that means less money will be withheld from some people's paychecks, consistent with the new tax rates.
--CNNMoney's Jeanne Sahadi contributed to this report.