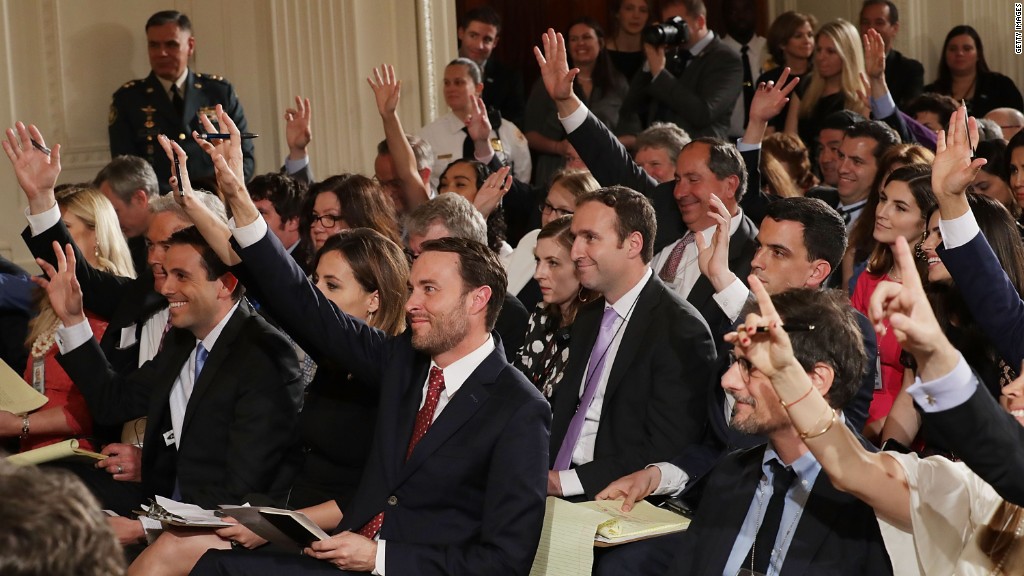 President Trump's year of flouting presidential traditions and trashing the media isn't quite over yet.
Trump left the White House on Friday without holding an end-of-the-year press conference.
While it's by no means a requirement to do so, most presidents in modern times have chosen to hold a formal news conference in December to tout accomplishments and share seasons greetings before Christmas.
This is the first time in 15 years that a president has opted not to.
CNN's Jeff Zeleny reported that Trump "wanted to hold a news conference, but aides prevailed on him not to."
Of course, Trump could surprise the press corps by announcing a press availability at Mar a Lago sometime between now and New Year's Day. But that looks unlikely to happen.
Analysts have speculated that Trump's aides and attorneys don't want him to speak in unscripted settings where he'll be asked about the Russia investigations.
In the seven months since Robert Mueller was appointed special counsel, Trump has had two main types of interactions with the press: Short sessions where journalists shout questions, and kid-glove interviews with supporters on Fox News.
He has given a handful of interviews to other outlets, including the Wall Street Journal and Reuters, but his only national TV interviews since May have been with Fox and Christian broadcasters.
He also answered questions informally in the Oval Office, including on Friday, and aboard Air Force One. But veteran journalists say this is no substitute for more formal encounters.
Trump held 20 joint news conferences with foreign leaders this year. But he only had one solo news conference at the White House.
It was an unforgettable affair, way back on February 16, less than a month after his inauguration. Trump did it "against his aides' advice," New York Times correspondent Maggie Haberman said on "AC360" this week.
"He loved it," Haberman said. "It felt to him like a venting session."
Related: Trump's record on press conferences breaks 64 years of precedent
Trump seemingly has a lot to vent about right now -- he tweeted repeatedly on Friday about accomplishments that he claims the media is ignoring.
In one of the posts, he sarcastically said, "With all my Administration has done on Legislative Approvals (broke Harry Truman's Record), Regulation Cutting, Judicial Appointments, Building Military, VA, TAX CUTS & REFORM, Record Economy/Stock Market and so much more, I am sure great credit will be given by mainstream news?"
That tweet will reach his core supporters and members of the media, but a press conference is a way to reach a much bigger audience.
Instead of a presser, Trump signed the GOP tax bill in front of cameras in the Oval Office. He spoke for about 20 minutes, complaining at one point about not getting "credit" from the media.
He answered a few questions from the small group of reporters who were brought in the Oval Office for the signing event.
At one point, he said to them, "Many of you have worked very hard. Many of you have worked very very fairly, and we appreciate that."
Then he left for Florida without taking any questions from the reporters who were waiting outside on the South Lawn.
Skipping a formal press conference could be seen as a Trumpian snub of the press corps.
He began the year by appropriating the term "fake news" and railing against coverage of his inauguration. His near-daily attacks deepened distrust of the media among his core supporters, but prompted others to express support for journalists and sign up for newspaper subscriptions.
Press access to the president has been a point of contention. Commentators pointed out that Trump has used Twitter to drive news coverage and sidestep formal Q&A settings.
Since the 1970s, end-of-the-year press conferences have been a tradition, although there have been some exceptions.
Jimmy Carter held two pressers in December in first year in office. Ronald Reagan also held one at the end of his first year, but skipped it during most of his other years in office.
George H.W. Bush resumed the tradition in 1989, and only skipped it once, after he lost his re-election bid to Bill Clinton.
In 1993, Clinton's first year in office, a reporter tried to squeeze in one more question, and he said, "All right, one more, one more, it's Christmas."
Presidents have frequently used the nationally televised setting to wish the nation a merry Christmas.
Clinton held a December press conference every year until 2000, when he was about to hand over power to George W. Bush.
Bush resumed the tradition in 2003, and it became a predictable part of the White House beat.
Bush and Obama usually held their end-of-the-year pressers between December 15 and 22. (The data for this story came from the American Presidency Project.)
As for Trump, Fox anchor Bill Hemmer asked White House press secretary Sarah Sanders about the prospect of a year-end press conference on Thursday.
"You never know," Sanders said. "We like to keep you guys guessing!"
She said, "the president loves taking questions."