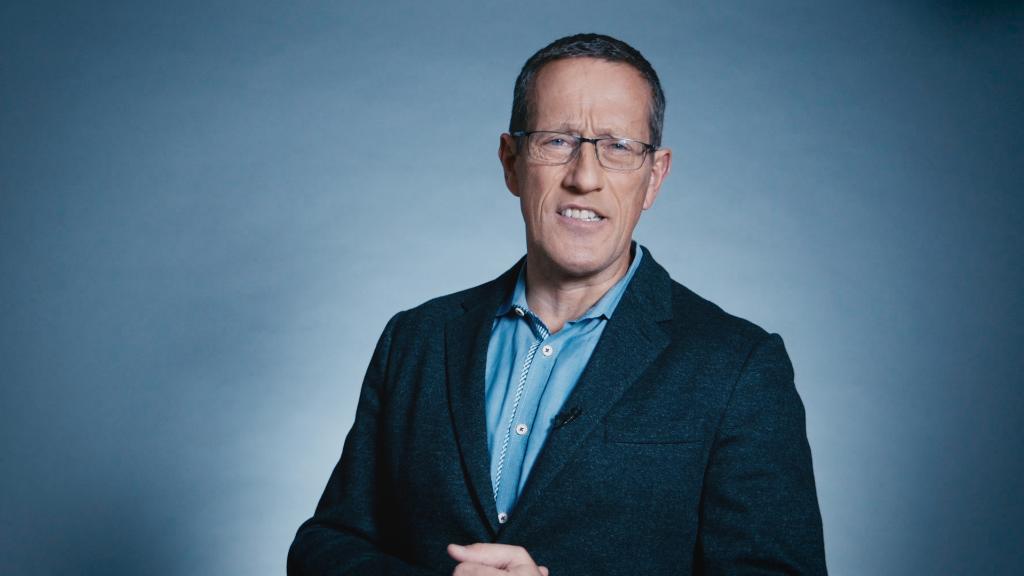 1. Capping off a terrific year: For many investors, the best gift would be if 2017 didn't end.
It's been a merry year in the markets, with the Dow up an impressive 25%. That would be the best annual performance since 2013.
If a Santa Claus rally during this holiday-shortened week lifts the Dow above 26.5% on the year, it would be the strongest gain since 1995, when the blue-chip index spiked 33%.
It's not just the 30-stock Dow that's on fire. The broader S&P 500 has zoomed 20% this year, similarly on track for its best performance in four years. And the Nasdaq has left both behind, with surge of nearly 30%.
Unlike the chaos in turbulent bitcoin, the stock market chugged along all year without any real hiccups. Market freakouts proved to be fleeting -- and terrific buying opportunities. The S&P 500 hasn't even suffered a 3% pullback (over one or multiple days) since prior to the election. That's the longest stretch on record. Extreme calm has sent the VIX (VIX) volatility index to all-time lows.
The euphoria on Wall Street was driven by a combination of very healthy fundamentals -- strong economic and profit growth -- along with excitement about the Republican tax overhaul. The lowered corporate tax rate and incentives to return overseas profits could spark a wave of share buybacks that make stocks look even more attractive.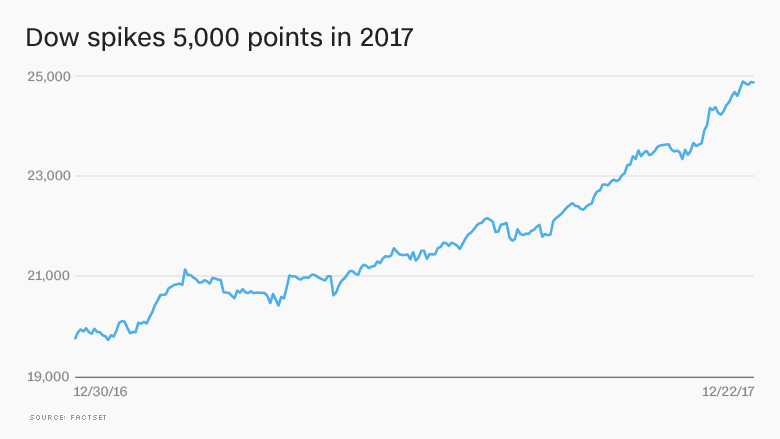 A critical question for 2018 is whether this experiment of adding stimulus to an already-healthy economy will have unintended consequences. The winning formula of the eight-year bull market in stocks has been steady growth, mysteriously-low inflation and rock-bottom interest rates from the Federal Reserve.
But what if the tax overhaul finally awakens inflation, forcing the Fed to accelerate rate hikes?
That could upset the "goldilocks" environment that has underpinned the bull market, making 2018 a more difficult year for investors to navigate.
Related: Corporate America's big, fat profitable year
2. NRG Energy wears the crown: NRG Energy (NRG), a power company with a number of renewable energy assets, is the top S&P 500 stock this year, as of December 22. It's more than doubled.
The runner-up is Align Technology (ALGN), the company behind the popular see-through Invisalign braces. Last quarter was Align's best in its 20-year history. And chip maker Micron (MICR) was the index's third-best performer.
Related: CNNMoney's Fear & Greed Index
The S&P 500's worst-performing stocks are all in the oil and gas business: Range Resources (RRC), Baker Hughes (BHGE) and SCANA Corporation (SCG). General Electric (GE), which had a terrible year of its own -- recently said it's exploring ways to exit its majority stake in Baker Hughes.
Related: How decades of bad decisions broke GE
3. Nasdaq 100's highs and lows: Align topped the Nasdaq 100 as of December 22. It's followed by Take-Two Interactive (TTWO), the video game developer that makes Grand Theft Auto, and the e-commerce platform MercadoLibre (MELI).
The Nasdaq had a very strong year overall, zooming past milestones on the strength of its tech stocks.
At the bottom of the list were satellite TV provider DISH Network (DISH), auto parts retailer O'Reilly Automotive (ORLY) and Walgreen's parent company Walgreens Boots Alliance (WBA). The pharmacy could see customers taken away by an Aetna (AET)-equipped CVS (CVS) or, if rumors prove true, Amazon (AMZN).
4. Coming this week:
Monday -- Market closed for Christmas Day
Wednesday -- Consumer confidence for December