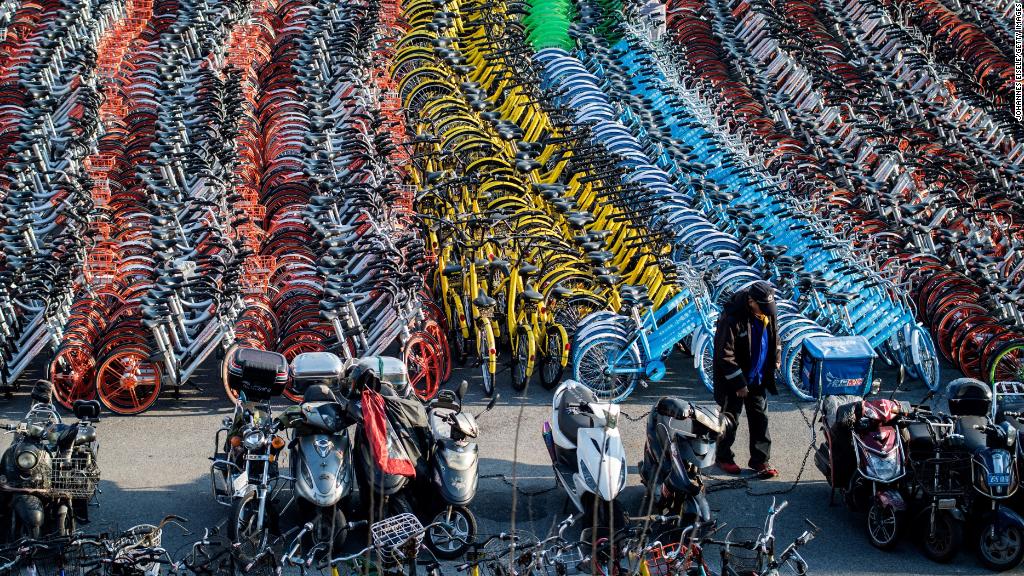 China's bike-sharing companies have hit a roadblock.
The industry boasted close to 60 startups as recently as 18 months ago, according to Yu Xue, an internet research analyst at IDC China. He predicts fewer than 10 will survive the next year.
The companies allow customers to unlock a bicycle using only a smartphone, ride it around town, and then leave it at their destination. The model works, but the industry has grown too big too fast.
The proof is scattered across China's urban sidewalks, where piles of underused bikes have been dumped. Complaints have even prompted authorities to limit the number of bikes in some cities.
A cull is now underway, with several firms already having gone out of business. Others have been forced to merge as funding becomes scarce.
Xue said it's difficult to track the scale of the damage, because many of the startups close their doors quietly and without much warning.
"The growth rate of bike-sharing users is slowing down," said Zha Songcheng, vice president of Hellobike, which claims to be the third largest bike sharing company in China.
Money has also largely dried up. Bluegogo, which claimed at its peak to have 20 million users and over 600,000 bikes, cited a lack of funding as one of the main reasons it handed over operations to a rival firm in November.
"Since the very first day, we have been on the ice," CEO Li Gang wrote in an open letter. "I went to hundreds of funds, received numerous praise ... but none of it was translated into money."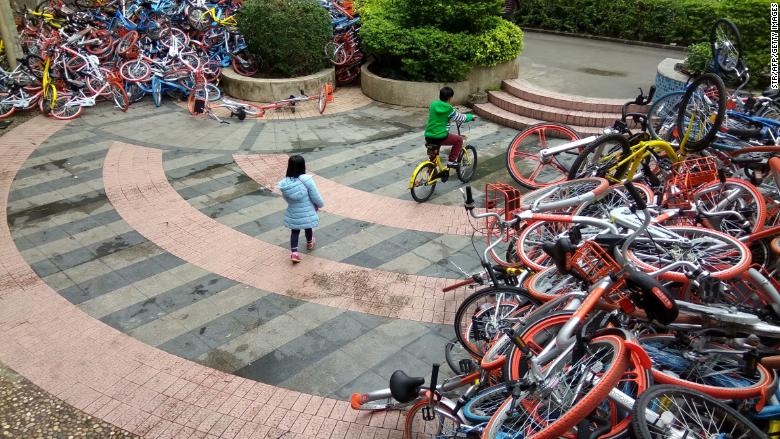 As companies fold, some customers have reported trouble getting their rental deposits back. Shuting Wang, a 25-year-old management consultant in Beijing, says she lost approximately 200 yuan ($30) to Bluegogo.
After trying and failing to retrieve her money, Wang said, she became wary of leaving deposits with bike-sharing firms.
"It's too risky," she said. "Some people take the bikes home and sell it online because they can't get their deposit back."
Bluegogo did not respond to multiple requests for comment.
Last week, Mingbike became the first Chinese bike-sharing firm to be sued over its failure to refund deposits, according to local media.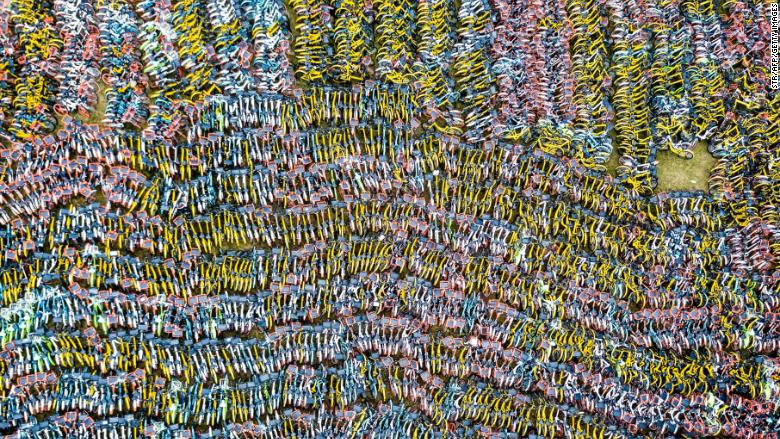 Related: China's 'dockless' bike sharing could be coming to a street near you
China's Ministry of Transport announced last month that it would clamp down on the sector to "protect customers' interests and put the industry in a healthy and orderly track."
Angela Cai, the communications chief at major industry player Ofo, said that more regulation could help quell an "industry bubble."
She added that some companies "will be squashed out."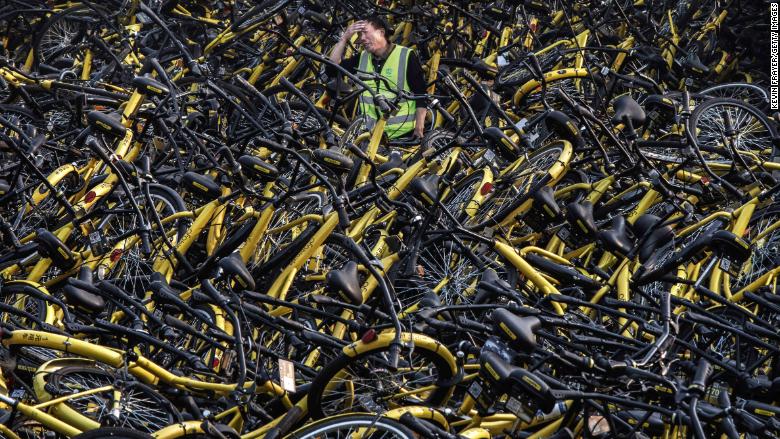 Two firms have a major advantage over the rest: Mobike is backed by tech giant Tencent, and Ofo has e-commerce heavyweight Alibaba in its corner.
They control a combined 90% of the market, according to Xue. Both are valued at more than $1 billion, giving them war chests that smaller firms just don't have.
"The financing power of the other players is not strong enough," Xue said.
Related: It's a make-or-break moment for U.S. bikeshares
Ofo and Mobike say that their goal is not profitability, but greater scale and branding. And while cash-strapped startups struggle to survive, they are worried about keeping up with expansion.
"[The] challenge is hiring," said Cai, noting that Ofo recently hit its goal of reaching 20 countries and 200 Chinese cities.
Luke Schoen, a spokesperson for Mobike, said the company's emphasis on cost management had allowed it to thrive "while other players struggle." Mobike launched in 150 cities and a dozen countries in 2017.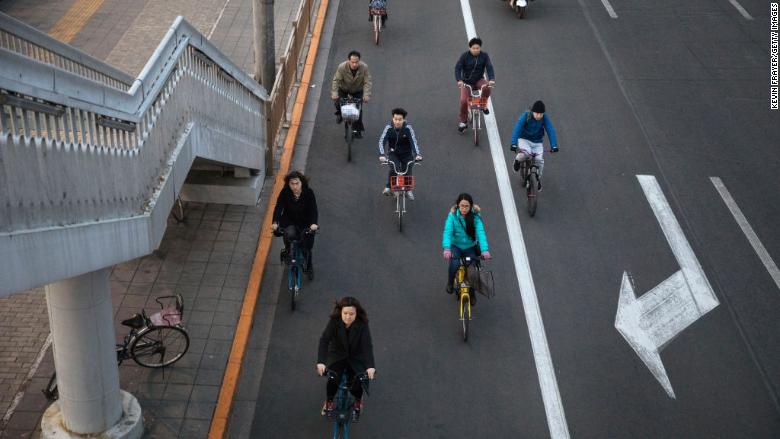 Reports of a potential merger between the industry leaders have circulated for months, a scenario that Xue says is "highly possible" at some point. Mobike said it has "no plans" to merge, while Ofo declined to comment.
Smaller players are now trying to pivot to what they say are more sustainable business models.
Hellobike has made a recent push into shared electric mopeds -- 60,000 of which have been deployed so far -- as a way to reduce its reliance on bicycles.
Hellobike and Mobike are also considering moving into car-sharing, while Ofo says it might not even be a bike-sharing company by 2020.
"It would be a big sharing platform," said Cai. "We are hoping and realizing that end goal."
-- Serenitie Wang contributed to this report.