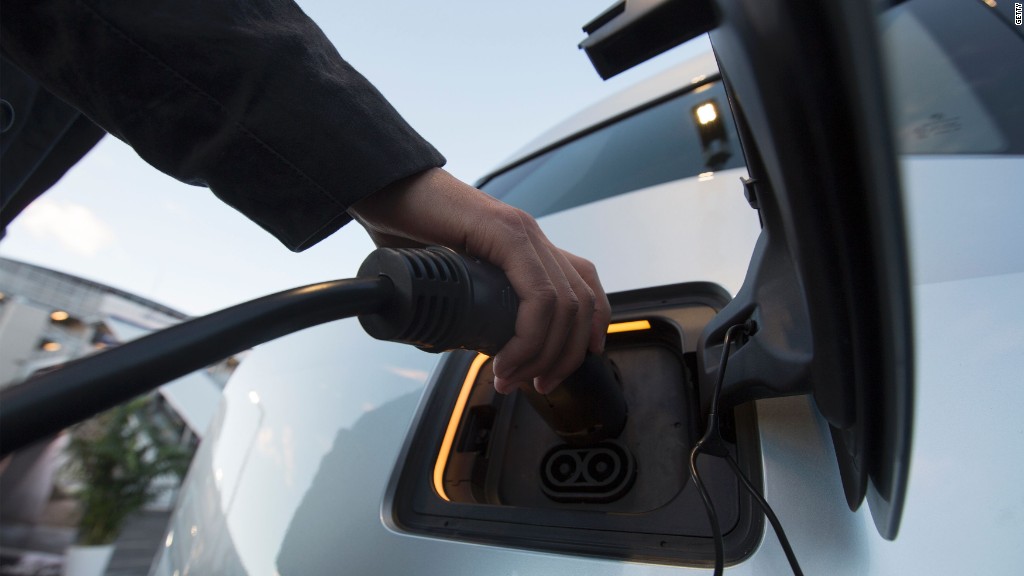 U.S. car sales fell 2017 for the first time since 2009.
But don't panic -- the dip was fairly modest and the industry is still in pretty good shape.
Annual sales fell 1.8% to 17.2 million vehicles according to final figures from Autodata, which tracks sales.
But the average car price is actually climbing, so total revenue collected for U.S. car sales may actually have edge slightly higher. Consumers are buying more expensive models, such as crossovers instead of traditional sedans, and are also upgrading with more expensive features, such as automatic braking and lane detection warnings.
Buyers paid an average of $35,082 per car in 2017, a record that is up 2.3% from a year earlier. Relatively easy access to credit and more leasing options are helping to boost both sales and prices.
Related: 2018 will be the year of the electric car
Even if U.S car sales are slipping, global auto sales in 2017 are expected to hit a record 94.5 million vehicles, up 2.5% when those final numbers are in next month, fueled by continued strong demand in China, which is the largest market for auto sales.
"It's been an unprecedented run," said Michelle Krebs, senior industry analyst with AutoTrader, of the seven straight years of rising auto sales. "The industry is still in very good shape. A lot of the decline is due to a drop in purchases by rental car companies. The retail side (of sales to consumers) is still pretty strong."
Overall sales are at a historically high level. Despite the modest decline in 2017, "this will be the third consecutive year of 17-plus million sales," said Tom Libby, manager of industry analysis for IHS Markit. "This is the first time this has happened since the inception of the industry more than 100 years ago."
And low unemployment, strong job growth and the benefits of the recently passed tax cut should help support sales going forward, even if there is another modest decline in 2018 as most forecasts predict.
Related: Sure the auto industry is transforming. But GM says 'We've got this'
The situation was much more dire in 2009, the last time the industry posted a year-over-year sales decline. Amid the Great Recession, annual auto sales plunged 21% to just 10.3 million cars sold, a 27-year low. General Motors and Chrysler tumbled into bankruptcy, requiring a federal bailout to remain in business. Later that year the federal government pumped additional cash into the industry through a cash-for-clunkers program that paid consumers to scrap their older cars and buy new ones.
Now GM (GM), Fiat Chrysler and Ford (F) are all solidly profitable with enough cash on hand to fund ambitious research and development programs aimed at producing the next generation of self-driving and electric cars. Employment at U.S. auto plants is up about 50% from the low hit in the summer of 2009.
There are still plenty of challenges ahead for automakers, including the growth of ride sharing services such as Uber and the arrival of self-driving cars. All of that could impact demand for new cars going forward, but Krebs said it will be decades before those factors hurt auto sales.
Correction: The headline on an earlier version of this article incorrectly stated the number of years since U.S. auto sales last fell.