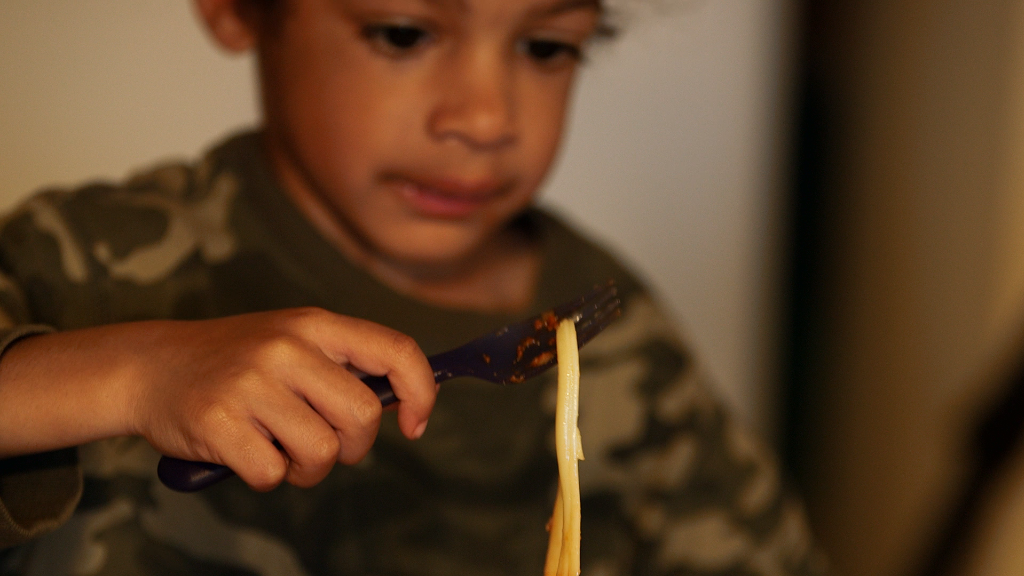 New York Governor Andrew Cuomo wants each state college to have a food pantry for students.
It's one of many proposals he included in his annual State of the State report.
The plan would require all public colleges to either provide food pantries on campus, or come up with a "stigma-free" way for students to consistently have access to healthy foods.
Cuomo is asking state lawmakers to provide $1 million to the State University of New York (SUNY) and City University of New York (CUNY) systems to implement the program.
Chancellors at both schools applauded the proposal, which could help expand their existing efforts.
A 2015 survey done by CUNY indicated that nearly 15% of its students go hungry at some point because they can't afford to buy enough food. More than half of its 24 campuses already have food pantries.
SUNY launched a task force to study the issue in November. The school said that 70% of its 64 campuses either have food pantries on site or have a partnership with a local community pantry.
Related: There's a hunger problem on America's college campuses
The issue of food insecurity on college campuses has been drawing nationwide attention. Some public policy advocates say it's a growing problem, but critics say food pantries are simply doling out undeserved handouts.
In a recent national survey, nearly half of students said they had experienced food insecurity (having limited access to nutritious food) within the past 30 days. There are at least 573 colleges with food pantries in the U.S., according to the College and University Food Bank Alliance.
Temple University professor Sara Goldrick-Rab, who studies the issue, said she was optimistic that Cuomo's proposal would move the conversation forward.
"I've got to say, while it's not exactly how I might craft this, it's nonetheless a big deal. Hardly any governors have recognized this as an issue outside Jerry Brown," said Goldrick-Rab, who is also the founder of the Wisconsin HOPE Lab, which seeks ways to make college more affordable.
Brown, the governor of California, pushed for including $7.5 million in the state budget last year to address food insecurity on college campuses.
But more can be done to address food insecurity in addition to food pantries, Goldrick-Rab said.
The University of Albany, for example, has instituted a Swipe Out Hunger program that allows students to donate their unused meal credits at the end of the semester.
Goldrick-Rab and other advocates would like to see campuses make sure students know how to sign up for Supplemental Nutrition Assistance Program (SNAP) benefits if they're eligible, and ensure they can use those benefits on campus.
Providing small emergency grants to students could also help. It may mean those who have found themselves strapped for cash when dealing with a one-time incident -- like a car breaking down -- may not have to forgo meals.
"But these are all Band-Aids. The state has to grapple with why students are becoming food insecure," Goldrick-Rab said.
Related: She's on a mission to make America's colleges hunger-free
Cuomo's plan to require food pantries on every campus is just one part of his "No Student Goes Hungry Program," which would affect students in kindergarten through college. It aims to end "lunch shaming" by banning alternative lunches sometimes given to students who can't afford to pay. In some cases, these students are currently given lesser-quality lunches, a press release said.
It would also ensure that schools required to provide breakfast to do so after the school day has begun, making it more accessible to students. It would expand the state's investment in its "Farm to School" program and provide more incentives for schools to buy locally-grown foods.
The program will need approval from the state legislature, where control is currently split between Republicans in the Senate and Democrats in the Assembly.
Last year Cuomo, a Democrat, proposed making tuition free at public colleges for students whose families earn less than $125,000 a year. Lawmakers approved the plan and included funding for the scholarship in the budget. It went into effect his past fall.
Progressive policies like this one have drawn national attention for Cuomo, stirring talk of a possible presidential run. He called the state a "vanguard for social progress" in his address on Wednesday.