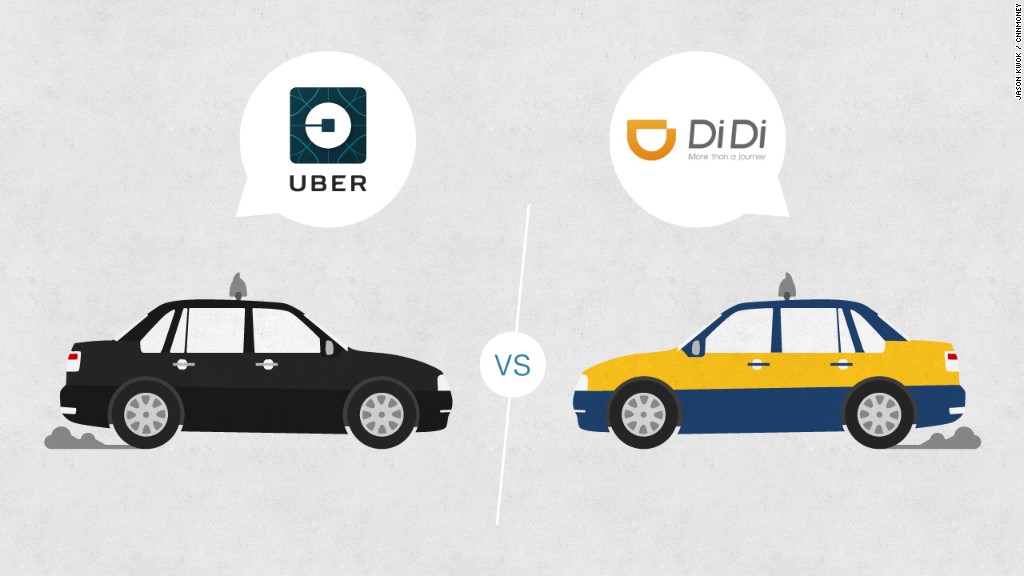 Revving up its global rivalry with Uber, Chinese ride-hailing giant Didi Chuxing has announced it's buying Brazilian startup 99.
The deal is worth about $600 million, according to a person familiar with the acquisition.
Didi is little known outside its home market. But the Brazilian deal reflects its push to become a major international player after driving Uber out of the Chinese market in 2016.
The Chinese company secured $4 billion in fresh funds late last month, partly to fuel its international ambitions.
"Globalization is a top strategic priority for Didi," CEO Cheng Wei said in a statement Thursday announcing the acquisition of 99, Uber's main competitor in Brazil.
Related: China's Didi said to be worth $56B after raising more cash
Didi was already the lead investor in a $100 million funding round for 99 a year ago.
Over the past 12 months, it has sent engineering teams to Sao Paulo to work on improving 99's technology to make it more competitive with Uber.
Didi sees similarities between cities in China and Latin America, including "patterns of urban development and unevenly developed public transportation systems," a spokeswoman for the company told CNNMoney.
Peter Fernandez, 99's CEO, said that becoming part of Didi "will vastly enhance our capability to expand our services throughout Brazil."
Related: Why China's Uber is investing in used cars
Didi appears to be interested in growing elsewhere in Latin America: Reuters reported last month that it plans to expand into Mexico later this year. The Didi spokeswoman declined to comment on the report.
The expansion extends Didi's heated rivalry with Uber, which shifted its attention and resources to Latin America after retreating from China. Uber is the leading ride hailing company in Brazil, and Mexico City is one of Uber's busiest markets in the world.
Didi has also made inroads into several other global markets that are very important to Uber.
It has partnered with seven international ride-hailing companies, including Grab in Southeast Asia, Ola in India and Taxify, which operates in Europe, Africa and other regions. Working as a loose coalition, the companies have a better chance of competing against Uber and its formidable war chest.
Related: Uber sells 15% stake to SoftBank
The series of deals in recent years has also created a tangled web of alliances in the industry.
Uber and Didi fought each other for years in China before Uber sold its business in the country to Didi in 2016.
Uber became Didi's largest shareholder as part of the deal. Didi holds a minority stake in Uber, too.
Another one of Didi's biggest investors is Japanese tech giant SoftBank (SFTBF), which last week reached a deal to buy a 15% stake in Uber as well.