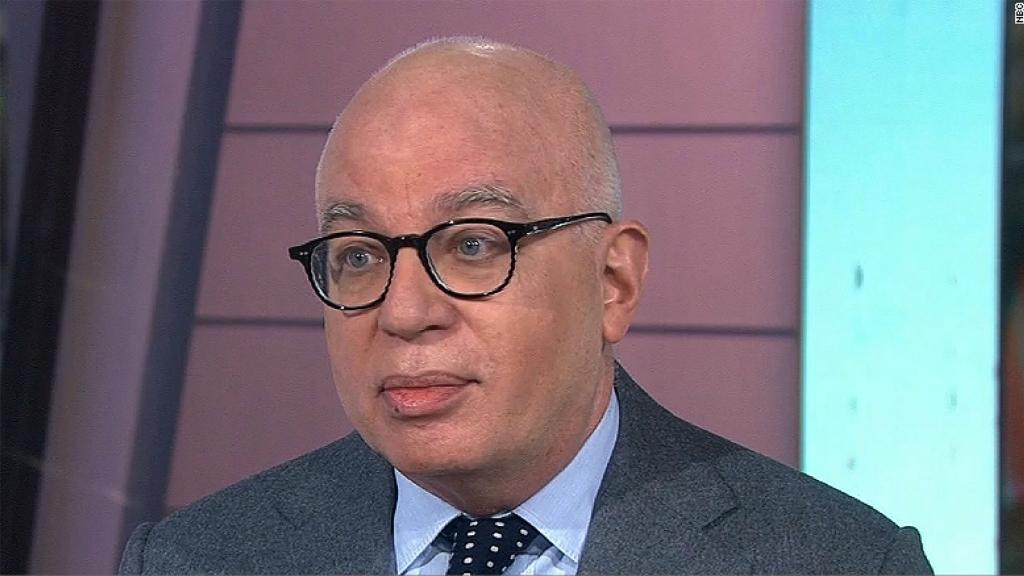 Michael Wolff says his explosive book about President Trump is accurate, despite the White House's attacks. And he appreciates all the free promotion from the president.
"Where do I send the box of chocolates?" Wolff asked playfully in his first interview about the book, "Fire and Fury," which became the country's hottest book in the last two days.
"Today" show host Savannah Guthrie asked: "You think he's helping you sell books?"
"Absolutely," Wolff said, and "he's helping me prove the point of the book."
What Wolff portrays as Trump's instability is one of the troubling themes of "Fire and Fury," which was supposed to be released next Tuesday. Leaks and excerpts from the book and a legal threat from one of Trump's personal attorneys caused the publisher, Henry Holt, to move up the release to Friday.
Related: Wolff's Trump book going on sale four days early amid furor
Wolff cozied up to White House sources like Steve Bannon and spent months inside the West Wing last year, which is why Trump's Thursday night tweet was so curious.
"I authorized Zero access to White House (actually turned him down many times) for author of phony book! I never spoke to him for book. Full of lies, misrepresentations and sources that don't exist," Trump tweeted.
Wolff told "Today" on Friday that he "absolutely spoke to the president" while working on "Fire and Fury."
"Whether he realized it was an interview or not, I don't know, but it certainly was not off the record," Wolff said. "I've spent about three hours with the president over the course of the campaign, and in the White House. So, my window into Donald Trump is pretty significant."
White House aides have depicted the book as a work of fiction. In fact, some of Wolff's reporting has already been corroborated. But the book also contains some errors, according to early reviewers.
"This author is quite frankly a crackpot fake news fantasy fiction writer," deputy press secretary Hogan Gidley said on CNN's "Erin Burnett OutFront" Thursday night.
On Friday morning, Guthrie asked Wolff: "You stand by everything in the book? Nothing made up?"
"Absolutely everything in the book," he said.
Importantly, Wolff said he has receipts: "I work like every journalist works. I have recordings, I have notes. I am certainly and absolutely, in every way, comfortable with everything I've reported in this book."
Wolff has a controversial track record. He has racked up scoops over the years, but critics have at times accused him of sloppy or unethical reporting practices.
Related: Who is Michael Wolff?
Trump might have been alluding to this in his Thursday night tweet: "Look at this guy's past and watch what happens to him and Sloppy Steve!" (That's presumably Steve Bannon.)
Wolff responded on Friday morning: "My credibility is being questioned by a man who has less credibility than, perhaps, anyone who has ever walked on Earth at this point."
With "Fire and Fury," there has already been speculation that Wolff burned some of his sources, using material that was meant to be "off the record."
His own description of his reporting indicates that he capitalized on the dysfunction in and around the Trump White House to gain access.
While working on the book, he also publicly flattered his sources and criticized other news outlets for being too tough on Trump.
On the "Today" show, he said, "I said what was necessary to get the story."
As for Thursday's extraordinary cease and desist letter from Trump's personal attorney Charles Harder, the publisher responded, "We see 'Fire and Fury' as an extraordinary contribution to our national discourse, and are proceeding with the publication of the book."
The book soared to No. 1 on Amazon's best selling books list on Wednesday and has remained there ever since.
One bookstore in Washington even held a midnight release party for the tell-all.
Harder has not responded to CNN's requests for comment about the new release date or the prospect of legal action against the book.