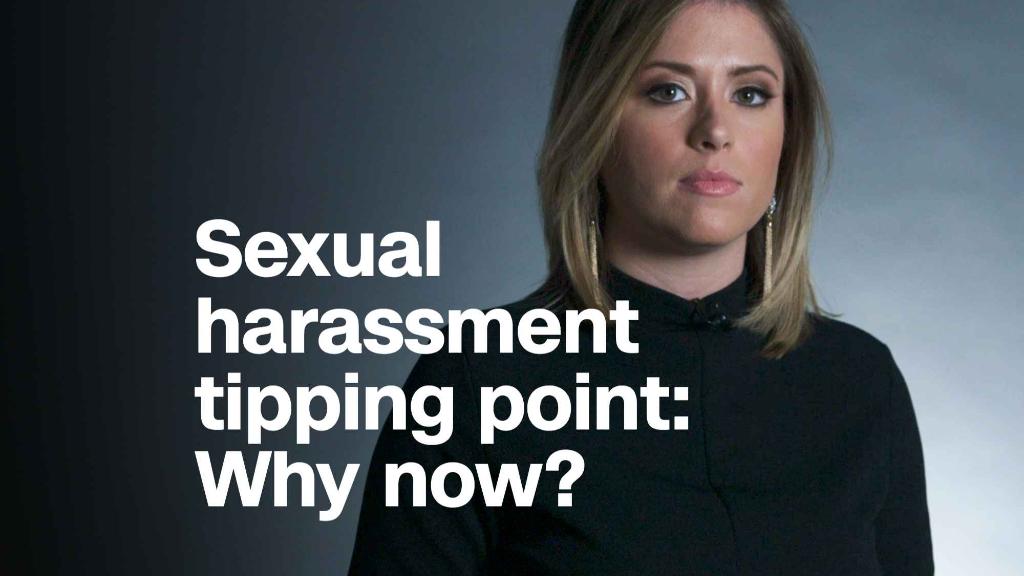 The dresses were black. The pins said #TimesUp. Sunday's Golden Globes were the first awards show since the Harvey Weinstein scandal. And it was a decidedly different affair than last year -- a show of solidarity with victims and a statement by Hollywood that the status quo is unacceptable.
"Time's up on abuse, discrimination and the imbalance of power," Tracee Ellis Ross told a reporter on the red carpet Sunday afternoon.
"Who are you wearing?" Who cares?
This year the Globes, typically promoted as the "party of the year," were a stage for the #MeToo movement and a showcase for activists who typically just watch the awards from home.
The first story hit almost exactly three months ago. "Harvey Weinstein Paid Off Sexual Harassment Accusers for Decades," The New York Times reported on October 5.
The stories kept coming -- first about Weinstein's alleged harassment and assault, then about scores of other powerful men in entertainment, news, politics, business, and other fields.
Related: Women share #WhyWeWearBlack ahead of Golden Globes
Jodi Kantor, one of the Times reporters who investigated Weinstein, tweeted her observations of the red carpet coverage: "Almost no questions about what label anyone is wearing. Lots of pledges of change, unity and empowerment."
Hollywood was on-message -- saying this reckoning must be about action, not just talk.
But it's a complicated moment. Everyone knows the bright red gowns and the silly banter will be back eventually, at least to some degree.
The question is how long that will take, and whether any change will be durable. Is Hollywood getting this moment out of the way now, before the Oscars, or will this new tone last?
As New York Times deputy culture editor Patrick Healy put it on CNN: "What is going to change a year from now, really? Is this just a political message on the carpet right now, or is there anything that's going to change?"
Some of the industry's most powerful celebrities and executives seem determined to effect systemic change.
Hundreds of prominent women organized a "Time's Up" coalition that was officially announced one week ago.
The group seeks to stamp out workplace harassment in all industries, not just Hollywood.
Most of the A-listers at the Globes, including host Seth Meyers, wore pins that said #TimesUp.
And many celebrities, including Michelle Williams, Meryl Streep, Emma Stone and Amy Poehler, brought activists as guests.
Meyers made reference to the new reality in his opening monologue.
"Good evening ladies and remaining gentlemen," Meyers said. He wished the audience a Happy New Year: "It's 2018, marijuana is finally allowed and sexual harassment finally isn't. It's going to be a good year!"
Earlier, during the red carpet interviews, it seemed there were just as many questions about activism as about television and film.
On Facebook and Twitter, many viewers cheered for this new approach, although there were some dissenters as well.
Emily Nussbaum, the television critic for The New Yorker, tweeted that "bringing activists onto the red carpet thing is amazing."
"I know people will mock it as accessorizing, but it's GREAT to see these activists and it's wonderful that they're making solidarity cross-race, cross-class so central," she wrote.
On the other hand, The Times' Amanda Hess tweeted, "i can't get over the image of meryl streep bringing ai-jen poo, an advocate for domestic workers, as her date. it is simultaneously a heartening signal about extending this movement beyond hollywood and totally slick, weird human accessorizing."
There was also criticism that some interviewers asked the female celebrities about the equality movement more often than the male celebs.
Awards season is big business -- not just for the studios and the stars, who make more money and gain prestige from award recognition, but also for outlets like E!, stylists, designers, and others.
Some designers may be disappointed that they're not getting as many shout-outs as usual.
But PR-savvy stars wanted to send a message on Sunday -- and they succeeded.
Talk about Hollywood's alleged complicity in abuse scandals has been overshadowed, at least temporarily, by the industry's strong support for equality.
On the carpet, Connie Britton wore a shirt that said "Poverty is sexist." Alison Brie wore a dress with a hidden pair of pants underneath.
"Tonight is about women wearing the pants, so I'm literally wearing the pants," Brie said in an E! interview.
The TV transitions were occasionally awkward. From farmworker justice to "Big Little Lies!" From jokes about drinking to proclamations about gender parity!
"Time is up and we want diversity and we want intersectional gender parity," Debra Messing told E! host Giuliana Rancic.
Messing shocked many viewers by bringing up E! host Catt Sadler's recent departure from the channel -- which Sadler said was due to the fact that E! would not pay her as much as her male counterpart.
"I miss Catt Sadler, so we stand with her, and that's something that can change tomorrow," Messing said.
Related: Catt Sadler leaves E! over pay dispute
Rancic said "absolutely" and moved on to another question.
Later on, Eva Longoria also brought up Sadler while speaking with Rancic's co-host Ryan Seacrest.
An E! spokeswoman referred CNNMoney to an earlier statement on the matter, which said the channel "compensates employees fairly and appropriately based on their roles, regardless of gender."
At least one media company is using the Globes to make a statement about the "tipping point."
The Times commissioned a new TV ad that aired during the Globes telecast. Titled "the truth has a voice," the spot reminded viewers about the paper's groundbreaking reporting about Weinstein, Bill O'Reilly and other men.
Correction: An earlier version of this story incorrectly reported that Jodi Kantor covered the red carpet in person on Sunday.