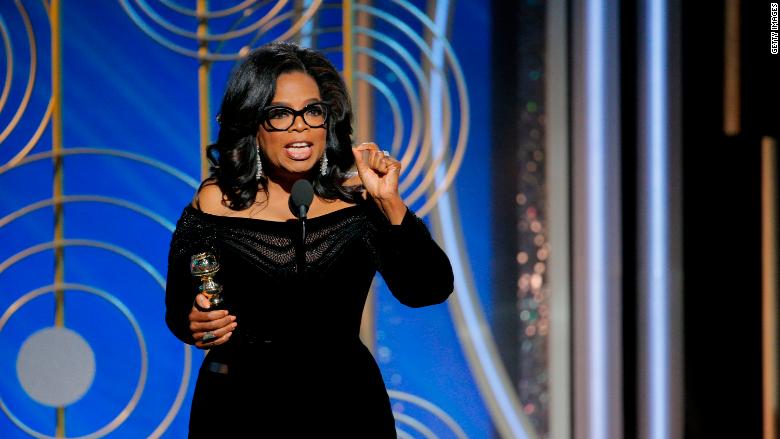 Oprah Winfrey's Golden Globes speech gave Weight Watchers investors something to cheer about.
The company's shares popped 13% amid speculation that the talk show queen, who is also a spokeswoman for the weight loss company, may run for president.
#Oprah2020 was trending on Twitter after Winfrey accepted the Cecil B. DeMille Award at the Golden Globes. She gave a speech that roused audiences and stoked speculation that she would run in 2020.
Related: Sources: Oprah Winfrey 'actively thinking' about running for president
"I'm not aware of any other thing that's happened since Friday that would be causing that kind of reaction in the market,' said Alex Fuhrman, an analyst at Craig-Hallum covering Weight Watchers.
Though Winfrey has publicly denied claims she would run, sources told CNNMoney that Winfrey was "actively considering" a bid for president.
Her longtime partner, Stedman Graham, told the Los Angeles Times on Sunday that "she would absolutely do it."
Winfrey has publicly backed the company for years, attributing her weight loss success to its diet regimen.
Related: The Oprah effect is stronger than ever at Weight Watchers
Winfrey bought a 10% stake in the struggling company for $43 million in October 2015, and joined its board of directors. Weight Watchers enrollment has climbed by nearly one million members since Winfrey signed on.
If elected, Winfrey would not be required to sell any of her investments or her stakes in Harpo Productions and the Oprah Winfrey Network,.
Only unelected executive branch officials are prohibited from holding stakes in assets that would conflict with their ability to properly do their jobs.
But Congress decided not to apply those restrictions to the president or vice president. They have to disclose their holdings, but they don't have to disown them.
--Nathaniel Meyersohn and David Goldman contributed to this report.