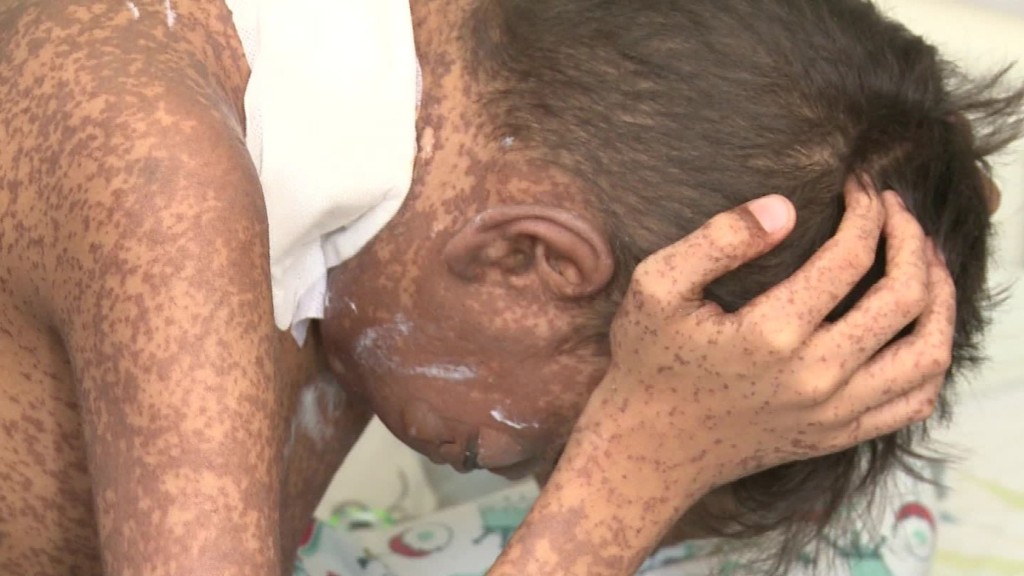 Venezuela has more oil than any other nation in the world, but it keeps pumping less and less.
Oil production fell in December to one of its lowest points in three decades, further depriving the cash-strapped country of its only major source of revenue and adding to the suffering of its people.
Venezuela produced 1.7 million barrels of oil a day, according to S&P Global Platts, which polled industry officials, traders and analysts and reviewed proprietary shipping data.
That's the lowest since 2002, when a failed coup temporarily took hold of the government-run oil company, PDVSA.
Other than that, oil production is the lowest in 28 years. It's down 27% just since 2014, when the country's economic crisis took hold, according to OPEC and S&P figures.
Related: Venezuela plants its own version of bitcoin
The decline in oil production is prolonging the misery for 30 million Venezuelans.
People there are losing weight because of food shortages, and children are dying in hospitals because basic medicine and equipment aren't available.
Malaria, infant deaths and maternal deaths have all increased significantly, official figures show. The government uses money from oil exports to buy what little food and medicine actually make it in.
It's also a sign of mismanagement by the government of President Nicolas Maduro, who succeeded the late Hugo Chavez in 2013. And it couldn't come at a worse time: Venezuela has defaulted on some of its debt and owes a lot more.
In total, Venezuela has defaulted on $1.2 billion, according to Caracas Capital, a firm in Miami that tracks the country's debt. That's a relatively small sum in the world of bonds. The trouble is that it's a sign of what's to come, experts say.
Venezuela and PDVSA owe bondholders more than $60 billion. So far, Wall Street is waiting to get paid instead of fighting a long legal battle with Maduro's administration.
Experts say a default on all Venezuela's debt would spell immediate trouble for Maduro's regime. If enough investors of the defaulted debt trigger an "acceleration" clause, meaning they want immediate repayment, investors holding all other Venezuelan bonds can make the same claim.
Related: 'Death spiral': 4,000% inflation in Venezuela
Investors are used to late payments from Venezuela, which is notoriously behind schedule. They wait because Venezuelan bonds pay hefty returns, with rates as high as 12.75%. By comparison, a typical 10-year U.S. bond pays 2.5% interest.
But Wall Street is starting to sour on Venezuela's lucrative bonds. PDVSA's bond maturing in 2022 is trading at 25 cents on the dollar, down from 48 cents in early November, according to MarketAxess BondTicker.
If investors give up and trigger the acceleration clause, they have the right to seize Venezuelan oil that's in the United States or on tankers in the ocean as collateral.
That would cut off the government's ability to bring in what little revenue it has. And that would cause more suffering for ordinary Venezuelans struggling to live through severe shortages of food and medicine.