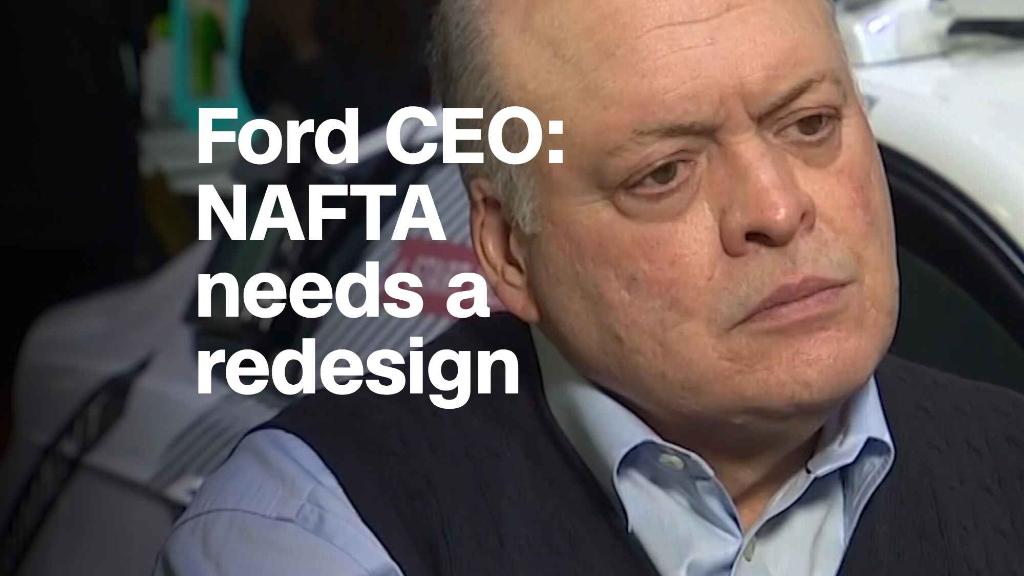 Ford CEO James Hackett says the Trump administration has the right intentions as it's renegotiating NAFTA.
It might reflect a new tune from automakers, which expressed concern last fall over the trade talks between the United States, Mexico and Canada.
"The government [has] got the right approach to trying to do what's best for our economy, for workers," Hackett told CNN's Samuel Burke in his first exclusive television interview as CEO.
Hackett said NAFTA "needs a modernization," a common refrain from automakers. He also applauded the recently passed GOP tax bill.
The thorniest issue in the NAFTA talks, which resume January 23 in Montreal, involves how and where cars are manufactured in North America. It's called "rules of origin." After five rounds of talks, no progress has been made on the issue.
Under NAFTA, 62% of the parts of a car sold anywhere in North America must come from the region. It doesn't matter if they come from Mexico, Canada or the United States so long as they are sourced from North America.
The Trump administration wants to significantly change rules of origin in an attempt to create more American manufacturing jobs and wipe out the U.S. trade deficit with Mexico.
Trump's trade team wants to raise the percentage on car parts sourced in North America to 85% from 62%. Trump officials are also advocating for 50% of the North American car parts to be sourced directly from the United States, and the rest from Canada and Mexico. Canadian and Mexican leaders say they can't agree to either U.S. proposal on rules of origin.
Related: Trump administration slaps tariffs on Canadian paper
For car companies, sourcing more parts from the United States would be more expensive, potentially resulting in more expensive cars for ordinary Americans, experts say.
"Cutting off cheaper sources of supply will mean higher costs, and higher prices for consumers if manufacturers choose to pass those costs through," says Chris Rogers, an analyst at Panjiva, a global trade research firm.
Hackett succeeded Mark Fields, who had a series of ups and downs with President Trump. Ford planned to build a new car plant in Mexico, emphasizing that it would not be moving any U.S. jobs south of the border.
But Trump threatened to slap tariffs on Ford cars made in Mexico and sold in the United States. Ford later canceled plans for the plant and said it would create 700 new U.S. jobs too. (Ford employs 8,800 workers in Mexico. It employs about 85,000 Americans.)
In November, the American Automotive Policy Council met with Vice President Mike Pence. After thanking Pence for his time and applauding the "modernization" of NAFTA, Matt Blunt, president of the AAPC ended his statement saying, "we also appreciate the opportunity to directly address the industry's concerns with the administration's rule of origin proposal."
The AAPC represents Ford, General Motors and Fiat Chrysler.
Burke asked Hackett Tuesday whether government deregulation or a significant change to NAFTA would affect Ford (F) more. Hackett didn't directly address the question but said "we're really in a good position to benefit from some of the things that you're reading about."
--Matthew Friedman contributed reporting to this article