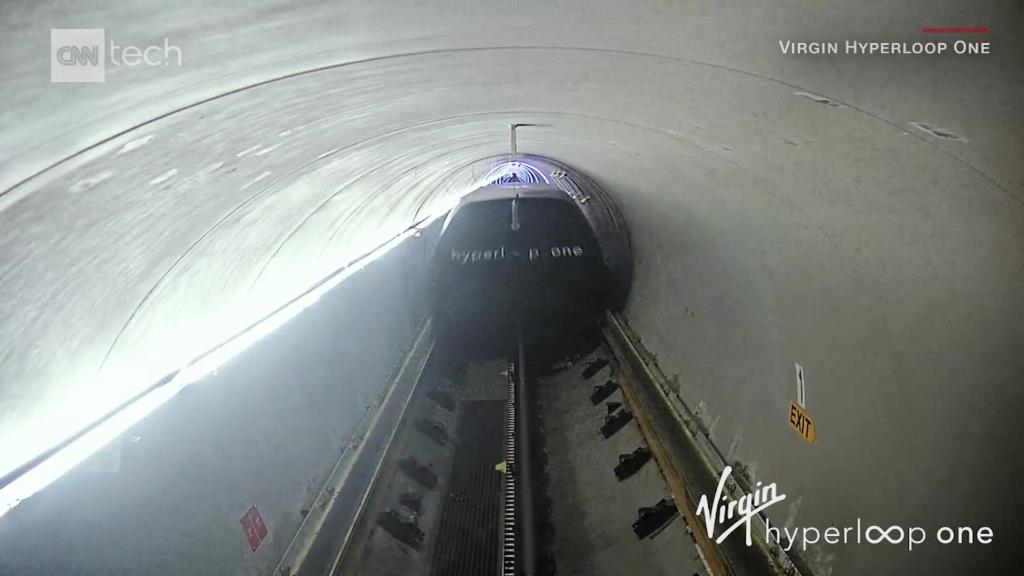 Virgin Hyperloop One has shaken up its leadership with a famous name as it defines its place in the future of transportation.
The company is developing a high-speed transportation technology that would send special pods hurtling through pressurized tubes at around 600 miles per hour.
Any actual hyperloop is still years away, but the company is finding ways to stay in the spotlight. It announced it was launching an app that shows potential transportation routes for fictional hyperloops. Lloyd said the app is a way for people to understand how different transportation options could connect to each other.
And the company recently made billionaire Richard Branson the chairman of its board.
"I think Richard Branson is going to give credibility to our company," said Virgin Hyperloop One CEO Rob Lloyd.
Lloyd spoke with CNN Tech's Samuel Burke on the show floor at CES 2018, the annual technology conference in Las Vegas. The company had a tent outside at the Las Vegas Convention Center, with a recently completed protoype of its passenger pod out front.
"Our company's focus today is on commercializing the technology, making it ready to be certified by regulators," said Lloyd.
Branson has a "keen sense of what people want," Lloyd said, and that will be useful to the company as it tries to make Virgin Hyperloop One a mainstream commercial product.
"Imagine Richard Branson talking to governments, talking to future investors," said Lloyd.
The celebrity name could also help distract people from the recent accusations of sexual harassment at the company. Lloyd named Branson as company chairman after it's co-founder, venture capitalist Shervin Pishevar, took a leave of absence in December amid accusations of sexual harassment.
The company's other co-founder, Brogan BamBrogan, left in 2016 and sued the company.
Related: Billionaires battle over supersonic transportation
Lloyd said replacing someone in a high-position suddenly is an issue many companies are grappling with. While a quick transition is helpful for business, it doesn't necessarily address culture issues.
"We have a great team that we brought in, an executive team of experienced leaders, so it's not a bunch of 20-year-olds running around," said Lloyd. "What we have done is absolutely validate that our environment stands for one of absolutely no harassment. We've continued to train our employees and managers."
Now Lloyd, as well as the company, are trying to put the focus back on the hyperloop system itself.
"When you look at what we did in 10 months ... in building an entire prototype, a full-scale system, I'm blown away by that," said Lloyd.
"As you look at us to the next year in 2018, we have two clear goals. We're going to find the customer that wants to work to build the world's first production hyperloop. We're going to leverage that to raise the next round of capital to continue to finance this business."
The company hopes to build its first full-scale system by 2021, which will likely be used for cargo first.