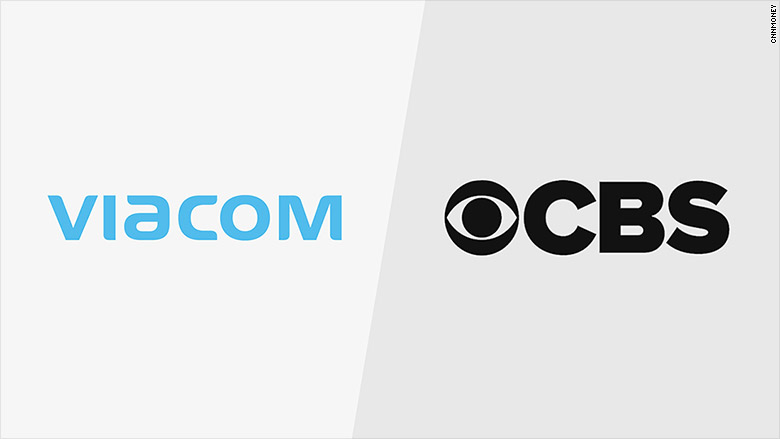 Shares in Viacom and CBS jumped Friday after a report that the sibling media companies might be reunited once again.
Such a move could give a lift to Viacom, which has been struggling to impress investors. But there are no signs of any imminent announcement.
The Wrap reported shortly before the market closed on Friday that "Viacom and CBS vice-chairwoman Shari Redstone is pursuing a merger of the two media companies." The story cited "multiple insiders."
Shares in both companies were basically flat until the story came out. Shares in Viacom (VIA) closed at $33.76, up 9.57% for the day. CBS (CBS) closed at $58.83, up 1.85%.
Redstone and senior executives have, indeed, recently discussed recombining the two companies, two sources with knowledge of the talks, who spoke on condition of anonymity because the companies are not commenting on them, told CNN.
Redstone is inclined to make the move. But no concrete steps in that direction have been taken, the sources said.
One of the sources said there are no "active" discussions underway.
Shari and her father Sumner Redstone control National Amusements, a holding company that holds most of the voting stock in both CBS and Viacom.
The two companies split in 2005, six years after they had merged.
There has been repeated talk about a recombination in the years since. But as recently as last year, Shari Redstone said that a merger would have squashed Viacom's "momentum."
CBS is widely seen as the stronger of the two companies. But there have been long-standing questions about whether CBS CEO Les Moonves would want to take on Viacom and run the two companies -- and on what terms he would do so.
Redstone said at a Recode event last spring, "I have a great relationship with Les, and I think that we would have worked really well together on a combined company."
TheWrap reported on Friday that Moonves "is now open to the possibility."
CBS and Viacom representatives declined to comment on Friday. A spokesperson for Redstone did not respond to a request for comment.