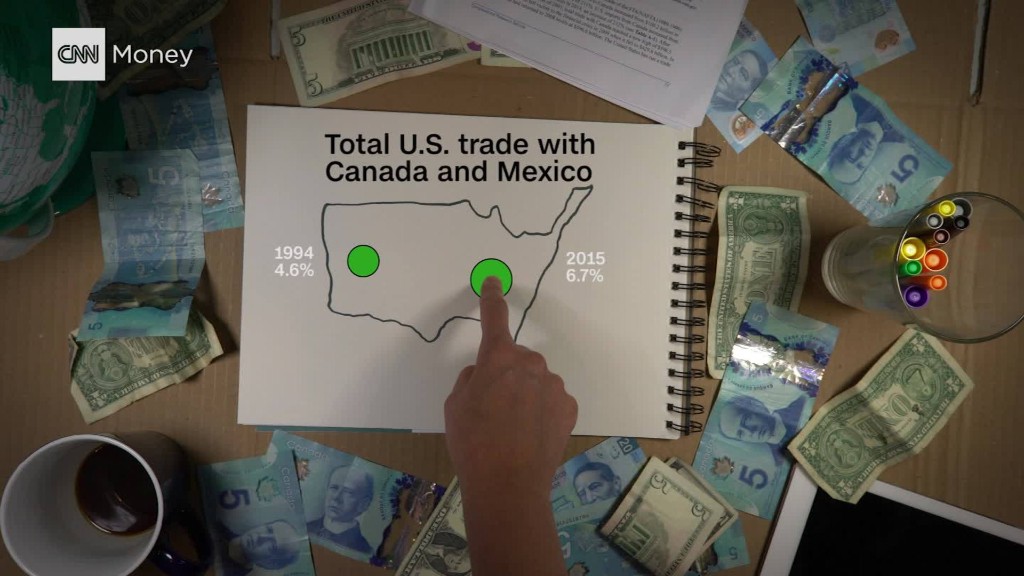 Car prices could become more expensive if the Trump administration gets its way in the renegotiation of NAFTA.
The Trump administration wants 85% of the parts in every car sold in North America to come from the region. Under the current NAFTA trade pact between the United States, Canada and Mexico, about 62% of the parts in a car must come from North America.
Additionally, of the parts sourced from North America, Trump's team wants 50% to be sourced in the United States and the rest in Mexico and Canada. Mexican and Canadian leaders say this is a deal breaker.
Some U.S. business advocates, such as the U.S. Chamber of Commerce, say the Trump administration has "several poison pill proposals" for NAFTA. Washington lobbyists who represent some automakers also voiced concerns to Vice President Mike Pence in a November meeting.
But for now, if Trump gets his way or most of his way, auto companies will have to change their supply chains or pay a tax. Either way, car prices would go up for ordinary Americans, experts say.
It's unclear what a final deal -- if one exists -- would look like or exactly how much car prices will go up. But Nissan, Volkswagen and General Motors (GM) could face the most significant price increases.
Related: Trump administration slaps more tariffs on Canada
Nissan stands first in the crosshairs of the Trump administration's proposals. It imports the highest percentage of auto parts from outside North America. In the 12 months ending in October, Nissan imported $2 billion in parts from outside the region, according to Panjiva, a global trade research firm.
Volkswagen would need to raise its car prices too. It brought in $1.6 billion in foreign auto parts over the same period. General Motors imported $1.4 billion.
Related: Ford CEO: NAFTA needs "modernization"
In a statement, Volkswagen echoed other automakers' concerns and hopes a new NAFTA maintains free trade in the region.
"The Volkswagen Group has made significant long term investments in the United States, Mexico and Canada that would all be impaired by termination of NAFTA or adoption of trade restrictive changes, including an increase in regional content," Volkswagen said in a statement emailed to CNNMoney.
General Motors didn't respond to CNNMoney's request for comment. Nissan said it plans to continue with business as usual until a new NAFTA is agreed upon.
If the Trump administration forces companies to source a certain portion of their auto parts specifically from the United States, all auto companies may need to raise prices. Audi's biggest North American plant is in Mexico. Ford has major operations south of the border, employing about 8,800 Mexican workers. BMW plans to open a new plant in Mexico in 2019.
Some companies could be planning in advance. Toyota and Mazda this week announced that their upcoming $1.6 billion plant will be built in Huntsville, Alabama. BMW also announced an expansion at its South Carolina plant last summer. Ford canceled plans for a plant in Mexico and said it's adding 700 new U.S. jobs.