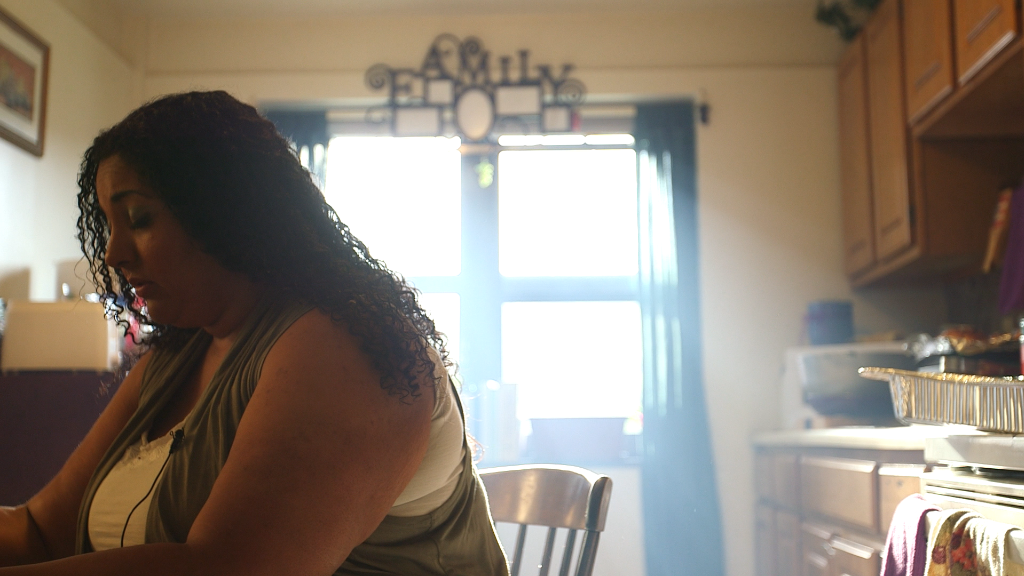 Robbie Rodriguez works two jobs and makes a decent living. He also uses a food bank to help feed his family.
He's a special education teacher at a public school in Los Altos, California, during the day, and works nights and weekends as a data analyst. He takes home roughly $2,500-$2,700 a month.
Rodriguez, 24, has a baby with his girlfriend, but the high cost of living in the area makes it too expensive for the three of them to live together. So they live apart, with their parents. He temporarily dropped out of college to work more so he could better provide for his family and allow his girlfriend to finish school.
"Everything is getting more expensive and it makes it harder to save," he said.
While the economy is thriving in cities across the country, many middle class people in areas with a high cost of living are struggling to put food on the table.
Food banks in cities that have seen strong job growth and soaring home prices are seeing increased demand from locals struggling to make ends meet and relying on assistance to feed their families.
"There's this hunger paradox: You would think the wealth would rise all boats, but it hasn't and it's created a major crisis and we are seeing families live on their last legs," said Cat Cvengros, vice president of development and marketing at Second Harvest of Santa Clara and San Mateo counties in California.
Many of the people using food banks have jobs -- often more than one. At Second Harvest, the majority of the families with children have working parents.
Related: America's wealth gap is bigger than ever
Flourishing job markets in cities like San Francisco, Seattle and Denver have brought in a surge of new residents competing for a limited supply of housing. That's pushing up real estate prices dramatically.
"When I was a kid growing up, rent was dirt cheap, $1,000 was a lot of money for rent," said Rodriguez, who lives in San Jose. "Now it's almost $2,000 for a one-bedroom."
In 2008, when the economic crisis was heating up, the Ballard Food Bank in Seattle had almost 26,000 families visit. In 2016, that number jumped to nearly 40,000 -- a nearly 50% increase. Second Harvest is serving more people than ever, averaging more than 257,000 people every month from 2016-2017, up from 176,731 people per month from 2007-2008. That's 46% increase over 10 years.
"Our numbers haven't gone down," said Jen Muzia, executive director at Ballard Food Bank. They've seen strong demand from the number of seniors and children seeking help.
Seattle is among the fastest-growing big cities in the U.S. Home prices have shot up more than 15% in the past year, while rent for a one-bedroom apartment averaged around $1,949.
"There are a lot of tech workers coming into our community ... and buildings are going up everywhere," said Muzia. "We see a lot of change in our community, but within that we see people struggling to maintain basic things they need. Their costs are going up and they might be on a fixed income -- I think that is especially challenging for seniors and for families."
San Francisco has also seen double-digit home price increases, while wages haven't kept up.
"There is a growing divide in what people can earn working here, and what it costs to live here," said Mark Lowry, director of the Orange County Food Bank in California. "Clearly in our economy, having a job doesn't mean you aren't going to be a customer at a food bank," said Lowry.
That means families are being forced to make some tough budget decisions. And when money is tight, food is often the first area people cut back on.
Nearly half of all renter households -- almost 21 million -- were considered cost-burdened in 2016, according to a recent report from Harvard's Joint Center for Housing Studies. That means they pay more than 30% of their income to cover their housing.
For Rodriguez, Second Harvest food bank helps him and his family eat healthily. He currently spends around $200 a month on groceries. Without the assistance, he estimated his grocery tab would double to $400. "That wouldn't work financially, it would break my pockets."
Another disturbing trend is that food banks are becoming more permanent fixtures in people's lives.
It used to be these food banks were used to provide relief following an emergency or unexpected event. But for some, the local food bank has become a weekly stop to put food on the table.
Related: For many, the rent is still too damn high
The surge in housing prices has pushed many long-time residents to less-expensive cities or to get creative with their housing situations.
In November, the Second Harvest team hosted a food distribution site in Mountain View, California, home to Google (GOOG), LinkedIn (LNKD) and Microsoft (MSFT). They set up near a park where there were more than 60 RVs parked with families living in them.
"They are cooks, landscapers, teachers and firefighters living there because they can't afford to live in the community they had been living in for years," said Cvengros.