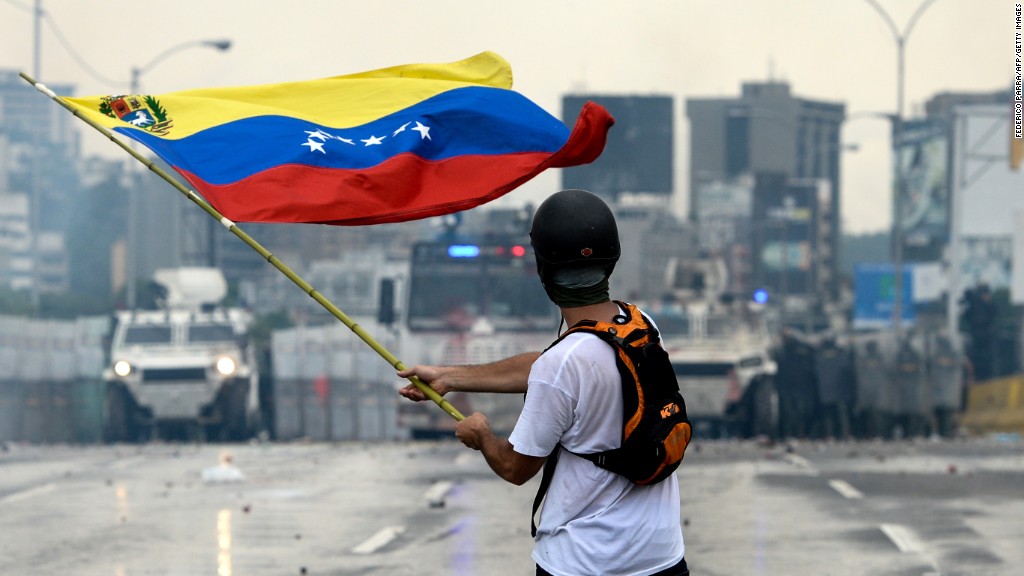 Venezuelan President Nicolas Maduro is giving pregnant women a little extra cash.
Emphasis on "a little."
Maduro announced during his annual address to the nation that pregnant women would receive a payment of 700,000 bolivars a month. It sounds like a lot, but Venezuela's runaway inflation means that sum is worth just $3.83 at the current exchange rate that millions of citizens follow closely.
Once the child is born, mothers will receive an additional 1 million bolivars, or $5.48.
Maduro didn't give a specific reason for the new handouts. Despite the fact that the sums aren't worth much in reality, he received a standing ovation from his supporters after announcing them.
Amid the country's collapsing economy, Venezuelans suffer from extreme shortages of medicine, food, toiletries and other essential items. The payments for pregnant women are unlikely to help them get hold of those things.
And the paltry sums will almost certainly be worth less in a matter of days as Venezuela's hyperinflation devours people's paychecks and salaries.
One dollar currently equals about 182,000 bolivars, according to a widely followed unofficial exchange rate. That's up from just over 41,000 bolivars in November.
The vast majority of citizens don't follow the government's official rate because it's believed to overvalue the bolivar.
Related: Venezuela's oil production plummets
Inflation in Venezuela last year rose above 4,000%, according to Steve Hanke, a professor of applied economics at Johns Hopkins University and an expert on hyperinflation.
The new handouts for pregnant women highlight Maduro's enthusiasm for announcing plans to dish out the country's rapidly devaluing cash.
He has raised Venezuela's monthly minimum wage several times in recent years. In November, he gave out a "Christmas voucher" worth 500,000 bolivars (roughly $12 at the time, but about $2.74 now) to 4 million families.
Maduro has also tried to control prices in the economy. Earlier this month, he ordered private supermarkets, which set their own prices on most items, to slash food prices, causing confusion among customers.
Related: Venezuela plans its own version of Bitcoin
The president often claims he's trying to aid Venezuelans as the United States and other nations wage what he calls an "economic war" against his regime. Independent economists say government mismanagement, unsustainable policies and widespread corruption have crippled the nation of 30 million people.
One key rub to the payment for pregnant mothers is that they must have Venezuela's new national ID card. It's seen in the country as a symbol of support for Maduro, and many citizens opposed to the government don't carry it. It is unclear if pregnant women without the card will still receive the government handouts.
Maduro estimated that about 151,000 pregnant women would soon receive the monthly payments.
-- Stefano Pozzebon contributed reporting to this article from Caracas