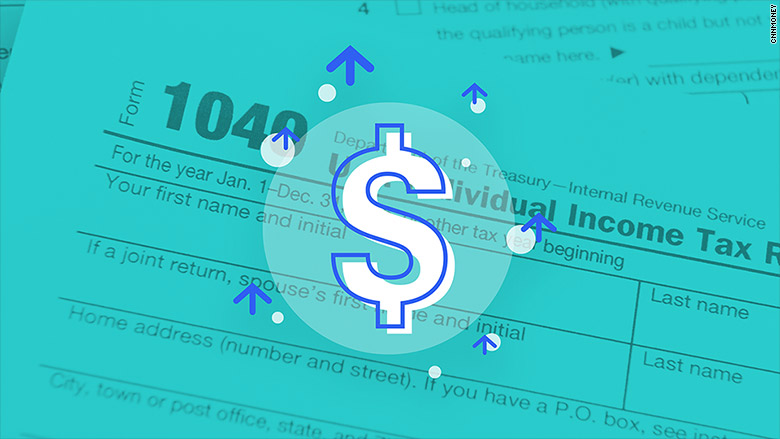 Welcome to our weekly guide, where we have all the money news that matters to you.
Here's the latest on the new tax reform law and what it will really mean for your wallet.
THE GOOD NEWS
The IRS issued new withholding tables to employers last week that reflect changes from the federal tax overhaul.
About 90% of people will see more take-home pay thanks to tax reform, starting as soon as February, the U.S. Treasury estimates.
THE BAD NEWS
Figuring out how much to withhold from your pay is always a bit of a guessing game. In the rush to implement the new tax law, the estimate could be off more than usual.
There's a chance you'll end up with too much money in your paycheck -- meaning you'll either be stuck paying it back at tax time next year or get a smaller refund.
Or too much will be withheld, and your checks will be smaller than they should be.
So make sure you double check your paycheck in February.
TAX REFORM MAY HIT HOME VALUES
The freshly passed tax overhaul might give you more spending money but it could also drive down home prices. CNNMoney's Kathryn Vasel explains how:
- A lower mortgage interest deduction could keep high-end buyers on the sidelines and make sellers reluctant to sell.
- The $10,000 property tax cap makes buying less attractive.
- Home loans could get more expensive if the Fed raises interest rates.
It's important to note that the hit to home prices -- if any -- will depend on location.
WHO'S GIVING OUT TAX CUT BONUSES
Something to look forward to if you work at AT&T, American Airlines or Walmart: you're getting a bonus.
Dozens of businesses are feeling so good about tax reform that they're giving their workers up to $1,000 in bonuses.
Here's a list of some of the companies giving out raises and bonuses because of the new tax law.
NEW YEAR, NEW JOB?
Thinking of getting a new job this year?
If so, you aren't alone. More than a third of employers expect to lose more workers this year -- and 45% say salary is the main reason behind the resignations, according to new data from Glassdoor.
If you do quit your job, don't forget about your 401(k). There are a few things you can do with your retirement plan when switching jobs -- and some pitfalls to avoid. Here are some tips from CNNMoney's Danielle Wiener-Bronner on what to do.