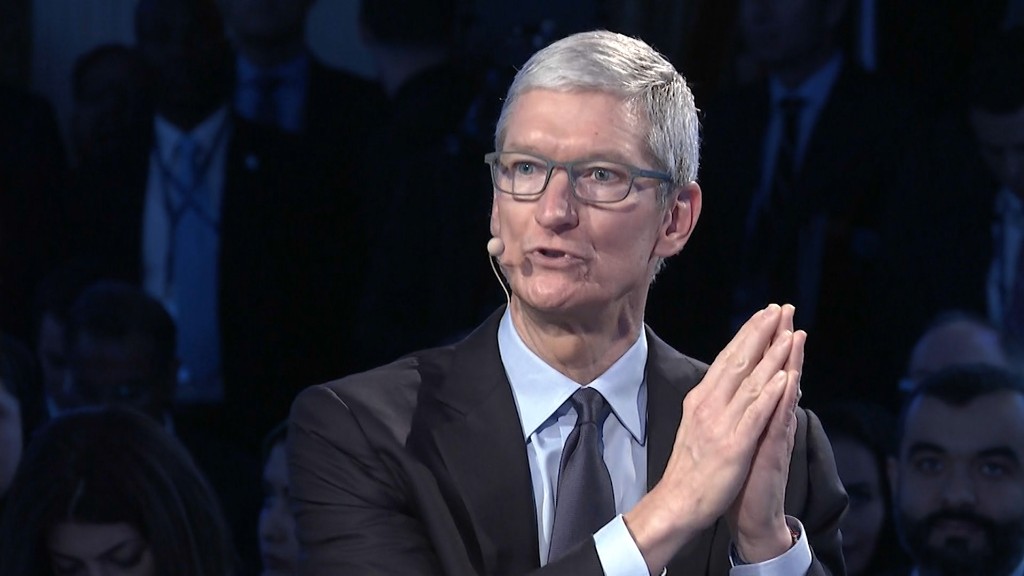 Apple just made a bunch of big promises to the American economy.
The company said Wednesday that it will pay $38 billion in taxes on cash it has been keeping overseas. It also pledged to create 20,000 jobs and invest $30 billion in U.S. facilities over the next five years.
The $38 billion tax payment from bringing home overseas profits "would likely be the largest of its kind ever made," Apple said in a press release.
New U.S. tax rules mean companies like Apple can no longer avoid paying taxes on past international profits by holding the cash outside the United States. They must pay tax whether they bring the money back to the country or not.
Related: U.S. companies will pay billions in tax on offshore cash piles
American companies with global operations are now expected to pay hundreds of billions of dollars on the overseas profits they've amassed in recent decades.
Apple also informed employees worldwide on Wednesday that they would receive a $2,500 stock bonus in response to the new U.S. tax code, according to a source familiar with the matter. Bloomberg, which reported the news earlier, said the bonus would be available to employees below a certain senior level.
Apple employs about 123,000 full-time workers around the world. About 84,000 of those employees are based in the United States.
Related: The economy is doing great. Here's what could derail it
The $30 billion investment in the company's facilities across the United States will include a new campus in a yet-to-be-disclosed location.
The campus will "initially house technical support for customers," according to the press release. Apple declined to give further details about the planned campus, saying more information will be disclosed later this year.
Campuses generally refer to a sprawling facility where Apple employees -- working on everything from engineering to customer service -- report for duty. The company currently has two such locations: one in Silicon Valley and another in Austin, Texas.
At least $10 billion of the new investment will go toward building new data centers -- massive computer warehouses that store information to support services like Apple's Siri, iMessage and Apple Music, the company said.
Related: Global backlash spreads over Apple slowing down iPhones
Apple already has data centers in seven states. In August, the company announced plans to open a data center in Des Moines, Iowa, that would cost $1.3 billion and create 550 construction and operations jobs.
CEO Tim Cook also tweeted images Wednesday of a groundbreaking ceremony for a data center in Reno, Nevada.
Apple claims these new investments combined with its "current pace of spending with domestic suppliers and manufacturers" will add about $350 billion to the U.S. economy over the next five years.
-- Alanna Petroff contributed to this report.