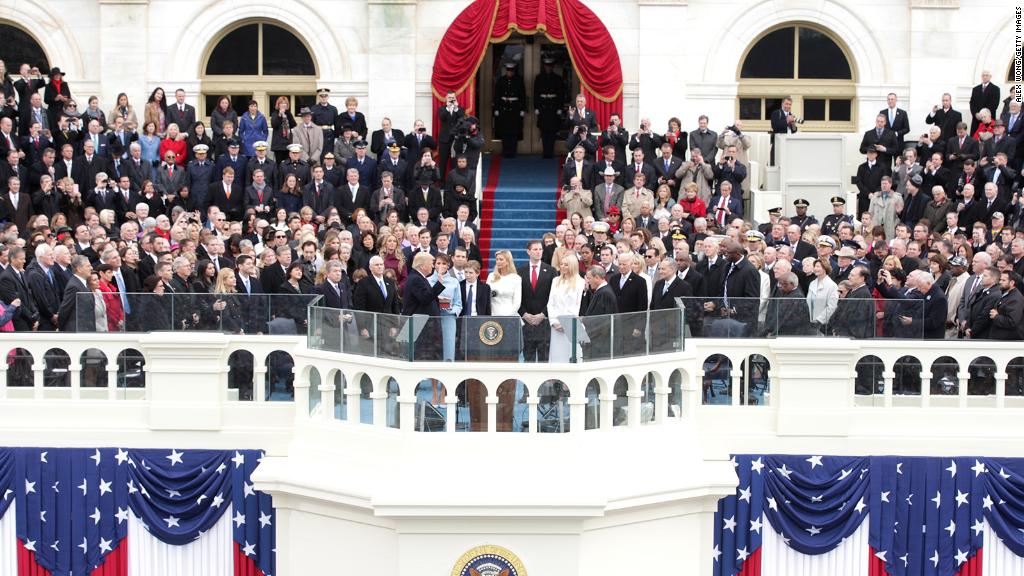 The Trump administration is imposing tariffs on imported solar panels and washing machines.
The announcement marks President Trump's first major trade action of 2018 and follows his campaign promise to get tough on America's trading partners.
A tariff, or tax, of 30% will be applied to imported solar panels, most of which come from China. Tariffs will begin at 20% on large residential washing machines, according to the announcement Monday from U.S. Trade Representative Robert Lighthizer.
"The President's action makes clear again that the Trump Administration will always defend American workers, farmers, ranchers, and businesses in this regard," Lighthizer said in a statement.
Related: China blasts Trump's new trade tariffs
The decision comes after the independent U.S. International Trade Commission (ITC) determined that imports of solar panels and washers had hurt American companies. Tariffs will be in place for three years and will taper down.
Alan Deardorff, a trade expert at the University of Michigan, said these temporary tariffs are meant to provide "breathing room" for industries trying to adjust to a surge in foreign competition.
Trump's tariffs also carry some symbolism: Lighthizer's team resumes NAFTA negotiations on Tuesday with its counterparts from Mexico and Canada. Later this week, Trump himself is expected to attend the World Economic Forum in Davos, Switzerland, an event for global elites who promote free trade and oppose protectionist measures like tariffs.
Related: Trump and China: 2018 could get nasty
Lighthizer also recently started to renegotiate a trade agreement between South Korea and the United States that he and Trump blame for increasing the U.S. trade deficit with South Korea since 2012.
In these two cases, the Trump administration invoked a trade law from 1974 that was last used in 2001. The law allowed Trump to raise tariffs as high as he wanted.
"The administration could have gone well beyond what the ITC recommended and imposed far more crippling tariffs," said Edward Alden, a senior fellow at the Council on Foreign Relations. "This will do some harm to solar installation, but it's not going to shut down the industry."
The solar panel tariff is a blow to China, the primary country from which the U.S. imports solar panels. But it also could put some U.S. jobs at risk. Most of the American jobs related to solar panels involve installation, not manufacturing.
Related: Solar panels: A fight with China that Trump may want to avoid
Overall, about 260,000 Americans work in the solar industry, up 24% from 2015, according to the International Renewable Energy Agency.
A separate advocacy organization, the Solar Energy Industries Association, warned before the tariffs were announced that such an action would put 48,000 to 63,000 American solar industry workers out of a job this year.
Industry advocates lambasted the tariff.
"This reckless decision will threaten tens of thousands of American jobs and hurt our climate," Howard Crystal, a senior attorney with the Center for Biological Diversity, a nonprofit based in Arizona, said in a statement.
The American Council on Renewable Energy said the tariff would cause electricity prices to rise.
U.S. solar panel manufacturers Suniva and SolarWorld filed a petition last year with the ITC to investigate the sale of solar panels marketed well below typical U.S. prices. The practice is known as "dumping." In a statement, Suniva thanked Trump.
Americans could ultimately pay the price of the solar tariffs, Alden noted.
"If you were thinking about installing solar in your house, it's going to become a little less attractive...the cost of solar installation will go up a bit," says Alden. He added: "In all likelihood this will be a net jobs negative."
Prices of washing machines could soon go up for Americans, too.
South Korea and Mexico are the biggest losers from the washing machine tariffs. Those countries export the bulk of washers to the United States. Much of the production in the two countries is under the umbrella of South Korean giants Samsung and LG.
In a statement, Samsung said consumers will pay more for washing machines. It noted that it has hired 600 workers at a new plant in South Carolina to make washing machines. LG also added that it was disappointed in what it called a "misguided decision" by Trump.
For the first 1.2 million washers imported to the United States, the tariff will be 20%. After that, it goes up to 50%.
"Anybody who is thinking about buying a washing machine should do it right away," said Gary Hufbauer, a trade expert at the Peterson Institute for International Economics. "The washing machine prices will probably be fully reflected in a couple months."
American washing machine maker Whirlpool had filed a petition going back to 2011, accusing LG and Samsung of selling their washers at prices below the average in the U.S. market.
Whirlpool said the Trump administration's action would result in more manufacturing jobs in Ohio, Kentucky, South Carolina and Tennessee.
"This is a victory for American workers and consumers alike," Whirlpool Chairman Jeff Fettig said in a statement.
The tariffs may serve as a harbinger for other upcoming trade decisions. Trump has less than 90 days to decide whether to apply tariffs on imports of steel and aluminum, not to mention whether he will withdraw the United States from NAFTA.
Experts said Trump's message to other American companies looking for help against foreign competitors is clear.
"If you're an industry that is finding pressure from imports causing you difficulty, come to Uncle Trump, he'll take care of you," Hufbauer said.
--CNNMoney's Danielle Wiener-Bronner contributed to this report.