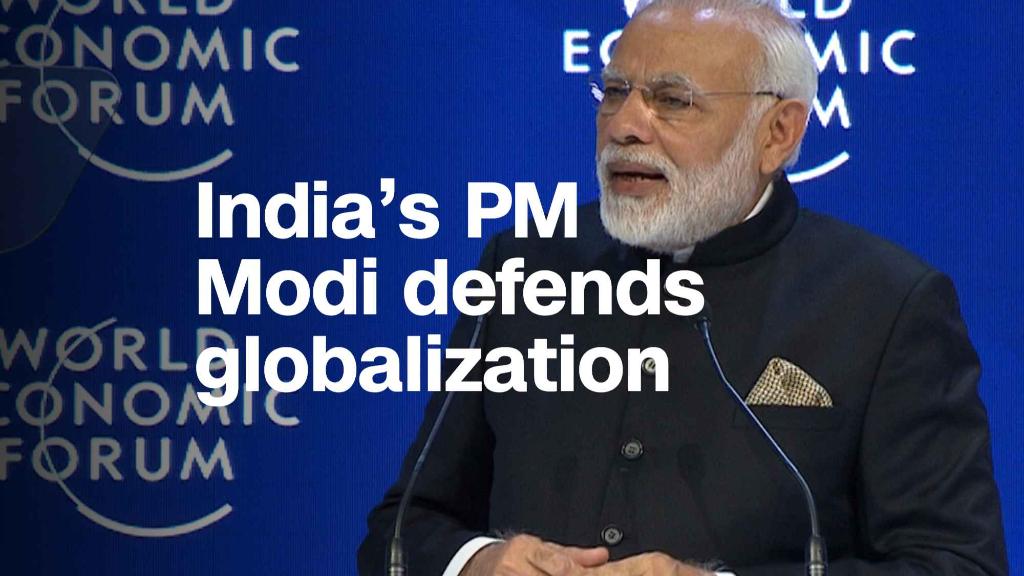 Indian Prime Minister Narendra Modi opened the World Economic Forum in Davos on Tuesday with a defense of globalization.
"The forces of protectionism are raising their heads against globalization," he told attendees. "Their desire is to not only save themselves from globalization, but to reverse the natural flow of globalization altogether."
It is the second consecutive year that the leader of a major Asian power has used the coveted speaking slot to warn against a retreat from globalization. Chinese President Xi Jinping delivered a similar message in 2017.
Modi said protectionism was resulting in new trade barriers and reduced investment across borders.
"Many societies and countries are becoming more and more insular," Modi said. "The downsides of these types of attitudes and misplaced priorities are no less significant than the threats posed by climate change and terrorism."
The solution, he said, was more engagement and not the implementation of inward-looking policies. Global institutions that were created after World War II need to be much more nimble, and pay more attention to the needs of poorer countries, he added.
Related: Did Trump just start a trade war with China?
President Trump, who is scheduled to speak at Davos on Friday, is expected to deliver a different message to the world leaders, chief executives and Wall Street titans who attend the annual forum.
The American president, who campaigned on "America First" policies, imposed tariffs on imports of solar panels and washing machines on Monday. The move risks inflaming tensions with China and other big U.S. trade partners.
-- Rishi Iyengar contributed reporting.