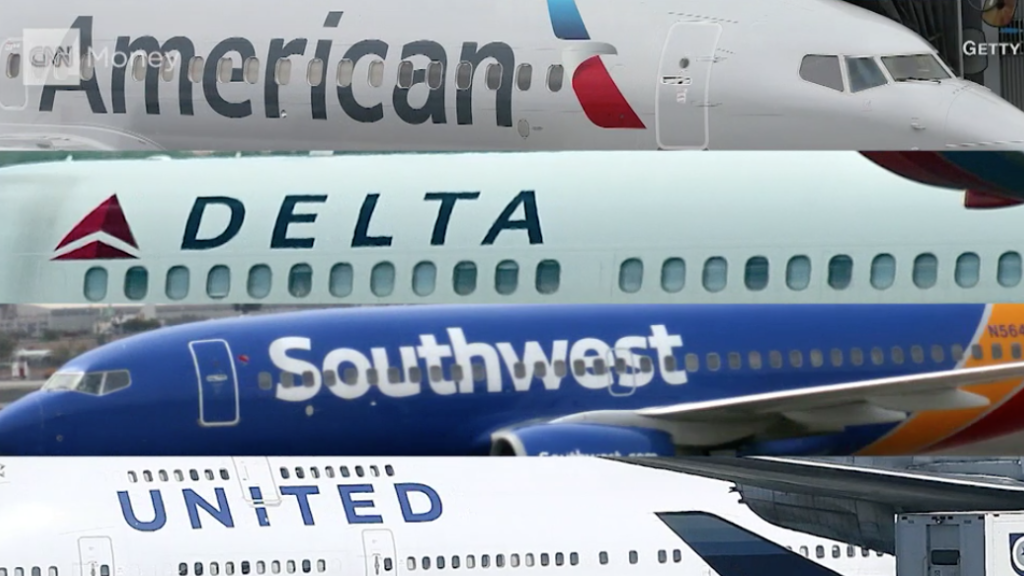 United Airlines is taking aim at some of the nation's low cost carriers, sparking concerns among investors that the nation's major airlines could be forced into a fare war.
United said late Tuesday that it expects to add flights and larger aircraft to its network, increasing the amount passenger traffic it can carry between 4% to 6% this year, up from 3.5% growth in 2017.
And the extra flights and larger planes will be put into service to compete with very low cost carriers such as Spirit (SAVE). Comments from United executives suggested that it is going after those low-cost carriers with more cheap seats of its own.
"The best way to compete with a low-cost carrier is match their prices," said Scott Kirby, president of United Continental (UAL), the airline's corporate parent. "Half our revenue approximately comes from customers that are mostly shopping on price, and we cannot ignore half of our revenue and we can't let our low-cost carriers have price advantages in our hubs."
Kirby said that in addition to adding capacity, United plans to expand it's "basic economy" fare to new routes, including international markets.
Under these low-cost fares, passengers are not assigned a seat until check-in, and many are not be allowed to put a bag or other personal item in the overhead bin. Kirby said this year, however, it will allow basic economy passengers to pre-select a seat - for an additional cost.
Related: America is missing out on a tourism boom
Lower fares might be good news for airline passengers, but it sparked concerns among investors and airline analysts on United's conference call Tuesday evening. They had been hoping that United, which is less profitable than Delta (DAL), Southwest (LUV) or American Airlines (AAL), would soon start to see better fares and better profit margins.
Related: Delta flies 250,000 service animals a year. Now its rules are changing
"2017 was supposed to be the transition year," said JPMorgan Chase airline analyst Jamie Baker. "The problem is the ... guide for 2018 implies another year of margin contraction."
United executives tried to assure analysts on the earnings call that their plans didn't necessarily mean lower fares and falling profit margins.
"I would tell you that it's better than you think," CEO Oscar Munoz told analysts about the profit outlook, although he conceded "You may think differently."
But even though United reported better than expected fourth quarter profits Tuesday, and healthy gains on various measures of fares in the period, the guidance on its 2018 plans sent shares of United Continental down 10% in early trading Wednesday. And shares of American, Delta and Southwest were all off 3% or more as well. Shares of smaller carriers such as Spirit, JetBlue (JBLU) and Alaska Air (ALK) were also lower.