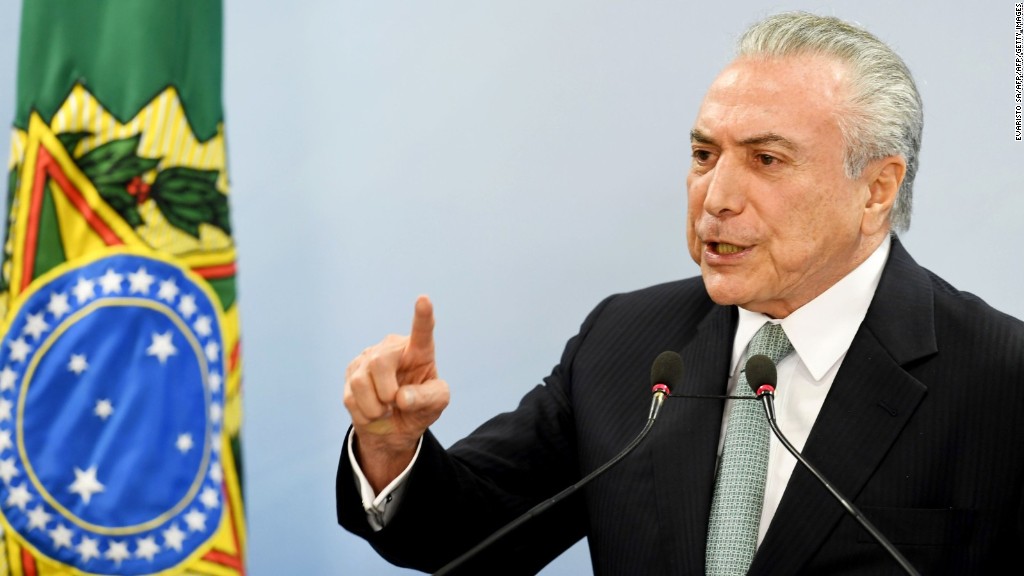 Brazilian stocks shot to their highest point in more than three years after judges upheld a long jail sentence for a former president who is trying to run for re-election.
Former President Luiz Inacio Lula da Silva was sentenced in July to nine and a half years in jail for corruption and money laundering.
He denies wrongdoing. He can still appeal to the Supreme Court and run for president. But the ruling Wednesday badly damaged his chances of winning election again. He leads the race by a wide margin, according to polls taken before the ruling by Brazil's top polling firm, Datafolha.
Investors and economists have feared that Lula da Silva, known simply as "Lula," would restore the populist policies blamed by some for the country's economic crisis.
Those same policies are wildly popular among the country's low-income and working classes, which propelled Lula da Silva to the presidency in 2003.
Investors celebrated after he lost his appeal.
Brazil's stock market, Bovespa, rallied nearly 3%. Both the stock market and the iShares exchange-traded fund for Brazilian stocks hit their highest levels since 2014. And the Brazilian currency, the real, rose close to a three-year high.
"This is by no means the end of what is still a complex legal case," said Alberto Ramos, head of Latin America research at Goldman Sachs. But "it increases the odds that the early decision [from July] will ultimately be upheld."
The election is in October. President Michel Temer has such a low approval rating, 5%, that the election is seen as an open contest.
Lula da Silva, 72, was president from 2003 to 2011. He ushered in an era of strong economic growth, a burgeoning middle class and declining poverty.
Related: Brazil Q&A: How South America's largest country got in a mess
He also initiated several government welfare programs for the poor that caused federal spending to ramp up.
That was sustainable when commodity prices were high and the economy of China, Brazil's top trading partner, was growing fast. Brazil is one of the world's largest exporters of commodities like iron ore, steel, oil, sugar, beef, vegetables, fruit and coffee.
But when China's economic growth began to slow in 2012, commodity prices dived. And Brazil's problems were only just beginning.
An unprecedented corruption scandal erupted in 2014. Investors uncovered a huge bribery scheme that involved politicians, the state-run oil company, Petrobras, the construction giant Odebrecht and a slew of other companies. The bribes were paid while Lula da Silva was president.
Petrobras admitted it had lost $2 billion to bribery over the years. And the U.S. Justice Department, working with Brazilian and Swiss officials, hit Odebrecht with the largest fine ever for bribery: $3.5 billion.
Related: The company that created the world's biggest bribery ring
The corruption crisis sent Brazil's economy, one of the largest in the world, into a tailspin. Brazil went through the longest recession in its history. Unemployment rose to 13.7%, far worse than the 10% peak in the United States during the Great Recession.
Then, Lula da Silva's handpicked successor, Dilma Rousseff, was impeached in 2016 on charges that she manipulated the country's budget ahead of an election to make Brazil's finances look better.
Dozens of lawmakers and even some Brazilian billionaires have been imprisoned for accepting or paying bribes, or obstructing justice.
Brazil's recession ended last year, but its economy is crawling forward. Economists project it grew less than 1% last year.