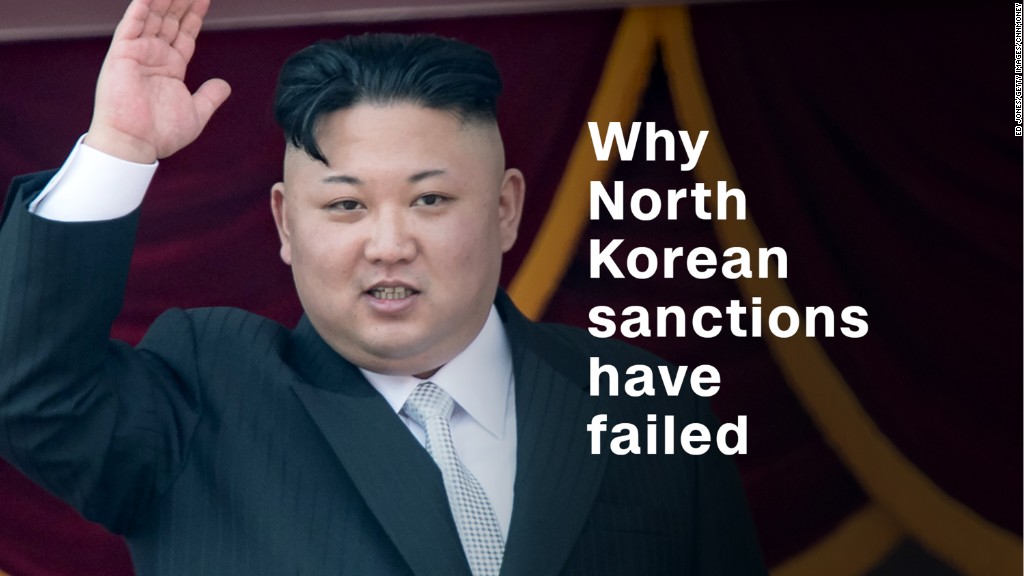 The Trump administration on Wednesday targeted a swath of illicit actors in China, Russia and elsewhere working on behalf of the North Korean regime.
The Treasury Department sanctioned nine entities, 16 individuals with ties to North Korea and six shipping companies and vessels -- the latest move to cripple financial ties that might aid the rogue nation's nuclear weapons program.
"Treasury continues to systematically target individuals and entities financing the Kim regime and its weapons program, including officials complicit in North Korean sanctions evasion," Treasury Secretary Steven Mnuchin said in a statement.
The latest measure targets oil, shipping, and trading companies that continue to provide a lifeline to North Korea, fueling the regime's nuclear ambitions and destabilizing activities.
The North Korean regime is believed to dodge economic restrictions with a complex network of front companies that do business in China and other countries. North Korea is also known to employ deceptive shipping practices, including ship-to-ship transfers.
Related: China blasts Trump's new trade tariffs
The trading companies include China-based Beijing Chengxing Trading Co. and Dandong Jinxiang Trade Co. Ltd., which exported more than $68 million worth of goods combined to North Korea and imported $19 million worth of goods from the country.
The administration also sanctioned the North Korean Ministry of Crude Oil Industry, which handles crude oil for Pyongyang. It also sanctioned five other North Korean shipping companies. Treasury also added North Korea's only electronics company: Hana Electronics JVC to its sanctions list.
Five individuals operating in China and Russia were also targeted for having ties to North Korean financial networks.
Treasury also named 10 individuals of the Korea Ryonbong General Corporation, which had been previously sanctioned by the United Nations. The company specializes in acquiring supplies for North Korea's defense industries and support to Pyongyang's military-related sales, according to Treasury.
Many of the sanctioned individuals are located at Ryonbong offices in China near the border of North Korea, where they have reportedly supported the regime in a number of ways. For example, the U.S. government accused them of helping to support North Korea's chemical weapons program.
Related: North Korea linked to new cryptocurrency attacks
The Treasury's latest move comes after Pyongyang conducted an intercontinental ballistic missile test late last year. Following the launch, the nation's leader, Kim Jong Un, said the country could now strike the United States with a missile capable of carrying a nuclear warhead.
The missile test prompted President Trump to warn in a tweet that "major" new sanctions were coming soon.
Trump has promised to rain "fire and fury" on North Korea if it continues to threaten the United States or its allies. In November, the president telegraphed plans by the administration to roll out a series of actions.
Already, the Treasury Department has added eight North Korean banks and more than two dozen North Korean nationals working in countries like China, Russia and Libya to its sanctions list.
Treasury has also sanctioned a Chinese businessman and several North Korean shipping and trading companies and vessels.
The White House also recently added the rogue nation to the list of state of sponsors of terrorism. President George W. Bush removed North Korea from the list in 2008. It is now one of only four countries in the world with that label. The others are Iran, Sudan and Syria.
Analysts considered that as a way for the administration to heighten pressure on other countries to stop doing business with North Korea. Despite the growing list of sanctions, Pyongyang has continued to test missiles.