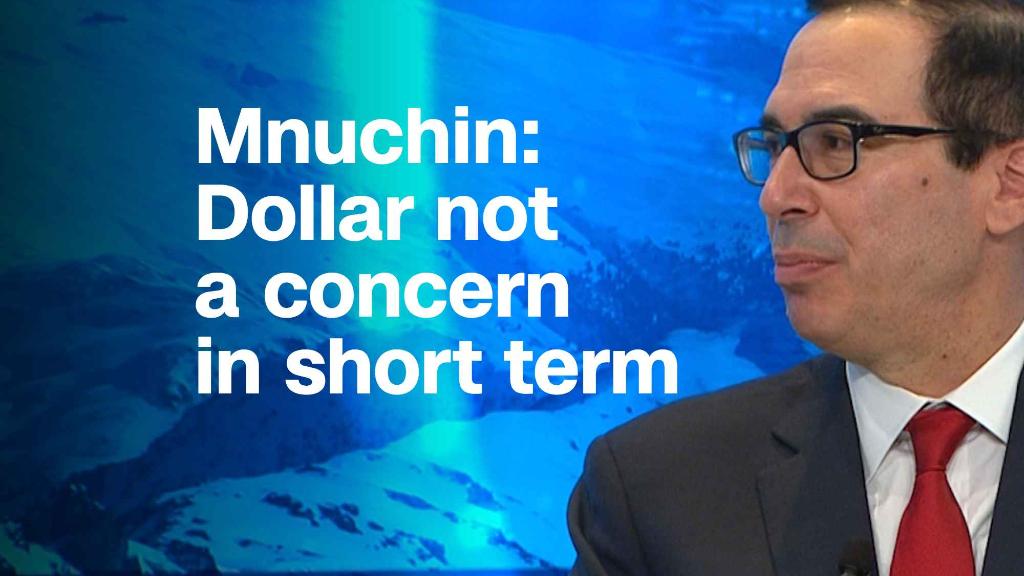 What should Britain's finance minister say to someone who's just boosted the pound? Thank you, of course.
U.K. Treasury chief Philip Hammond defused an awkward moment at the World Economic Forum on Thursday with a joke, publicly thanking his American counterpart for comments that sent the pound to its highest level against the U.S. dollar since June 2016.
"Steve, thanks very much," Hammond told U.S. Treasury Sec. Steven Mnuchin during a panel discussion in Davos, Switzerland.
Investors interpreted comments made by Mnuchin on Wednesday as an endorsement of a weaker U.S. dollar. The currency fell to its lowest level in over three years as a result, forcing the Trump official to clarify his position.
Mnuchin said Thursday that he was not concerned by short term fluctuations in the dollar.
"In the short term there's obviously benefits and issues with a lower dollar. And again, in terms of the benefits, it is beneficial for our trade imbalances," he said. "There are also issues for people who hold dollars. So I want to be clear in acknowledging both."
The dollar lost 10% of its value in 2017, and its decline has continued in 2018 as investors moved their money into the strengthening euro and other currencies.
Meanwhile, the pound has strengthened.
The currency dropped sharply after Britain voted to leave the European Union in 2016. But it has been on the mend in recent months as the risks of crashing out of the bloc without agreement on future trade ties have faded.
The pound rose to $1.43 on Thursday.
"Against the dollar we've recovered a great deal of [lost] ground," Hammond quipped. "This morning we seem to be recovering quite a bit more."