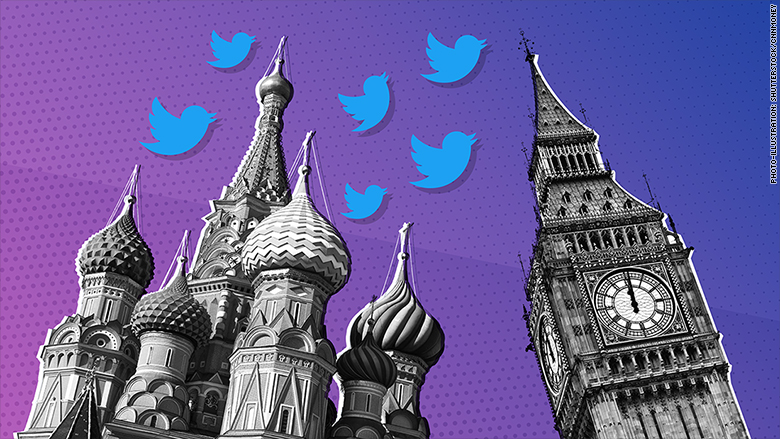 Media and tech executives will be questioned in Washington, DC next month by British politicians investigating the potential role fake news and misinformation played on the United Kingdom's political system, including the country's vote to leave the European Union.
Representatives from Facebook, Twitter, and Google will appear before a special sitting of the House of Commons' Digital, Culture, Media and Sport Committee at George Washington University on Thursday, February 8.
Damian Collins MP, the chair of the committee, has been critical of Facebook and Twitter's cooperation with the committee.
Collins told both companies to look harder, after they found little evidence that Russian troll accounts were active in the lead up to the Brexit vote in 2016.
Related: Hundreds of newly created Twitter accounts pushed #ReleaseTheMemo
A CNN investigation in November found that a small number of Kremlin-linked Twitter accounts pushed pro-Brexit spin on the morning of the referendum.
Researchers at the City University London found that almost 13,500 accounts that tweeted about the Brexit vote disappeared from Twitter shortly after the vote. The researchers suspect many of the accounts were part of a networks of "bots," automated accounts that can be used to make a hashtag, news article, or talking point more popular than it is in reality by repeatedly tweeting the content across multiple accounts.
Twitter reviewed the the university's findings and told Collins' committee that only 1% of the accounts the researchers found were registered in Russia.
On Thursday, Collins sent a letter to Twitter CEO Jack Dorsey saying that he believed the company was not providing "straight answers" to the committee. He asked the company to provide details on how many of the accounts in question were "being controlled from agencies in Russia, even if they were not registered there."
Related: Facebook to look again for evidence of Russian meddling in Brexit
Last week, Facebook announced it was expanding its investigation into potential Russian meddling on its platform ahead of the Brexit vote.
The US intelligence community released a report a year ago which said that Russia tried to meddle in the US presidential election and had used social media to do it. No similar assessment has been released in the UK
Last fall, Facebook, Twitter, and Google sent their lawyers to appear before Congress for hearings on Russian meddling in the 2016 US presidential election.
This time, the companies are sending their policy and news executives. Richard Gingras, Vice President of News at Google will appear with Juniper Downs, Global Head of Public Policy at YouTube.
Facebook is sending Monika Bickert, Head of Global Policy Management and Simon Milner, Policy Director, UK, Middle East and Africa. While Twitter will be represented by Carlos Monje, Director, Public Policy and Philanthropy, U.S. and Canada and Nick Pickles, Head of Public Policy and Philanthropy, U.K.
The committee will also hear from news industry representatives, including CBS News Chief White House Correspondent Major Garrett and Tony Maddox, Executive Vice-President and Managing Director of CNN International.